Without a doubt, mobile apps have evolved from mere entertainment platforms for consumers to sophisticated and handy tools for enterprises. Naturally, this evolution would not have happened if mobile app developers had not improved the backend capabilities.
But what do we mean by the term "backend?" Indeed, it does not only mean "scalable storage," but also flexible integration capabilities, high-performance processing engines, and so on.
Given how the demand for mobile analytics and AI-based capabilities is on the rise, having more processing power in the backend is the need of the hour. That brings us to the main crux of the article: Firebase in mobile app development.
The chances are high that if you have had anything to do with mobile app development services or even Google Cloud development in the past, you would have heard about Firebase at some point.
The banner on its official website reads, "Firebase helps you build and run successful apps," and we think it is a very modest way to put it. Let us understand why.
What is Firebase, and why should you use it?
Firebase is a mobile app development platform by Google, which offers a suite of tools for building robust apps without worrying about infrastructure management.
It was initially developed as a YC11 startup in 2011 before becoming the modern web and mobile app development services provider on Google Cloud in 2014. Credits to the groundbreaking concept of backend-as-a-service (BaaS), Firebase has made rapid prototyping possible.
Meaning, it saves developers the trouble of writing server-side code, especially when they do not have the time or resources to build the backend part of their mobile app.
Firebase, undoubtedly, offers a quick and fun way to solve this bandwidth problem and offers backend support to app developers at all stages of development, which further helps improve the quality of the app development cycle.
Firebase key features
Now that you have read this far, you will agree that Firebase is an exciting entity, looking at just its face value. You get secure authentications, notifications, and whatnot. With that in mind, let us take a look at four key features that make it all possible thanks to Firebase:
Access to real-time data
Real-time information is the future and, at the same time, a necessity. On the development front, the Realtime database is the first official product of Google's Firebase and the very reason behind its mammoth success.
Firebase in iOS app development provides a real-time data management system that ensures that your JSON file changes are reflected on all client devices instantaneously. That means the data is stored as JSON and synced consistently with each associated client.
This also happens in Firebase in Android app development. So, when you build cross-platform apps with Android, iOS, and JS SDKs, there is no need to make your database or API.
Suppose you structure your data in the database diligently. In that case, you can work on Android and iOS app development with minimal code by going cross-platform (think notifications, live news, chat rooms). It makes your applications blazingly fast.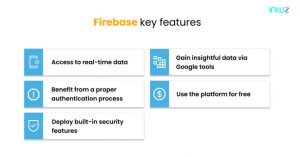 Benefit from a proper authentication process
Firebase has authentication, which the platform achieves via standard email, password, social media platforms, and telephone numbers. It is very secure as it provides SDKs and UI libraries for authenticating users across the app with necessary contact details.
You also get support for other popular options, including Google/Gmail (well, obviously), Facebook, Github, and Twitter via OAuth2.
Not only does it save the user the trouble of having to create a new account with new credentials to maintain and remember, but it also lends your mobile app some public trust, which further boosts its engagement and brand reputation.
In a nutshell, if you opt for Firebase in iOS or Android app development, you can leverage its in-built email and password authentication system (which might as well be branded as an industry paradigm).
Deploy built-in security features
User privileges must be limited, not that it needs to be mentioned. You want people to create an account and use your mobile app, but obviously, you do not want them to mess up your entire database, for instance. With Firebase, you can set access control for the mobile data, allowing only certain users root access. That makes the platform safe and secure.
Gain insightful data via Google tools
Say you are big on numbers, then Firebase has a comprehensive analytics side (read: Google Analytics, Crashlytics).
Firebase helps you get a better insight into your users' activities, or your web-app visitors, getting accurate data of their usage and tries to dot conceivable patterns. For that, you have Google Analytics at your service to collect data about your audience — target or otherwise.
Google Analytics enables you to monitor user behaviour, identify journeys across devices, and create your views about customers based on target data behaviour.
If you are looking to monetize your venture, the AdMob integration will consider enabling mobile advertising quickly.
Use the platform for free.
Firebase is free, to begin with. However, there are many subscription-based plans to use various other services within Firebase.
This is perfect for those businesses that want to start small but gradually expand their capabilities—from mobile payments to eCommerce—on a pay-as-you-basis.
This makes Firebase a cost-friendly option for mobile app development services, as businesses can maintain low operational costs throughout the lifecycle.
Firebase Architecture 
Firebase offers you three categories of products to support you at every step of your project, namely, Build, Release and Monitor, and Engage.
Cloud Firestore, Authentication, among other products inside "Build," are the reason why Firebase in the iOS app development process can offer a fully-managed backend.
"Release and Monitor" products do precisely what they are named. Crashlytics, for instance, monitors your app for bugs and generates crash reports, and Google Analytics helps you analyze your audience.
"Engage" has products like Remote Config and Cloud Messaging, through which you can run alpha and beta tests, create marketing campaigns, and boost user engagement, in general.
Firebase offers multiple integrations too, including Google Ads, AdMob, Play Store, and so on. It also has extensions, open-source bundles that you can use to automate specific tasks during a Firebase mobile app development lifecycle.
Benefits of using Firebase in mobile app development
You have got errors in the backend, and you cannot get it fixed fast enough? Or perhaps the server is programmed in a language you do not know? Or maybe the development time is not worth the result? We understand your concerns. Here are 10 benefits of using Firebase for mobile app development:
Reduces mobile app development cost, time, and effort
Startups breaking new ground generally believe having professionals around is a costly affair. The first course of action that they will think of while trying to save on the Android and iOS mobile app development cost is to put in extra hours on development. But this, again, is a self-destructive decision as someone else might beat them to market.
Firebase, being a fully managed BaaS, saves you the trouble of having to hire app developers or do any coding from scratch. It comes as an advantage for all the frontend developers looking to integrate the backend in mobile app development.
Provides real-time database scalability
Firebase has a suite of services, Firestore being one of the most prominent ones. Using it, your developers will be able to set up a flexible NoSQL database that can scale in real-time. So, irrespective of usage patterns or the volume of data generated, you do not have to worry about mobile application storage.
Offers insightful crash reporting
Firebase gets you regular and timely reports of your app crashes. But that is not all. With Crashlytics (a Release and Monitor product), you now get crystal clear and practical insights into your crash reports and how crashes affect your users and their behaviour. Since Firebase is integrated with Crashlytics, you have the opportunity to fix the bugs effortlessly.
Ensures fast and secure web hosting
Hosting is an important factor to consider for developers. With the right host, developers can rapidly and effectively send applications and static content to a Content Delivery Network [CDN] with just a single command.
If you have modern web applications to host in a seamless environment, look no further than Firebase. Not only do your web assets get pushed to its global CDN, but you also get SSL certificates free of cost for a secure, rich, and low-latency user experience.
Makes complex machine learning implementations easier
Under its "Engage" package, Firebase offers many products for Android and iOS app development. One such product, "Predictions,"' allows you to predict user behaviour by combining ML with Analytics.
Again, under the "Build" package, you have the Firebase ML, which lets you leverage Google's wealth of machine learning expertise for both direct and customized usage (by uploading a Tensorflow model).
Enables engaging the target audience with cloud messaging
With its Cloud Messaging feature, Firebase in iOS app development lets you deliver direct messages and push notifications to your users and target audience.
Cloud messaging for either chat rooms or notifications can prove valuable when increasing user engagement with your mobile app.
You can send a message to a specific Analytics audience such that the content displayed on the notification is relevant to the audience and interests the receiver. If you want to boost your mobile app's engagement levels, Firebase will make that happen for you.
This is also one of the biggest USPs of Firebase in Android app development. Users benefit from a cloud messaging facility, which allows the server and the devices to connect reliably, making the messaging and notification reception possible at no surplus charge.
Sending app recommendations through dynamic links is easy.
Dynamic Links from Firebase in Android app development are extensions of the existing and a relatively well-known concept of "deep link."
Through 'deep-link,' you can launch an app on a given screen for a more customized experience, but that works only if the user already has the app installed.
Dynamic Links take the users to the appropriate marketplace from where they can install it, or it changes the context by taking them directly to the app once they have installed it.
Lets you store content easily and quickly.
We all know that users' content in terms of media and messages can be relentlessly huge. If your app requires your users to store and share files using your app, you can do it through Firebase's Cloud Storage with ease.
App indexing helps to generate more traffic.
Ranking in search is everything in this day and age, and if you can re-engage the users from Google Search by surfacing app links on Google Search, there is nothing like it!
Thankfully, Firebase gives exposure to your app on Google Search and even Google Assistant. If the user already has it installed, they can launch it immediately.
If not, anyone looking for your app (or an app similar to yours) will easily be able to engage with the public content associated with it. Apart from search results, people can install your app, receive autocompletion, and even targeted ads when your app is indexed.
Leverage the in-app advertising facilities 
When you link Firebase with AdMob or Ads, you open the door to infinite possibilities and see how your adverts perform in terms of in-app actions and installations. You can even export your audience list from Analytics to Ads and create targeted ad campaigns.
In conclusion
Firebase is Google's mobile app development platform. The mobile app development services are fully managed, so you do not have to bother about managing the backend. It is free to start (and relatively affordable in the long run), and you will only end up saving your resources (and money) when using its products compared to when you will develop them yourself.
All of Firebase's products and services work exclusively, but you can still either pick and choose or get a hold of the entire console to work as a machine with many moving parts. So, what are you still doing here? Get that app out in the market!