Let's say you bought a capable gaming PC, you had it installed but still, you find it boring. You even bought a window panel so you can see the glorious internals of your CPU. 
Well, regardless of how powerful your rig is, the overall aesthetics may seem boring due to a number of reasons. 
One is that maybe it seems a bit too dark, other times the color combination doesn't match. 
Or maybe your whole build is just messy and is not aesthetic.
For many, creating their ideal gaming workstation is not just an act of science and engineering but, they also treat it as an art. Of course, the act of modifying your PC is entirely based on preference. 
There is no set standard that dictates what you can do to your PC. Some may prefer it with lots of LED light combinations, while others prefer the minimalist approach. 
Declutter your gaming station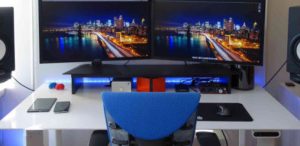 This step is the cheapest aesthetic upgrade and do you want to know why? Because it is free. 
Try to get everything that is unnecessary away from your gaming station. That way, when you do finish with your beautification, the main focus would be on your rig and not on the unnecessary clutter on your desk. 
Tuck or sleeve your wires
One of the biggest factors to workstation clutter is the cables in our PC. In order for our rig to look clean what we can do is to hide those cables. 
There are several ways that we can reduce the number of cables that are being used on our PC. One is to use Bluetooth technology to connect the mouse and the keyboard. 
Although many gamers try to veer away from this method since there is some lag with regards to the response of the controls. But newer technology has already managed to resolve the latency issue so this is definitely one option that you might want to explore. 
Another option is to correct the cable routing of your PC. What you can do is tuck your cables through routes within your workstation. 
This way most of the cables are not visible and your desk will look clean in general. Another option is to route all cables together. 
You can use rubber grommets to keep the wires together. Black zip ties will do the job just fine as well. Try to keep the wires together and route them to the back of your PC. 
You can use the same method with the internal cables in the CPU. Although, it is possible to change the rainbow cables to your preferred color combination. 
Try to look for cable alternatives online for your CPU internals. Replacing your stock cables with a bit of cable management will surely improve how your internal cables would look. 
Showcase your build with the use of proper lighting
Lighting doesn't always have to be bright. Most of the time an ample amount of light in the correct locations is more than enough to improve your aesthetics. 
Here is where LED lights come in handy. What's good about this type of light is that it is very energy efficient and quite versatile. 
You can make use of LED strips because they are easier to install. The only part that is challenging is how you would route the wirings. 
Now if you are wondering where to buy led strips, you can start by searching for them online. They are also available in local hardware and electronics stores.
LED strips also come in a variety of colors, or color combinations. Their output can easily be programmed as well.
Modify the color of your CPU and its internals
This rests entirely on your preference. A minimalist monochromatic build is great but you can also opt to have a multi-colored rig. 
One thing that you must decide on is the color combination. You can also DIY the paint job using rubberized aerosol paint. 
The good thing about this is that it can withstand higher temperatures. If you use regular paint, it might peel due to its exposure to high heat.
Get an awesome gaming chair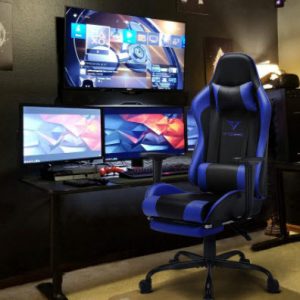 Once your station is set up with all the added aesthetics, there is one more thing that you can do to complete the equation. That is to get yourself a good gaming chair. 
Gaming chairs not only add to the aesthetic value of your gaming station but also provide the needed comfort that you need when gaming for several hours per session. 
There are many gaming chairs in the market. You can go for the minimalist but elegant ones or you can opt to purchase the sporty ones that are built like a racing car's bucket seat. 
What's important is that it provides you comfort and it aids in keeping the correct posture while playing.
Conclusion
Our gaming rig and station are our masterpieces. For many of us, it is an art. So, do not be afraid to express yourself through the aesthetics of your rig. It does not only add value but it also makes us feel good about ourselves and that is what matters the most.