If you are a hardcore gamer that plays on PC or you are just a gaming enthusiast, the hardware on which you play games on defines your gaming performance to a great extent. If you want to pay the latest titles in genres like first-person shooters, racing games or even sports games, a good gaming rig helps you in getting the best quality gaming performance. To get a good experience while playing games, you not only need to have a good graphics card, processor and RAM but you also need to have a good gaming monitor.
A gaming monitor has many differences when compared to a normal monitor which makes them more suitable for gaming. There are many differences between a normal PC monitor and a monitor that is meant for gaming purposes.
In this article, we are going to look at which features differentiate a gaming monitor from a normal one. This will help you make a decision between buying a regular monitor for gaming or paying an extra premium for the gaming monitor experience.
Advantages of Gaming Monitors Over Normal Monitors
Refresh Rate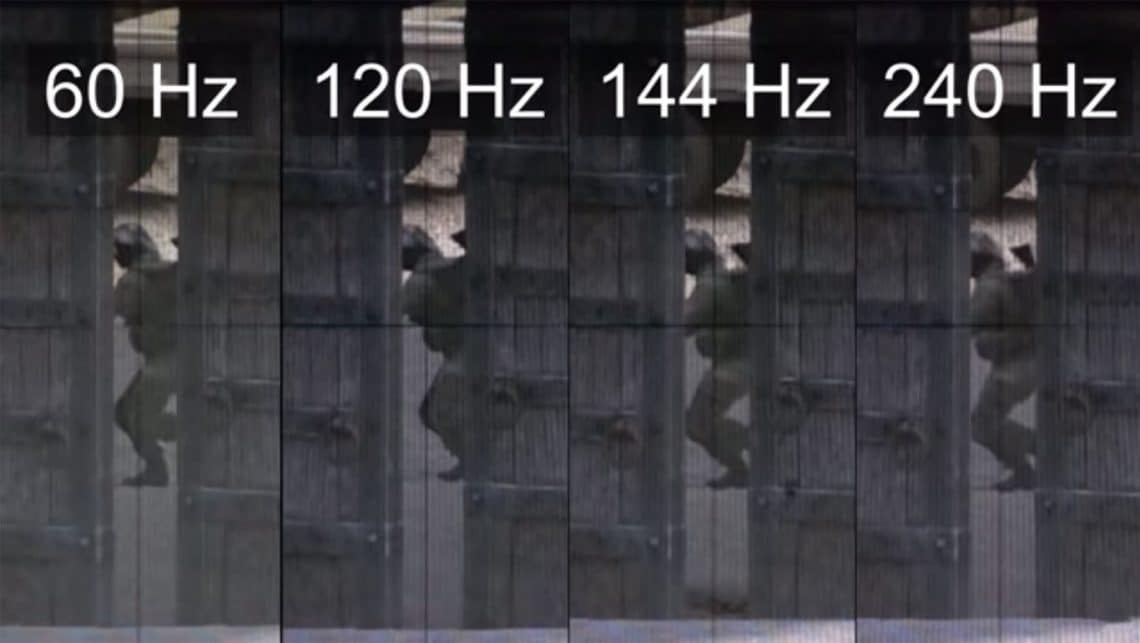 Gaming is an activity which requires a good response time from the players' side. But along with the player's reflexes, the monitor which is displaying the game elements should keep up with the game.
The refresh rate of a monitor is simply defined as how many numbers of frames the monitor can display in a single second. An alternative way to state that would be that refresh rate is the count of a number of times a monitor can refresh its image in a second.
Refresh rates are extremely important while gaming as movements of players on the screen is perceived by the eye as the difference between two successive frames. If there are a number of frames displayed by the monitor in a single second then we are able to see the movement of the game elements more smoothly and accurately.
The refresh rate should not be confused by frame rates. Frame rates are the number of frames the graphics card of the computer outputs to the monitor but refresh rates are the number of those frames the monitor is able to display in a second. Thus, even if you have a graphics card that is able to output 120 frames per second but if your monitor has a refresh rate of 60 Hz then the extra frames are of no use. A better refresh rate monitor is more suitable for gaming as the gamer will be able to see a lot more frames in the same amount of time.
A normal monitor that is not meant for gaming does not need a high refresh rate. If you are playing a game that can be processed by your computer at 100 frames per second then having a monitor of 100Hz or higher refresh rate will be useful for you. But if you are watching a movie on your monitor which typically has 24 frames per second then the monitor with higher refresh rates won't be any different from a normal monitor.
Motion Resolution
If you have the required hardware that can play games that can match the refresh rates of high refresh rates gaming monitors like 120Hz as well as 240Hz refresh rate displays, then the moving objects will appear sharper to you. We find images blurry when there is a gap in a set of frames and our brain just guesses what the gaps are and fills it in which causes blurring. This blurring causes the loss in important detail of the game which can be felt when we play games on a normal monitor instead of a gaming monitor.
Having a monitor which has a higher refresh rate will make the motion resolution of moving objects higher as our brain is fed a lot more images per second which will help the brain to perceive moving game elements better. But, similarly to the monitors which are not all the same, not all human brains are made the same.
Some people are easily able to tell the difference between a 60Hz video and a 120Hz video but others are not able to differentiate between them. If we compare 120Hz and 240Hz displays, the difference between them feels subtle when seen.
Better motion resolution in a monitor is good but if you need it or not depends solely on what you do on the computer. If you are playing fast-paced FPS shooters or similar games at high frame rates then the moving players will have more details on such monitors. Along with that, the mouse movement and website scrolling will definitely feel smoother on a display with better motion resolution. But if you are just watching videos on YouTube and reading emails then you will not see any difference from a normal monitor.
Screen Tearing
As we discussed earlier, refresh rates are not the same as frame rates. Frame rates are the number of frames that are supplied to the monitor by the graphics card whereas the refresh rate is the number of frames the monitor can display on the screen in a second. Since refresh rates and frame rates are different, they can be mismatched. This mismatch in the refresh rates and frame rates causes a phenomenon called Screen Tearing. It occurs when the graphics card outputs more frames per second than the refresh rate of the monitor which causes only half frames to be shown on the monitor.
There appears a line between two half frames which are not aligned properly on the screen. This causes a lot of distraction while gaming and is a definite no-no for gamers who want to have a good experience while playing games. Gaming monitors do not experience screen splitting as the monitors can handle the frame rates that are being outputted from the graphic card easily. This results in a smooth and even gameplay without any distractions to the gamer.
Conclusion
This article explains some of the difference between gaming monitors and normal ones that are not meant for gaming specifically. Gaming monitors are for people who are gamers and who want a smooth gaming experience without missing any detail in their games. If you spend a lot on your graphics card and your monitor isn't up to speed with your graphics card then the frame rates of the graphics card are capped by the monitor and it can also sometimes cause screen splitting. However, if you are not into gaming then you will not feel any major difference between a gaming monitor and a normal monitor.