As of now, air flights are widespread for people to travel around the world. Every day hundreds of thousands of flights travel from countries to countries. If you are in aviation fields as a business owner, you need a robust system to track everything about aviation in realtime.
There are many expensive services out there that provide you all this information in realtime. Still, some people can't afford to have costly aviation API services for their business. But there is one service available that provides all the necessary aviation information in real-time, but it is not that much expensive as others, which is Aviationstack API.
What is Aviationstack API?
Aviationstack API is built to provide access to real-time global flight tracking data in affordable pricing that is developed by apilayer, which is a London based software company. Around the world, over 5000 companies are utilizing the aviationstack to robust their business operations and their map visuals, bookings, and flight trackings and more.
Also, check the SERPStack API for scraping web results.
Benefits and Features of Aviationstack API
If you're looking for a service that provides you aviation data of real-time flights, flight history data, flight schedules of different countries, and airports, then it gives you all of that.
Aviationstack is capable of providing accurate details about globals flights whenever you want because its the API powered by aviation data sources. Their system is storing globals flight data since the API is launched. Therefore you can lookup to flight history data, including their routes, dates, times, aircraft, flight numbers, and so on.
The backbone of this API is its scalable cloud infrastructure, along with the aviation data sources that are capable of handling a thousand requests per month or millions of requests per minute. According to the past 12 months' results, the average uptime for the API is 99.9%; they make the sure highest possible level of data availability.
All of this, you can get affordable monthly pricing of $49.99, but let me tell you that there is a free plan that provides you free 500 API requests per month. But if you choose the premium later and don't get satisfied, you can cancel it anytime you want and get a refund.
Check out the ScrapeStack API for scraping.
Other features that Aviationstack API provides
Live Flight Tracking

Historical Flight Data

Airline Routes Lookup

City Lookup

Country Lookup

Aviation Tax Lookup

Airport Lookup

Airline Lookup

Airplane Lookup
Aviation data that you can look up through this is below.
How can you get started with Aviationstack API
When you register on the website, a unique API access key will be generated for you that you can find on your dashboard. For testing the API, just connect your API access key with access_key parameter, below is how you can do it.
https://api.aviationstack.com/v1/flights
? access_key = YOUR_ACCESS_KEY
This is how you can get started with the API that you can even do with a free account with 500 requests per month.
There are a lot of other things that this Aviationstack API uses to provide fast, secure data to you like 256-bit HTTPS Encryption, JSONP callbacks, API error status codes, and more. Lookup here at aviationstack documentation page for all these things and their details.
Aviationstack pricing
As mentioned above, there is a free account available limited to 500 requests per month for personal use, no credit card needed for a free account. When you are satisfied, you can upgrade yourself to a basic plan that is $49.99 per month, with 10,000 requests and unlimited support.
There is a professional plan available with 50,000 requests per month; you get unlimited support, commercial license to use, and more at the price of just $149.99.
If you're running a big business then there are two plans available at aviationstack, one is business plan costing $499.99 per month where you get 250,000 requests per month with premium support and more, the other plan is a custom one where you can choose yourself how many requests you needed per month and based on what you choose the pricing is decided for you.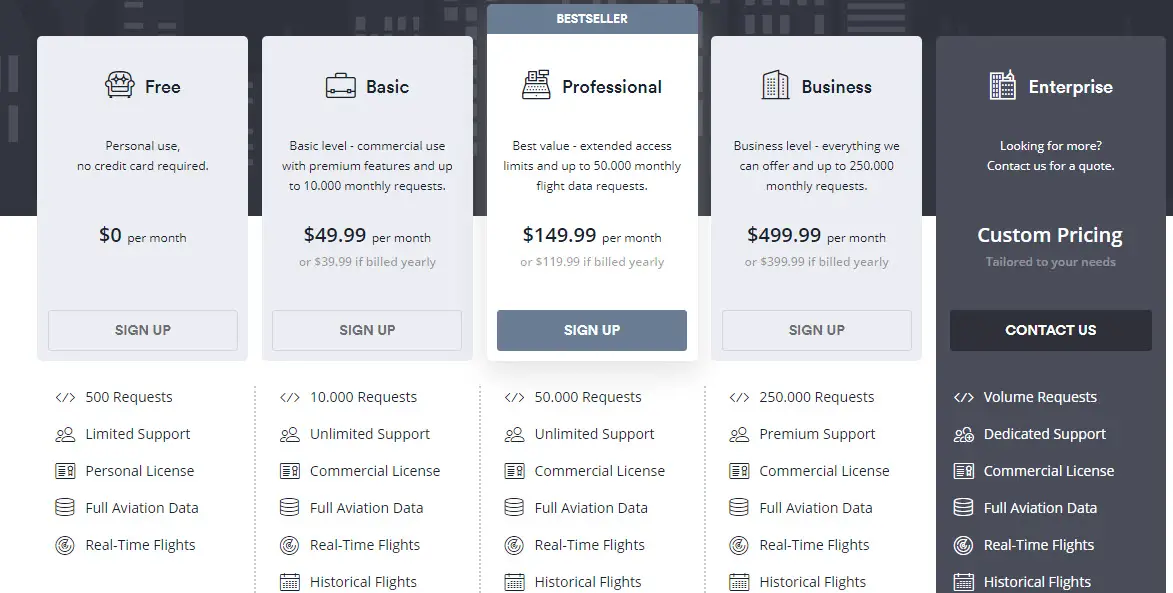 The prices mentioned above are per month, but if you choose the annual plan, you get $20 off on yearly pricing.