Tiktok, one of the most downloaded apps and most popular among lip-syncing, was launched in 2016. Have you ever seen short music videos where people lip-sync on their favorite songs? That is done through this famous mobile application Tik Tok. It's a global platform that people use to record create short videos of just 15 seconds. I have provided the list of best TikTok editing apps as well for you so stick with me.
Things you can do using TikTok are watching other people's clips and creating short clips. Not only that, besides creating and watching videos, you can edit your looping videos as well. You can add some visual effects, complex animations as well as speed up your videos. To do these kinds of stuff, there are many TikTok editing apps for android and iOS that are designed particularly to edit your created Tiktok videos.
Before I show you the TikTok editing apps list, let's first examine how you can edit Tik Tok videos using the built-in editing tools. This is because you might not want to download third-party apps, rather you want to use the built-in video editor, but you don't know how to use it.
How To Edit Tiktok Video With Built-in Editing Tools
Tiktok comes with a built-in video editor app to edit looping videos, although that is a basic one. However, it doesn't mean that it's not capable of Tik Tok video editing. It certainly can help you with editing short lip-sync talent videos.
To edit a lip sync video, you first need to have one. Tap on the plus icon in the middle of the TikTok app. Then click on the big red record button, then TikTok will start taking a video of you that could be from 5-60 seconds. In case you want to add music to your talent videos, tap on the Music at the top of the TikTok app screen.
Not only that, you can control the video playing speed as well as use filters and other visual effects in your short video clips. Let's suppose you have recorded your short lip-sync Tik Tok video; after that, you can edit it in a way you want because there is a lot in the built-in video editor. You can add stickers, visual effects, voice, sound, and even text layers.
Not only that, you can trim, adjust the volume of the track as well; these are the more than basic things you can do in the TikTok video editing builtin tool, and it's enough for many of the TikTok users.
But to stand out from the rest of the crowd on the TikTok app, you can use third-party Tik Tok video editing apps that can help you create more polished TikTok short 3-5 seconds videos.
Just click on the upload button; this option will let you use a third party TikTok video editing app to have advanced editing.
Below I am sharing a few TikTok editing apps that you can use to edit TikTok short lip-sync clips for both android and iOS to make your Tik Tok looping videos look more eye-catching. Editing work is more for those having established accounts there, if you are just entering into the Tiktok world, you probably want to purchase real followers for TikTok account to grab some initial attention.
Best Tik tok Video Editing Apps
What if you're not satisfied with the tik tok builtin video editing tool? Then the third party video editing apps come into the picture.
We are sharing to 7 best TikTok video editing apps that you can use to edit your looping 5-60 seconds talent videos that would engage your viewers on the social media video app Tik Tok. Our list of best tik tok editing apps will help you create the best possible editing videos for your TikTok app profile.
1. Beecut for TikTok Editing
The first in our list of TikTok editing apps is BeeCut that is a free video editing software for both windows and mac users. It comes with a simple user interface but is packed with some awesome video editing features. You can easily edit your Tik Tok videos using it by utilizing builtin filters, overlays, transitions, titles, and more.
Moreover, Beecut allows you to select up to five aspect ratios for videos that include portrait (9:16), Instagram(1:1), Taobao video (3:4), widescreen (16:9), and traditional (4:3). As described above, it got a very simple and easy to use interface; even if you don't have any experience of using editing software, you can edit your TikTok video to make it stunning in just a few minutes.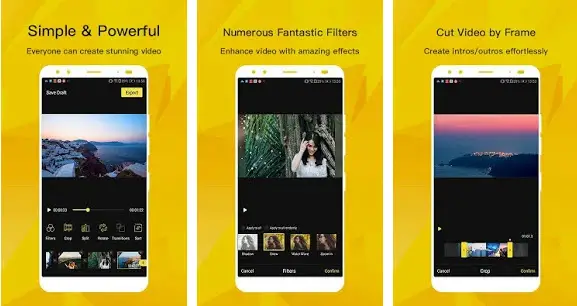 2. Magisto To Edit Talent Videos
Another video editor that you can use to edit your TikTok videos is Magisto. Apart from Tik Tok talent videos, you can create videos for birthdays, weddings, travel; businesses even can create videos using your selfies. A great feature it comes with is, you can combine multiple short video clips, filters on them, adding text to them, apply music to make a single video. All these created looping videos can be shared on social media websites like Youtube, Facebook, Instagram, etc.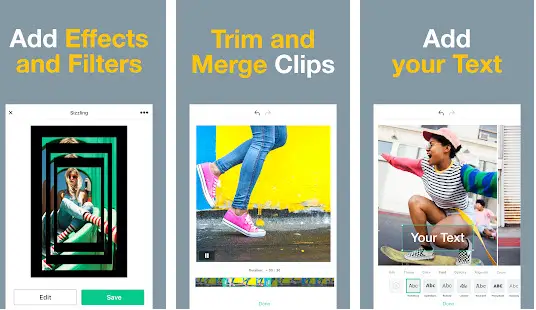 3. InShot TikTok Editor
Next in our list of Best TikTok video editing apps is InShot for a social media video app, one of the well-known video editing software. It comes with a range of features to make good to watch tik tok short lip-sync videos. The features include adding filters and music to your talent videos, and you can speed up and down your videos as well.
Everything on its interface is self-explanatory; you don't need to look into multiple menus to do what you want to do in your video editing process. Most of the popular features used in video editing are already available on the interface.
You can add text and frames to your videos, and also you can combine multiple videos with more different effects. However, there isn't a huge music library to choose your favorite music for your short lip-sync clips. But there is some soft track that you can use while editing Tik Tok videos.
4. Timbre Music Video Editor
The next in our list of Tiktok editing apps is Timbre. The most powerful feature it provides is to string together multiple short lip-sync videos clip. In a matter of a few minutes, you can edit your TikTok videos in it because of its easy to understand interface. In most cases, all you need to do is to open the software, select relevant options, and the software will do the rest for you.
It's the best TikTok video editor if you want only to cut or join multiple short clips. Because there aren't many options, you'll find, but you can play around with the audio settings like pitching up or down the audio and more.
There is something you must know about the preview for Tik Tok edits; it doesn't let you preview files before downloading. That means you need to get everything right at first. Otherwise, you'd have to repeat all that.
5. VivaVideo for Lip-sync Video Edits
Next in our list of TikTok video editing apps is Viva video for social media video app; you might have heard about it before. It's one of the most popular video editing apps on android and iOS platforms. It lets you improve and edit Tik Tok looping videos like a pro; you can add filters, texts, stickers, music clips, themes, transitions, and so on. As it's a powerful video editing app, you can use the functions like cut videos, trim, merge, create a collage, and more.
6. Kinemaster Video Editor
Next in our list of best TikTok editing apps is Kinemaster, which is probably one of the most popular Tiktok editing apps among the Android and iOS users to edit the looping videos. So you can download it to edit your Tik Tok lip sync videos as well. It's more professional video editing apps that can edit your TikTok video to another level with its editing capabilities. It is a huge app of 70+ MBs that you can download on your android and iOS devices.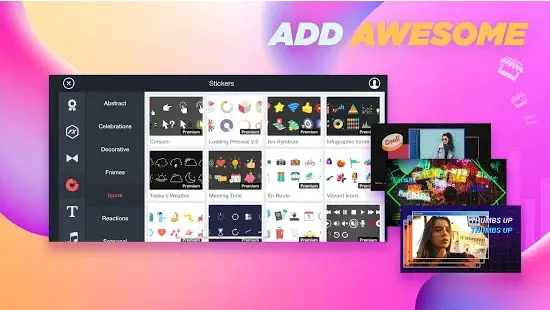 7. ViaMaker No CapCut by ByteDance
ViaMaker whose name is not CapCut is the app that comes from the same company that built the TikTok social media video app. The ByteDance has developed this ViaMaker video editing app; it's a completely free and all in one video editing app to edit your short lip-sync videos.
When it was first launched, in just a short period of time, it got 6000+ reviews; the majority of them were 5-star reviews, which gave it an overall 4.5 stars rating on the Google play store.
By ByteDance, the app misses some features, as you cant remove greenscreen from your video. This is one of the best apps for basic and advanced editing of your short lip-sync music videos.
There are numerous third-party Tik tok video editing apps that you can download on your device. You can give a professional look to your TikTok videos. The built-in video editor provides basic editing functionalities but with these, you can make your video more awesome.