Significant development has made in the jailbreak community. It's about checkra1n jailbreak for windows for your iOS 12 – iOS 14 and upcoming all versions. As we know, iOS 14 checkra1n jailbreak is powered by checkm8 bootROM exploit that apple cannot patch.
But keep in mind, although checkra1n iOS 14 jailbreak updated, it currently supports only A9 and A9x and below Devices.
Check here for the detailed checkra1n jailbreak tutorial if you have a Mac computer, follow below if you need iOS 14 checkra1n jailbreak for windows because the official checkra1n website doesn't have checkra1n for windows as well as Linux versions yet.
Checkra1n Windows Ra1nstorm
A new tool named Ra1nstorm has been released that allows you to jailbreak with checkra1n jailbreak iOS 14 on the Windows computer of PC. Even you don't have a Mac computer, this ra1nstorm windows tool solves the problem for checkra1n jailbreak for windows computer or PC. In this tutorial, we are showing you how you can install checkra1n using this fantastic new ra1nstorm windows tool.
Moreover, there is another method explained step by step below at the end if you already have installed the Linux, Ubuntu on your PC. If you have Linux, then you can follow that process.
What's New in Checkra1n Jailbreak New Version
The recent checkra1n updated version supports till iOS 14 from iOS 12, any version, for iOS 14 it currently supports only A9 & A9x devices. However, it supports till A10 devices for other iOS versions! This means you cannot jailbreak Apple devices that are powered by A11 – A13 devices.
But don't worry, unc0ver jailbreak has made huge progress and that supports iOS 11 – iOS 13.5 on All devices! So if you got newer devices, then here is the tutorial to that if you want to jailbreak using unc0ver. Other kernel-related issues are also fixed which was causing the device not to boot.
Also, check here for checkra1n jailbreak tweaks
Finally, the new checkra1n jailbreak supports iOS 14, but for A9 & A9x devices for now for iOS 14.
checkra1n 0.11.0 is now available, adding support for iOS 14 on A9(X) devices and below.

A10 devices and above NOT SUPPORTED YET, read our statement 👇https://t.co/SIjT4PeZEX

— checkra1n (@checkra1n) September 22, 2020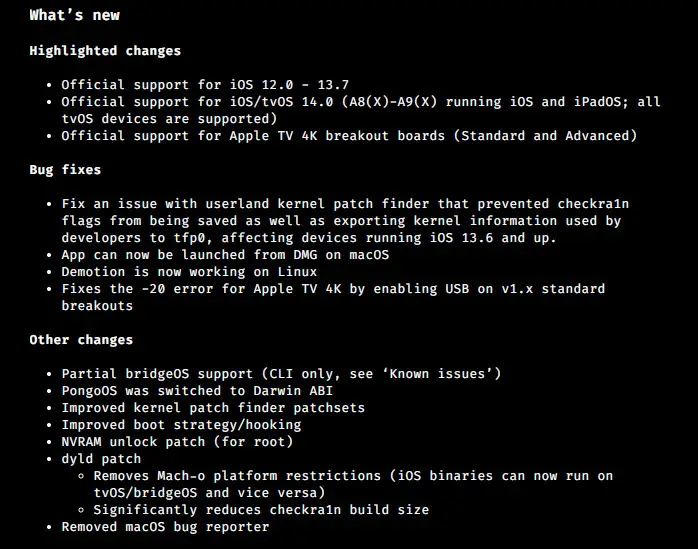 iOS 14 Checkra1n jailbreak supported devices
iPhone 6s, 6s Plus, and SE
iPad 5th generation
iPad Air 2
iPad mini 4
iPad Pro 1st generation
Apple TV 4 and 4K
iBridge T2
Devices will be supported in the coming weeks
iPhone 7 and 7 Plus
iPad 6th and 7th generation
iPod touch 7
iPad Pro 2nd generation
Devices that will be addressed in a future statement
Supported & Partially Supported Devices For iOS 13 – iOS 13.7 Checkra1n Jailbreak
iPhone 5s to iPhone X.
iPad 2 to iPad 7.
iPad mini 1 to iPad mini 4.
Apple TV 3 to Apple TV 4K (from within the same application).
iPod touch 5 to iPod touch 7.
iPad Air 2nd generation.
iPad 5th generation.
iPad Pro 1st generation.
Here are the ra1nstorm windows GitHub link. Although it's a complicated process with this tool, it's not the final way to jailbreak on windows with checkra1n. Because the checkra1n team will do official release, it's just a temporary way to install jailbreak on windows. This tool does some clever stuff inside.
You guys may have heard of a dual boot or might know how to do that on windows computer. This checkra1n iOS 14 windows tool configures the whole computer for you that you can just run the macOS version of the checkra1n.
New update! Fixes many bugs and adds AMD support!https://t.co/LcC3YKrUgh

— ra1nstorm (@realra1nstorm) November 23, 2019
The process it uses is, it lets you run a tool on windows PC that prepares a Linux environment dual boot for you. At that time your computer also runs Linux, after it installs the Linux, you need to boot it and run a tool ra1nstorm.run, that will complete the installation.
Unc0ver vs Checkra1n vs Odyssey jailbreak, which one is better for your device?
This installs a virtual machine with running macOS along with all needed USB pass-through. This is a complex and problematic process, and it's the main reason we do not have official checkra1n windows and Linux versions. This tool creates that pass through between Linux dual boot and a macOS virtual machine. After that, you'll be able to run the checkra1n inside that virtual machine inside that Linux dual boot, and you'll be able to jailbreak your device.
This, of course, sounds like a nightmare, but it's not if you have ever dual booted your computer with Linux. The ra1nstorm windows do most of the stuff here, and it installs Linux, downloads all the necessary files, set up all the USB pass-through.
If you got a passcode disabled iPhone, here is a brand new method to unlock how to unlock iPhone passcode on a disabled device for free, thanks to checkra1n jailbreak.
You only need to boot into that newly created Linux and wait for the tool to install macOS inside it. After installation is done, you can install checkra1n for windows jailbreak on your computer using a virtual machine.
Check how you can install Tweakbox iOS 13 and TuTuapp iOS 13
In case you haven't ever played with dual booting, this will be extremely hard for you to work with it. In this case, my advice is you to wait for the official iOS 14 checkra1n jailbreak for windows computer or Linux. But if you have done the dual booting, you may go ahead with the ra1nstorm windows tool.
iOS 14 Checkra1n Jailbreak For Windows With Ra1nstorm Windows tool
Step #1
First, go to this GitHub link, and download the setup.exe file, there will be four files if you don't see click on the assets link. You may see a message it's dangerous after its downloaded, but keep it as its 100% safe to use.
Step #2
Open the setup, install this setup file in your windows computer, Xubuntu download process will start that will take a long time if your internet is not fast enough because it's over 1.5 GB downloading.
Here is how to backup all tweaks and restore them later.
Step #3
After the download is completed, you'll see Xubuntu installer windows; you need to provide some info here before you install it.
Important Note: At installation, size menu, select at least 64 GB space to avoid any issues, because you need to install macOS KVM as well that at least requires you to have 40GB space. After you have put all the info, click on the install button.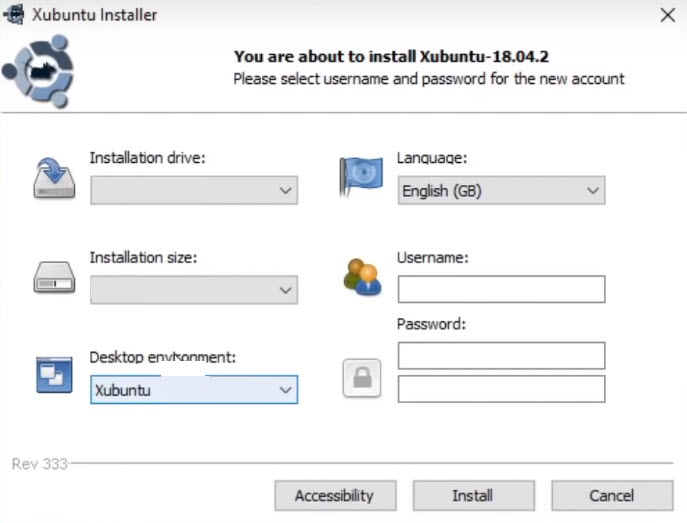 Step #4
After installation is complete, restart your device and enter into UEFI BIOS settings, you will get there by pressing either the F2 key or F12 key. On my computer I entered there pressing the F2 key, you could be different.
Step #5
You now must be on the UEFI BIOS settings page, here you need to change the boot priority settings. You need to set the settings to boot into Xubuntu, restart the computer and you'll see Xubuntu installer, install it and boot into it as well.
Check Alt Store iOS – Cydia Impactor alternative that signs the apps automatically for you.
Step #6
When you're on the Xubuntu screen, after connecting your internet, open the browser and go to the GitHub page again. Now you need to download the file named ra1nstorm.run. Bring that file on the desktop after its downloaded.
Here is checkra1n windows jailbreak with bootra1n method.
Step #7
Now open the terminal window on Xubuntu and enter this command cd Desktop and hit enter. After that, enter this command, sudo bash ra1nstorm.run, and hit enter. You'll see a bunch of work happening there. After the working is done, you'll see a ra1nstorm windows setup; just start the process over, and the ra1nstorm installation process will start. Keep in mind to check the instruction on ra1nstorm installation window.
Check checkra1n iOS 14 jailbreak windows with ra1nusb, to install iOS 14 checkra1n for windows jailbreak, no dual-boot needed.
Step #8
Keep in mind; here it will take a long time to complete the work; do not cut down the process. However, if you see any compatibility error, then your processor isn't compelling for the ra1nstorm windows tool. Once that is done, you'll see the setup screen for macOS, select the Reinstall macOS option in the process.
Official iOS 14 checkra1n Linux jailbreak is released, check it out if you have Linux.
After the process of downloading a virtual machine is done on the desktop, you'll see a file named bootVM.sh, if not, restart your computer and again boot into Xubuntu. You need to run that virtual machine. For running it, open the terminal window and put this command sudo bash after that hit space bar and then drag and drop the bootVM.sh file on the terminal, it'll open up the MacOS again on your computer. Now you can download checkra1n jailbreak on windows computer.
Step #9
Once the macOS is installed, you can go here for jailbreak checkra1n to install checkra1n on your windows computer.
Install iOS 14 Checkra1n Jailbreak On Windows With Ra1nstorm (If you already have Linux)
Step #1
Go to this link on GitHub and download the ZIP file on your computer. The file will be with the name of the ra1nstorm-helper.
Step #2
Open the terminal and cd to this downloaded folder; you can do that by running the command cd ra1nstorm-helper/.
Sign any IPAs files through Cydia Impactor Alternatives
Step #3
Now cd into the stage2 folder, remember that you already have Linux. Therefore, you need to go directly into stage2. Run the command cd stage2 and hit enter.
Step #4
Now, when you're in stage2 folder, put this command chmod +x run.sh, and then run this command chmod +x BootVM.sh, and after that put, this command sudo ./run.sh and hit enter. At this stage, the terminal will ask you to put a password of your computer account, put that and hit enter.
Step #5
After the password, the ra1nstorm popup will open where you need to select install and press the OK button and then get started the installation process. There will be multiple processes to be done on the internet, and it will take some time, so be patient. All the progress will be shown on the terminal to track what is done.
When the 1st process is done, press the Next button again. At this stage, the downloading of macOS KVM will start. It's a big file in GBs, so keep waiting until it finished.
Step #6
When the downloading is completed, press the Next button. You'll have a QEMU emulator screen on your computer with clover, hit enter, and there you'll install the macOS. You'll be installing macOS in Linux!
There you'll see the See Instruction button on the ra1nstorm window, not on the QEMU window, press the See Instruction button to follow the macOS installation process. The whole process will take more than an hour of installing; we are not covering all that installation part, do it all yourself with concentration as step by step instructions are given.
When you see a macOS desktop screen in the QEMU emulator, press the "I have Finished Setup" button on the instructions window. After that, read the instructions about connecting your device directly, unplug any other devices except mouse and keyboard, and attach your device directly. Do not use and extensions like a USB hub or so to connect.
Step #7
After reading the instructions, press ok, patching GRUB process will start on the screen in the same window, as it completes, reboot the computer, and when you're back after the reboot, you'll see a file named as BootVM.sh on the desktop.
Step #8
Then after reboot, open the terminal and drag and drop this BootVM.sh file in the terminal and hit enter. Then the terminal will ask you for the computer password, put it, and hit enter.
You might see a message that enable VT-d or SR-IOV in BIOS settings in your computer. if these are not enabled, go into your computer BIOS settings and enable the options.
If you don't see any error message, the macOS screen will open on your screen; now, you have a macOS, so now you can install checra1n jailbreak on windows. If you don't know the process of installing it, go to this iOS 14 checkra1n jailbreak tutorial to install on your device and jailbreak.
This is how you can get iOS 14 checkra1n jailbreak on windows, fell free to leave a comment below if you have successfully installed iOS 14 checkra1n jailbreak on windows computer with ra1nstorm windows tool with our tutorial.
Does checkra1n work on Windows?
Checkra1n jailbreak does work on a Windows computer, you use third-party tools such as ra1nstorm to install checkra1n jailbreak on your windows computer.
How do I run checkra1n on Windows?
To run checkra1n jailbreak on windows you need to make bootable USB of the tool we use to run checkra1n on windows. This way you can jailbreak with checkra1n on windows computer.
How do I jailbreak my iphone with Windows?
To jailbreak your iphone you need to run jailbreak tool such as checkra1n jailbreak through your windows computer into your mobile that way you can jailbreak your iPhone with windows.