Significant development has made in the jailbreak community. It's about checkra1n jailbreak for windows for your iOS 12 – iOS 14.4 and upcoming all versions. As we know, iOS 14.4 checkra1n jailbreak is powered by checkm8 bootROM exploit that apple cannot patch.
But keep in mind, although checkra1n iOS 14.4 jailbreak updated, it currently supports till A10 devices completely, but partially A11 devices.
iOS 14.4 released days ago, and it's already jailbreakable when it comes to checkra1n jailbreak utility.
What's New in Checkra1n Jailbreak New Version
Checkra1n released the new update through their official website that is checkra1n version 0.12.2 when updating this article. They have fixed essential issues in this new release regarding A10 and A10X devices on iOS 14.3. the issues are all resolved now. You can now jailbreak your devices through the latest update without worries.
Unc0ver vs Checkra1n vs Odyssey jailbreak, which one is better for your device?
All these changes are made in the Mac and Linux version. Here we are going to checkra1n jailbreak on windows; the issues are resolved in it as well—a massive shoutout to JustATech for making it easier for users having windows machines to checkra1n windows jailbreak.
But don't worry, unc0ver jailbreak has made huge progress and that supports iOS 11 – iOS 14.3 on All devices! So if you got newer devices, then here is the tutorial to that if you want to download unc0ver jailbreak. Other kernel-related issues are also fixed which was causing the device not to boot.
Also, check here for checkra1n jailbreak tweaks
iOS 14 Checkra1n jailbreak supported devices
The checkra1n jailbreak now officially fully supports A9 – A9X and A10 devices, as well as, partial support for A11 devices by skipping the BRP check.
iPhone X (Partial Support – skipping A11 BRP check)
iPhone 8 and iPhone 8 Plus
iPhone 7 and iPhone 7 Plus
iPhone 6s, 6s Plus, and SE
iPad 5th generation
iPad Air 2
iPad mini 4
iPad Pro 1st generation
Apple TV 4 and 4K
iBridge T2
If you got a passcode disabled iPhone, here is a brand new method to unlock how to unlock iPhone passcode on a disabled device for free, thanks to checkra1n jailbreak.
You only need to boot into that newly created bootable USB and wait for the tool to load checkra1n on a windows computer. After loading is done, you can install checkra1n for windows jailbreak on your computer.
How To Download Checkra1n Jailbreak For Windows iOS 14.4
Step #1
First, you need to download the required files; here is the link to download the package file, skip the 5-second ad. If you face any errors while jailbreaking, especially if you face this "Error Getting Passcode State", then download this package file and jailbreak with this.

It's the one old version of the checkra1n windows jailbreak. This is the complete package to install checkra1n jailbreak on Windows. It contains even the Rufus tool along with the checkra1n windows file to make the USB bootable, so you can run that USB on your Windows computer to install checkra1n jailbreak for windows.
Step #2
After the download is completed, extract this package, you'll find all the files inside along with an instructions file. That explains how to use the Rufus to make checkra1n windows bootable USB drive. However, I also have shared below how you'll make the USB drive bootable for iOS jailbreaking.
Step #3
Open the Rufus tool inside the checkra1n package folder. Insert an empty USB in your computer and select it under the Device dropdown section. After that, click on the Select button to choose the checkra1n windows jailbreak iOS file. Change the Partition Scheme if needed according to your system's configuration, leave other settings as is, and click on the start button.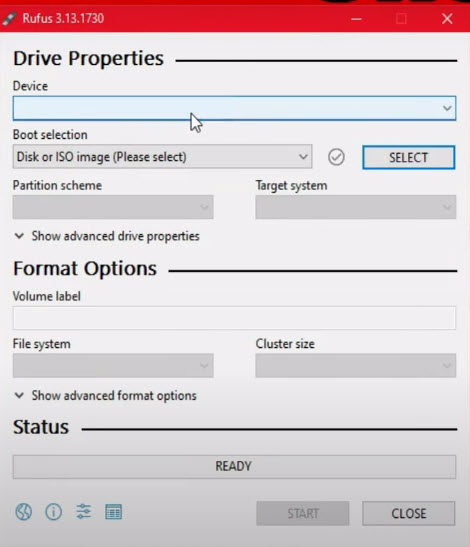 Once the bootable process is completed, reboot your computer. We need to reboot to boot into our computer through this bootable checkra1n windows jailbreak USB to install checkra1n jailbreak in our iPhone or iPad.
Step #4
Once the system is rebooted, we need to go inside the boot menu/boot manager settings. Different keys are used to enter into boot manager settings. In my case, I have to press the F2 key; there, I found the boot menu. You can try with F9 / F10 and the F2 as well. In the boot menu, we need to set the attached USB as a priority to boot from.
Info: Remember that the first thing is shown in the boot menu will be used to boot your system. In this case, you need to move the attached USB at the top if you want to boot from the connected USB. After selecting the USB as a priority, save and restart the system.
After the restart, don't do anything at all; just wait for a few seconds, checkra1n windows jailbreak will automatically show on your screen.
Official iOS 14 checkra1n Linux jailbreak is released, check it out if you have Linux.
Step #5
Now attach your device to your computer, and it will recognize your device. Don't forget to Hit the Trust on your device after connecting via USB cable so it can recognize your device.
Here are two important things, 1- If you see a warning stating the current iOS version you have is not supported, don't worry. Go to options using the arrow keys, and check the first option by pressing enter stating Allow untrusted iOS version. 2- Moreover, if you are using the iPhone 8 / iPhone 8+ / iPhone X (A11). You need to check the SKIP A11 BRP CHECK option on the options page as well.
Note: Remember that you won't be able to set the Face ID / Passcode or touch Id after skipping the BRP check on A11 devices. Also, turn off all these passcode/face id/ touch id before you jailbreak iPhone. You don't need to skip that for other lower devices till iPhone 7+.
Step #6
After you have set the options, come back to the main checkra1n screen, and click the start button. Now we are installing checkra1n jailbreak on windows. It'll ask you to put your device into DFU mode.
Press the start button; it will show you a little info about putting your device into DFU mode. They provide us with a guide for how to do that. But you might face difficulties through the checkra1n iOS 14 jailbreak utility, but do not worry! Follow below a few steps to put your device into DFU mode based on the devices you have.
DFU Mode iPhone X or iPhone 8 –

 

checkra1n iOS 14 jailbreak

: 
Press and

hold the Side button

 for almost 6 seconds, and then release it.

Now, immediately

press, press, and hold

 the 

volume down button

 and the 

side button

 together for 3 seconds.

After 3 seconds, wait,

release the side button only

, keep pressing the volume down button for at least 5-8 seconds.
Here is checkra1n windows jailbreak with bootra1n method.
DFU Mode iPhone 7 or 7 Plus – iOS 14.4 checkra1n jailbreak:
Press and hold the

side and volume down buttons

 together for almost 10 seconds.

After 3 seconds, wait,

release the side button only

, keep pressing the volume down button for at least 5-8 seconds.
DFU Mode iPhone 6s, iPad, or iPod touch – Checkra1n jailbreak iOS 14:
Press and hold the Side and Home buttons together for approx 10 seconds.

After 10 seconds,

release the side button only

; keep pressing the 

home button

 for at least 5-8 seconds.
If you're interested in Odyssey jailbreak, then check here.
Your device will be in working mode for checkra1n and show you different information about what's happening. After that, it's done, the iOS 14 checkra1n jailbreak is installed on your device, and you can see the checkra1n logo on your home screen.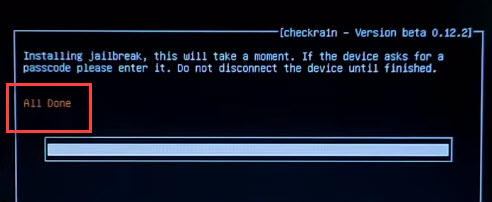 Check Alt Store iOS – Cydia Impactor alternative that signs the apps automatically for you.
Step #7
Now to start your windows computer in normal mode quit the checkra1n jailbreak app through arrow keys. You'll see the terminal below, type reboot, and hit enter, unplug the USB as well immediately. Your system will boot back generally to the Windows operating system.
Checkra1n jailbreak icon can take 10-15 seconds to show up on your device, don't panic if it doesn't show up right after the process to install checkra1n jailbreak on a windows computer is done. If it doesn't show up after the wait, check in the App Library on your device. It will be there.
Open the checkra1n jailbreak, and install the Cydia from there. After its installed, open the Cydia and go to the Changes option and upgrade the packages. Here is the best Cydia tweaks list containing 100+ Cydia tweaks with repos that you can download.
How To Fix Checkra1n Windows Error Getting Passcode State (Parsing Error)
If you are encountering an error stating "Error Getting Passcode State" on checkra1n windows 0.12.2, then download the older version of checkra1n windows 0.12.1. You can download that package from here skip the 5-second ad and download.

This is how you can get iOS 14 checkra1n jailbreak on windows, feel free to leave a comment below if you have successfully installed iOS 14.4 checkra1n jailbreak on windows computer with our tutorial. If you face any issues, leave a comment below as well.
Does checkra1n work on Windows?
Checkra1n jailbreak does work on a Windows computer, you use third-party tools to install checkra1n jailbreak on your windows computer.
How do I run checkra1n on Windows?
To run checkra1n jailbreak on windows you need to make bootable USB of the tool we use to run checkra1n on windows. This way you can jailbreak with checkra1n on windows computer.
How do I jailbreak my iphone with Windows?
To jailbreak your iphone you need to run jailbreak tool such as checkra1n jailbreak through your windows computer into your mobile that way you can jailbreak your iPhone with windows.