We know there have been a lot of problems with installing checkra1n jailbreak for windows iOS 14 because of dual boot complications. So here is the new tutorial with checkra1n modra1n, previously known as ra1nusb to install checkra1n jailbreak for windows with No Dualboot and No Mac needed.
The only thing you need to have is an empty USB (16 GB at least) to make the modra1n tool bootable. Modra1n is the updated version of Ra1nusb that supports multiple checkra1n versions, unlike ra1nusb. All the commands needed for it are given below along with step by step process to jailbreak your device.
This checkra1n jailbreak completely supports till A10 devices, but partially supports A11 devices where you need to skip the BRP check for your device in checkra1n jailbreak utility,
Checkra1n jailbreak is a jailbreak based on checkm8 bootrom exploit and a blackbird exploit that lets you jailbreak your devices from iPhone 5s to iPhone X and from iOS 12 – iOS 14.2 and to the latest iOS firmware available, in this case, you can install checkra1n on iOS 13, iOS 13.4, iOS 13.7 and up as well.
What's New in Checkra1n Jailbreak New Version
The recent checkra1n updated version supports till iOS 14.2 from iOS 12, any version, for iOS 14.2 is currently fully supports till A10 devices and partially A11 devices after skipping BRP check. This means you cannot jailbreak Apple devices that are powered by A11 – A13 devices. But don't worry, unc0ver jailbreak has made huge progress and that supports iOS 11 – iOS 13.5 on All devices! So if you got newer devices, then here is the tutorial to that if you want to jailbreak using unc0ver. Other kernel-related issues are also fixed which was causing the device not to boot.
As we know that checkra1n jailbreak is only available for Mac officially at the moment, but there are other ways as well to install checkra1n jailbreak windows, and here comes a new one that doesn't even require a dual-boot, in the ra1nstorm tool case you have to dual-boot on Windows computer.
Unc0ver vs Checkra1n vs Odyssey jailbreak, which one is better for your device?
iOS 14 Checkra1n jailbreak supported devices
The checkra1n jailbreak now officially fully supports A9 – A9X and A10 devices, as well as, partial support for A11 devices by skipping the BRP check.
iPhone X (Partial Support – skipping A11 BRP check)
iPhone 8 and iPhone 8 Plus
iPhone 7 and iPhone 7 Plus
iPhone 6s, 6s Plus, and SE
iPad 5th generation
iPad Air 2
iPad mini 4
iPad Pro 1st generation
Apple TV 4 and 4K
iBridge T2
This checkra1n ra1nusb or modra1n method requires you an empty flash drive that you need to make bootable, all the step by step process is described below. You can use that bootable USB to boot modra1n anytime when you need to jailbreak with checkra1n windows. You'll boot the USB in your windows computer anytime required.
NOTE:
The
checkra1n jailbreak windows
process is divided into two sections. In the 1st section, I'll show you
how to make a modra1n bootable
flash drive, and the 2nd section is about you. You can boot it into your computer so you can
jailbreak your device
.
iOS 14 Checkra1n Jailbreak For Windows With Ra1nUSB/Modra1n
Warning!!! if you do not have any experience with bootable USB to boot in the computer, then it's recommended do not jailbreak using iOS 14 checkra1n modra1n and wait for the official release of it.
Step #1
1st you need to download two software, one the modra1n, and the other is to make modra1n bootable in your flash drive. So download two tools; the links are given below to download.
If Intel powers your computer, then download Intel modra1n, if AMD powers your computer, then download AMD modra1n. Then download TransMac as we'll use this to make modra1n bootable flash drive  (wait 10 seconds to download the free trial version to make the bootable flash drive).
Here is how to backup all tweaks and restore them later.
Step #2
Now when you have the modra1n dmg file, and TransMac installed, Open TransMac (wait 10 seconds to run it) and make sure you have your attached USB showing on the left side. Right-click on your flash drive name and select "restore with disk image," and press yes.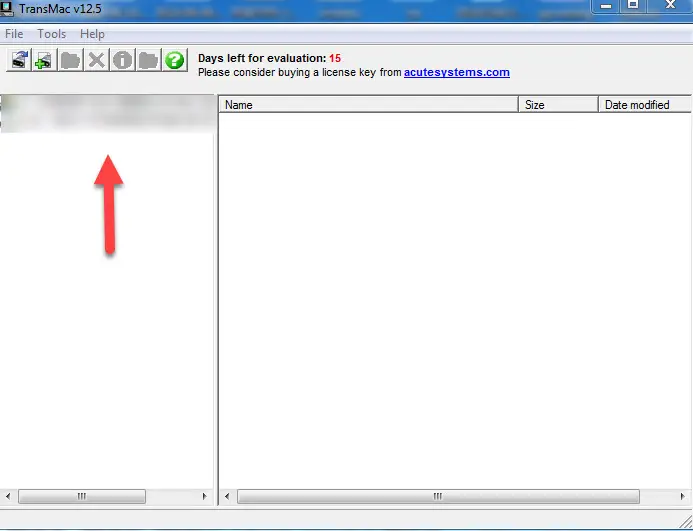 Then you need to choose a checkra1n modra1n tool dmg file. First, your flash drive will get the format, and then the bootable process will start. Next, we'll see how to run this bootable flash drive so we can jailbreak our device by running checkra1n jailbreak on windows computer with modra1n.
If you got a passcode disabled iPhone, here is a brand new method to unlock bypass passcode on iPhone on a disabled device for free, thanks to checkra1n jailbreak.
Install Checkra1n Jailbreak Windows iOS 14 with Modra1n/Ra1nUSB
Step #1
After your modra1n bootable flash drive is ready, restart your computer. Keep in mind that when you restart it, you need to enter into the computer's boot device options for changing the boot options so that you boot from the USB, not already installed windows.
This step is really necessary to checkra1n jailbreak on windows. Most of the time, you enter in boot menu by pressing the F keys, f2, f12, f11, or you can check on the internet for your computer's model that how you can enter into boot menus.
Unc0ver jailbreak lover? Here is the unc0ver jailbreak step by step tutorial.
Step #2
Once you're inside of boot options, select the priority of the attached USB and hit enter. You'll prompt with this screen below; here you need to navigate to the Options icon. You can navigate with arrow keys to go to the options.

Step #3
You need to select the 1st option with the title "boot macOS install from Modra1n" after selecting the 1st option. If your computer shows the moving script, that means you're going well. But if it sticks somewhere for a long time, that means your computer is not supported for checkra1n modra1n, and you need to try it on another computer.
The official checkra1n Linux version is released as well, here is the step by step checkra1n Linux jailbreak tutorial with two different methods.
Step #4
After the moving script is over, you'll see a message asking you to attach an external mouse with your computer if your trackpad isn't working. Attach an external mouse and click on the arrow, you'll see the setup screen, select your language, and continue.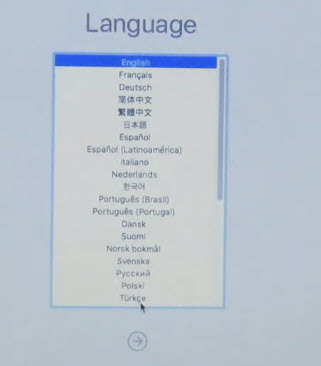 You'll see this screen with a checkra1n logo and ra1nusb on your windows computer. As we told you earlier, checkra1n modra1n is the updated version of the ra1nusb tool. Go to the utilities menu at the top of the screen, if you don't see a bar to select that, go to the top and right-click there.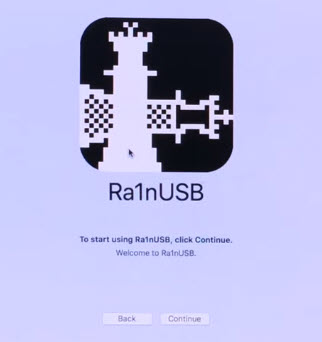 Step #5
From the utility tab, go to the terminal, then from the terminal, go to the Shell -> New window -> Homebrew. After that, run this command below and hit enter to continue the checkra1n modra1n jailbreak windows.
justatech
The above command will popup the modra1n in the terminal; checkra1n jailbreak has many versions by far. So the modra1n with checkra1n lets you install any of the checkra1n versions. Below are all the commands mentioned you can choose the one you need. For example, as I wrote command justatech-0.10.0, that version popped up, see the picture below. At this point, you will connect your device with the computer to install iOS 14 checkra1n with modra1n.
iOS 14 Checkra1n Modra1n Command For Checkra1n Versions
Checkra1n 0.9 = justatech-0.9
Checkra1n 0.9.1 = justatech-0.9.1
Checkra1n 0.9.2 = justatech-0.9.2
Checkra1n 0.9.3 = justatech-0.9.3
Checkra1n 0.9.3.2 = justatech-0.9.3.2
Checkra1n 0.9.5 = justatech-0.9.5
Checkra1n 0.9.6 = justatech-0.9.6
Checkra1n 0.9.7 = justatech-0.9.7
Checkra1n 0.9.8 = justatech-0.9.8
Checkra1n 0.9.8.1 = justatech-0.9.8.1
Checkra1n 0.9.8.2 = justatech-0.9.8.2
Checkra1n 0.9.9 = justatech-0.9.9
Checkra1n 0.10.0 = justatech-0.10.0
Checkra1n 0.10.1 = justatech-0.10.1
Checkra1n 0.12.0 = justatech-0.12.0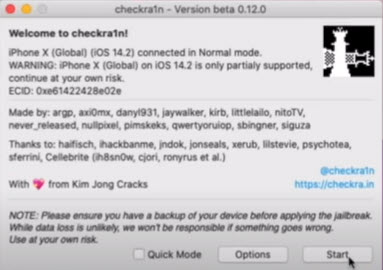 Check out the latest checkra1n jailbreak tweaks list.
From now on to complete the process, follow this checkra1n jailbreak tutorial, a step by step tutorial is described here that you can follow easily to jailbreak iOS 14 checkra1n with modra1n on your windows computer.
Installing Checkra1n on A11 Devices With Skip BRP Check
As checkra1n jailbreak is partially supported on A11 devices, you need to skip the BRP check on your device. Disable the passcode or faceID on your device, as if you want to jailbreak on A11 devices unfortunately for now you can't have the passcode/faceID on checkra1n jailbroken devices.
Now if you are installing on A11 devices, in the options page, check the Skipping BRP check checkbox first. If you are jailbreaking on lower devices than A11, just leave it as it is already.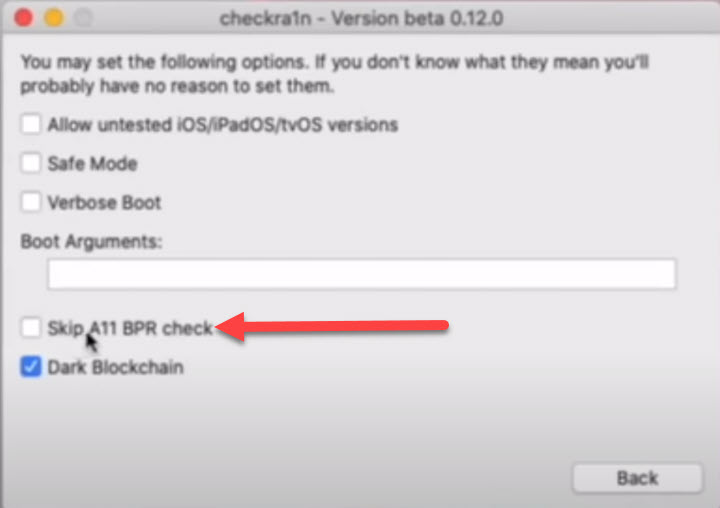 Fix Checkra1n Modra1n Jailbreak Stuck And Cannot Boot Issue
Here is the solution if you are not able to run modra1n on your computer, for some reason it cannot boot or stuck. You need to add a config.plist file in bootable files in the flash drive.
Check here the checkra1n jailbreak windows bootra1n method.
First of all, download this config file, attach your flash drive to your computer and go to EFI Folder ->Clover folder. Here you'll find a config.plist file, delete this file and add the newly downloaded config.plist file in the folder. Now try again running checkra1n modra1n jailbreak on windows computer. You'll see a different screen this time for booting with modra1n, it's normal, don't panic after seeing this.
Is checkra1n available for Windows?
Checkra1n windows jailbreak version is NOT officially available right now. There are only two official checkra1n jailbreak versions that are Mac and Linux. But there is an option available to jailbreak device with checkra1n windows jailbreak using Ra1nUSB/ModRa1n.
How do I run checkra1n on Windows?
To run checkra1n jailbreak on windows you need to run bootable USB of ra1nusb/modra1n on your windows computer to do checkra1n windows jailbreak.
How do I jailbreak my iPhone with Windows?
To jailbreak an iPhone with you need to follow proper steps in this article to successfully jailbreak your iPhone with ra1nusb/modra1n bootable USB using windows computer.