As we know that Cydia Impactor is not working anymore, and it will be this way until Saurik, who is the developer of this tool, makes it working again. But you, a tweaked apps lover, can't wait when Cydia Impactor is working again.
You need Instagram++, Spotify++, and other tweaked apps with no revoke to install with no jailbreak. In this article, I'll show you how you can sign IPAs files with Cydia impactor alternatives tools called iOS App Signer and AltDeploy, AltStore, and sideloadly, and more.
You can sign the IPA file with XCode, no revoke, no jailbreak needed, you can do it with your own Apple account and install it on your device. Another method, the last one, it's about how to install IPA files, this is with the jailbreak method.
You need either a free or paid Apple Developer account to sign IPA files using XCode. Apps are signed for seven days with a free developer account and one year with a paid developer account.
check here how to fix checkra1n jailbreak errors.
Moreover, with a paid developer account, you don't need to trust the applications after those are installed. Below are the best alternatives to Cydia impactor that you can use to sideload any IPA files on your iPhone.
Best Cydia Impactor Alternatives To Sideload/Install IPAs File Apps
1. Reprovision Reborn
The first in our list of Cydia impactor alternatives to sideload and resign apps is Reprovision Reborn. You have to be jailbroken in order to install reprovision reborn.
But it's better in a way that you don't need a computer to sign any IPA files, even you don't need a computer to resign the apps that are expiring soon. Moreover, reprovision will itself resign the apps for you when you are in a jailbroken state. Here is our step-by-step guide to install reprovision reborn on your Apple device.
2. iOS App Signer
The iOS App Signer is an open-source product that is available on GitHub. If there is a problem, people can fix it. However, Cydia impactor is not an open-source product, so even those people who know what the problem in impactor cannot fix it because no code is available to that is.
So this Cydia impactor alternative iOS App Signer is open source, so I am demonstrating how you can install revoked applications with it in a step-by-step manner.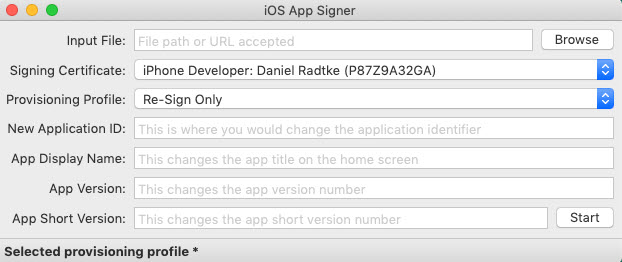 Not only Cydia Impactor, other third-party app stores like AppValley, Ignition, Tweakbox are also revoked, and no longer being signed. We need to wait for app owners to resign them to install in our device so we can get tweaked apps no revoke again, and no jailbreak is required for it.
Prerequisites for iOS App Signer For Tweaked Apps No Revoke
Apple Device
IPA file of any application to sign
A Mac or a Windows computer running Mac or a Hackintosh
Xcode Software
iOS App Signer software (download link is given below)
Apple Developer Account (paid or free)
Unc0ver vs Checkra1n vs Odyssey jailbreak, which one is better for your device?
How To Install IPA Files / Sideload IPAs With iOS App Signer(Cydia Impactor Alternative)
You must be on the Mac computer, or Hackintosh, or macOS in a virtual machine in your windows computer because we will sign IPA files with XCode.
Step #1
Download any IPA files, for example, if you want to install unc0ver, chimera, any other plus plus apps.
You can get them through the official website or from any other sites like iosninja.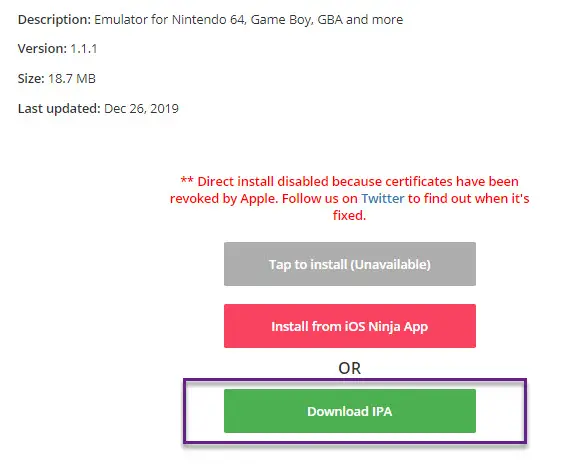 Step #2
Go to this link and download the iOS App Signer ZIP file into your computer because we are going to use this as a Cydia impactor alternative to sign IPA files so we can download tweaked apps no revoke.
This will give us seven days or one-year apps certificate for whatever app you want to use depending on which Apple developer account you have.
Check here the best third-party app stores for iOS devices.
Step #3
As mentioned earlier, we will sign IPA files using XCode, so open up the XCode software.
If you don't have it, then install it. After you have opened it, create a new project in it, you can simply create a small project and name it as you want. Save the project on the desktop or any desired location.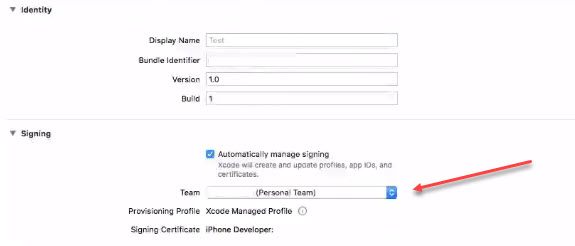 Note:
Make sure you're signed in with your Apple Id into your
Xcode software
, if you haven't done that yet, go to Xcode's preferences sign in there with your Apple Id. It's necessary to select some options in the created project to
sign IPA files with XCode
.
Step #4
After you are signed in with your Apple Id, choose the personal team for the project as this will create the signing certificate as well as the provisioning profile for iOS App Signer for signing capabilities.
After that, hit the build button and do not let it complete, press the stop button right after you see Build Succeeded message on your screen. After it, you can close the XCode software.
Here is how to backup all tweaks and restore them later.
Step #5
Follow this step 5 if you didn't face any errors in step 4; if there was any problem, then repeat step 4.
Now open the iOS App Signer, click on the browse in front of the Input File field and select the IPA file you want to sign.
After that, in the signing certificate dropdown, select the one showing with your apple id in the name. In the provisioning profile dropdown, choose the one showing your bundle identifier (that random thing you added while creating a project in XCode) or with the provisioning profile.
After that, click on the start button and then hit the save button and replace this file with the existing file on your computer, iOS App Signer will take almost one minute to complete the process, the time depends on the size of the file you're processing.
You will see a message at the end of the iOS App Signer that the process is done. At this stage, this app that you sign using XCode and the app signer is currently being signed by your Apple developer account.
Step #6
Now it's time to connect your phone, remember that no jailbreak is needed to sign tweaked apps with this Cydia impactor alternative. Therefore, make sure your device is cleaned from jailbreak if you are signing any revoked jailbreak app.
Step #7
After attaching your device, open the XCode software again and go to the Windows menu at the top; in there, click the devices and simulators.
Here you'll see that your device is connected to sign IPA files with XCode. Hit on the + sign and select the IPA file to install on your device. As you select it, it'll be installing on your device.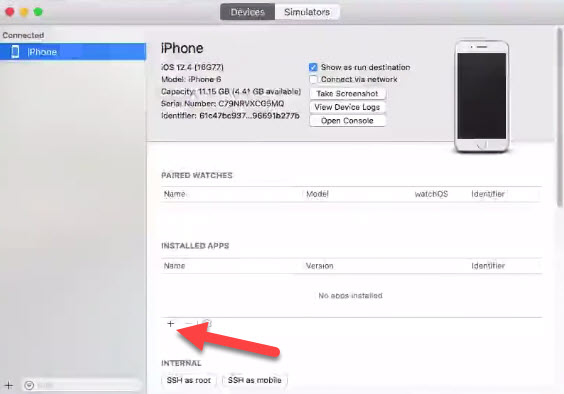 Select the signed IPA file that you replaced earlier, open it to install in your attached device. After the installation is done, you'll the installed app through iOS App Signer on your home screen. This Cydia impactor alternative works perfectly to sign any revoked apps. Trust the application and use it.
Here is how to download checkra1n jailbreak windows.
Important Note No paid developer account is needed for this. You can use the free one, but you have to sign in again after every seven days, just like Cydia Impactor. But if you have a paid developer account, then this signing can last for a year. Keep in mind this iOS App Signer method works with any IPA files.
3. AltStore iOS
Alt Store iOS was known for Delta, which is an emulator that allows you to play Gameboy games on your iDevice without needing to jailbreak your device. However, with the new update to Alt Store iOS, you can install any IPA directly through AltStore. All you need to do is to import the IPA file into AltStore and then you can sign the IPA.
You need to install AltStore iOS into your phone first, all the step-by-step processes to install Altstore on iPhone are explained here. Go to our AltStore article to install AltStore and AltServer to sign IPAs.
4. AltDeploy – A Cydia Impactor Alternative
AltDeploy is a new tool released by (@pixelomer – credit to him for it) and has been updated; it also lets you sign IPA files like unc0ver and other ++ applications, so you can use them in your devices. As you know, the Cydia impactor is not working, so here is another Cydia impactor alternative AltDeploy to sign IPA files using your Apple Id, no revokes, and no jailbreaks.
Unlike Cydia impactor, this AltDeploy supports multiple Apple Ids, and you don't have to log in with Apple Id every time as well. AltDeploy is currently only available for Mac, but you can use a virtual machine with mac in it.
After it is updated, it now supports older macOS like macOS High Sierra and Sierra as well.
How To Sideload / Install IPA Files With AltDeploy – A Cydia Impactor Alternative
Step #1
First of all, download AltDeploy from this link of GitHub.
Step #2
Open the AltDeploy and sign in with your Apple Id first; you can do it by clicking AltDeploy at the top of your screen; there you'll see it add Apple Id option.
You can add multiple Apple Ids as well; you can select through dropdown on the interface. This looks similar to Cydia Impactor with some improved features.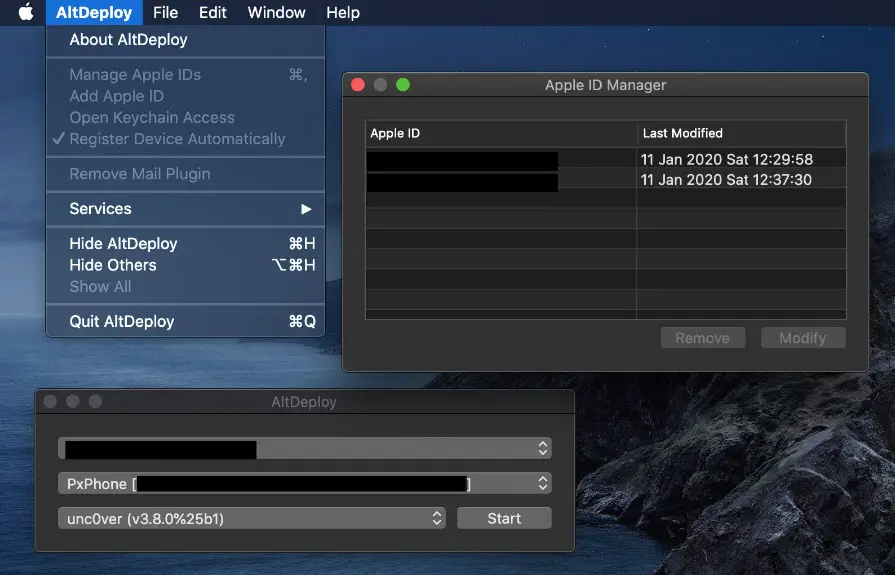 Step #3
Drag and drop the IPA file onto the AltDeploy, and press the start button. A process will start to do everything for you, like registering stuff and downloading stuff as well.
Same as iOS App Signer and Cydia Impactor, with free Apple Id, this IPA signing is valid for seven days only. However, if you have a paid developer account, then you won't need to worry about signed apps for a year.
Check here the iOS 14 widgets list.
5. Sideloadly – New Cydia Impactor Alternative
The Sideloadly is a brand new Cydia impactor alternative released in July that can be used to sideload IPAs or install IPAs files on your device with either free or a paid developer account. For free accounts, it has to make a request to the Sideloadly server to grab the necessary information required for sideloading.
How To Install IPA files With Sideloadly
Step #1
To sign IPA files with Sideloadly, first, go to this website, scroll down and file the download option and download the sideloadly software.
With this, make sure you have iTunes installed on your Windows computer, you can download that from here, X32, X64. At this time, it's currently available only for Windows users, the Mac version will come later.
Step #2
Right-click on the sideloadly downloaded file and open it as an administrator and install it.
Make sure your computer is connected to the WiFi, after installation, it'll download the necessary files.
Step #3
After the sideloadly pops up on your screen, connect your device and it will recognize that under the device section.
Don't worry if iTunes pops up, just close that, you need to have an IPA file already on your computer, that could be any IPA file you want to install on your device. Click on the IPA on the left side and choose the IPA file to install.
Check here how to download odyssey jailbreak.
Step #4
Before your click start, place your Apple Id in the Apple account section, It recommended that to sign IPA files with sideloadly, use a dummy Apple Id in this, don't use your main Apple Id.
Once you click on the start button, you'll be asked to put in your Apple Id's password, because sideloadly downloads necessary information from their server this is why you shouldn't use your original, but a dummy Apple Id. After that, the application will be sideloaded onto your device's home screen.
This is how to sideload IPA file with Sideloadly, you can install any IPA file you want with sideloadly that is a brand new Cydia impactor alternative.
6. How To Install / Sign IPA Files
Here in this part, I'll let you know how to install IPA files on your iPhone or iPad, you can install any IPA files with this. You can install tweaked apps and there is no revoke error as well.
Step #1
Open the Cydia, add this repo in your Cydia, https://cydia.akemi.ai/.
Tap on edit, then tap on Add button to add it, and then press on the done button.
Step #2
After adding the repo, go to this repo and go inside All Packages, install the AppSync Unified.
After installation, restart the springboard.
Step #3
Now, open the safari browser and go to this store link, tap on the Web Version, after that tap on EonHub.
There you'll see an App Installer, tap on it and install it through the popup. You'll find it on your home screen if it asks you to trust the app, trust it from the settings then it'll open.
Step #4
Now you need the direct link of an IPA file to install. You can get it from different websites available over the internet, I'm using iOSNinja. Go to the site, then in IPA Library, tap on the app you want to install, then tap on the Download IPA button. On the next page, copy the direct link to the IPA to install.
Step #5
Paste the copied IPA link in the App Installer and tap on the Install button, then again on the Install button in the popup. The IPA will be installed on your device's home screen.
This is how to install IPA files and remember that, if you restart your device and try to run the installed IPA app in non-jailbroken mode, the app will not work. You need to be in jailbroken mode.
This is how you can install
tweaked apps, and no revoke
, no jailbreak with
Cydia impactor alternatives
iOS App Signer
AltDeploy
, 
AltStore
and
Sideloadly.
Also, it's mentioned
how to install IPA files
, If you face any errors while
signing IPA files using XCode
, please leave a comment below.
Top Best Cydia Impactor Alternatives To Sign/Install IPAs File Apps
Reprovision Reborn
iOS App Signer
Altstore
AltDeploy
Sideloadly
Akemi