Finally, after a long wait, we have got an iOS 12 – iOS 12.5.x jailbreak, iOS 12.1.3, iOS 12.3. iOS 12.5.x is supported on A7 – A11 devices only, for now. The Electra team has released iOS 12 – iOS 12.5.x Chimera Jailbreak with Sileo support and tweaks. This has been rebuilt from the ground, a totally new jailbreak made by the Electra team; let's see in this article how to install chimera jailbreak with pc and download chimera jailbreak no pc.
Keep in mind that according to CoolStar, who is the main chimera jailbreak developer, there won't be any Chimera jailbreak for iOS 14; as of now, it's supported for iOS 12 – iOS 12.5.x mainly supported for old devices. The latest chimera version that was released uses the libhooker internally instead of a substitute to applying the patches, but the jailbreak itself runs on libhooker.
The reason there won't be any Chimera iOS 13 jailbreak, below tweet is the answer to that.
Anemone 3 also is likely not getting a port for iOS 13 either.

Since Chimera13 and libhooker are both not happening, it doesn't really have anywhere to run on iOS 13

— CoolStar (@CStar_OW) March 10, 2020
Check here if you want to jailbreak with checkra1n jailbreak.
Things Covered In Chimera Jailbreak iOS 12.5.x Download Guide
Info Before Attempting iOS 12 Jailbreak Using Chimera Jailbreak
What a Jailbreak Actually Is?
Supported iPhones & iPads for iOS 12.5.x Chimera Jailbreak download
iOS 12 install Chimera Jailbreak With Computer
Jailbreak iOS 12 Chimera (No PC Method)
Update Chimera Jailbreak Using Siri
Fix Errors, Problems, Issues Regarding Sileo And Chimera Jailbreak
Very Important Info Before Attempting to download chimera jailbreak iOS 12.5.x
Remember, this is at the initial stage for jailbreak iOS 12.5. This means updates will keep coming to it to make it better and flawless. But you can still use it as it is considered safe. Before installing tweaks, make sure that those tweaks are updated to work with iOS 12.5 jailbreak in chimera and Sileo. Because those may cause issues if you install old tweaks.
Introducing Chimera, a modern jailbreak for all devices on iOS 12 — 12.1.2.https://t.co/Us16P1PUl6

— Electra Team (@electra_team) April 30, 2019
The latest push version, 1.0.2, fixes issues related to A12X iPad Pro.
Chimera 1.0.2 is now available!

This fixes issues with A12X iPad Pro's failing to jailbreak

Other devices do not need to updatehttps://t.co/BK7adY517T

— Electra Team (@electra_team) April 30, 2019
The website is this Chimera Jailbreak; you can download the chimera IPA file, and you have to install it using the Altstore. As you already know, the apps like the tweak box and ignition are currently down, and I don't know when will work perfectly fine.
Check here the best third-party app stores iOS.
Don't worry; I have described the complete process to jailbreak using Chimera jailbreak iOS 12 – iOS 12.5.x using both methods, with or without a computer. It supports every device running on iOS 12 up to iOS 12.1.2; iOS 12.5 jailbreak supports only for A7 – A11 devices.
On the website, they wrote this below about this new jailbreak.
What a Jailbreak Actually Is?
iOS jailbreaking is actually a privilege escalation to remove Apple's software restrictions on the iOS, tvOS, and watchOS. This is done through a series of kernel patches. This jailbreaking allows root access to iOS, allowing downloading and installing additional applications and extensions unavailable through the official Apple App Store.
Supported iPhones To iOS 12 Chimera jailbreak (All Devices Supported for iOS 12 – iOS 12.5.x jailbreak)
iPhone XS Max
iPhone XS
iPhone XR
iPhone X
iPhone 8
iPhone 8 Plus
iPhone 7
iPhone 7 Plus
iPhone 6s Plus
iPhone 6s
iPhone 6
iPhone 6 Plus
iPhone SE
iPhone 5s
Supported iPads Chimera Jailbreak
12.9-inch iPad Pro 3rd Generation
12.9-inch iPad Pro 2nd Generation
12.9-inch iPad Pro 1st Generation
11-inch iPad Pro
10.5-inch iPad Pro
9.7-inch iPad Pro
iPad 6th Generation
iPad 5th Generation
iPad Air 3rd Generation
iPad Air 2
iPad Air
iPad mini 5th Generation
iPad mini 4
iPad mini 3
iPad mini 2
iPod Touch 6th Generation as well
The much awaited Apple Tv blackb0x jailbreak is released with Kodi support! Check here.
Warning Before You

download 
Chimera Jailbreak iOS 12.5
Make sure you do not have any downloaded OTA updates on your device. If you do, go to Settings-> iPhone Storage here. You'll find any downloaded OTA updates and delete them because they may create problems. Definitely delete them before you attempt iOS 12.5 jailbreak.
How To Chimera Jailbreak Download iOS 12.5.x with Altstore
Step #1
Download the chimera jailbreak IPA file from this link.
Sign any IPAs files through Cydia Impactor Alternative.
Step #2
We will sideload the chimera jailbreak IPA file; we need to install Altstore on our device.
Step #3
If you do not have the Altstore installed on your device, here is the step-by-step tutorial on installing altstore on your iPhone.
Go here and install the Altstore first and come back here; alt store installation steps would make this content fluffy, install it from our detailed guide, and follow step 3 below.
Step #4
Open alt store, go to my apps section, tap on the + icon at the top and select the downloaded chimera jailbreak IPA file from there.
Keep in mind that your device must be connected to your computer this time, and your device and computer must be connected to the same wifi network as well. The chimera jailbreak will be sideloaded, and you'll find it on your device's home screen.
Step #5
Open the installed chimera jailbreak app.
It looks pretty nice, and colors change themselves, which makes it more awesome; there is a button below that tells you about your iPhone compatibility, and you can also disable the tweaks if you're having problems. There is also an option to Nonce, which is useful if you have the saved shsh blobs.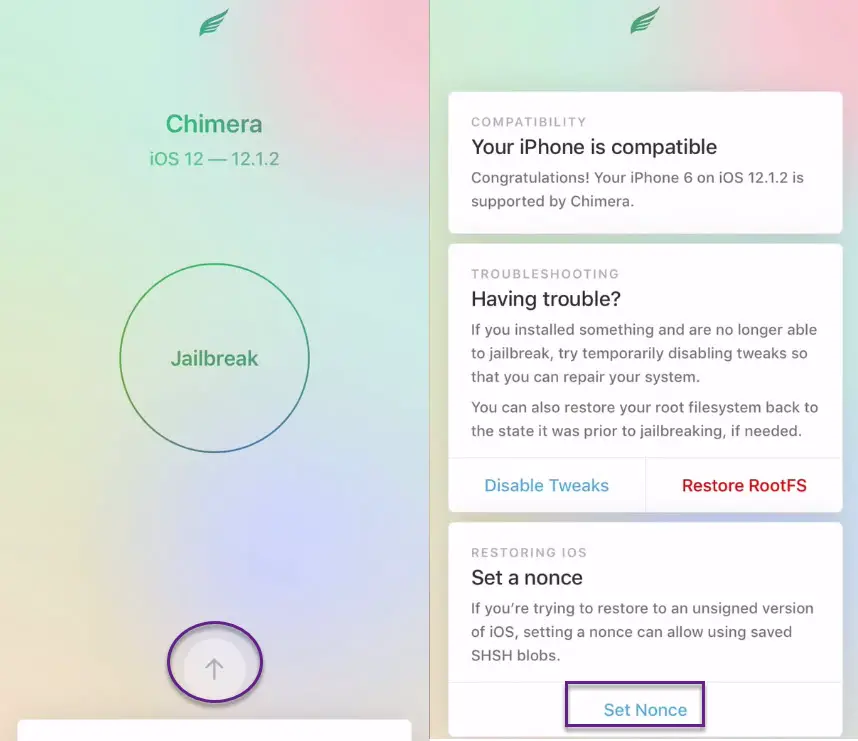 Step #6
After pressing jailbreak, it may ask you to reboot; when the phone is on, you need to run Chimera jailbreak immediately after that.
Now when you hit the jailbreak button, after the process runs for a few seconds or a minute, it'll ask you to reboot the device to finish the jailbreaking process.
NOTE: If you're not satisfied with iOS Chimera Jailbreak to Follow this to Unjailbreak Chimera Jailbreak,
Hit the OK button to reboot; after that, open the chimera to complete the process. The process is taking 2/3 attempts due to sometimes crashing or requiring reboots. In some cases, you might see a bug that results in a completely black screen. Bugs are there because it's the initial release and will be fixed as the Electra team pushes new updates.
Get some new Cydia tweaks checkra1n.
If you face this problem while installing Chimera Jailbreak, restart your phone. Open Chimera again. If it says "jailbreak," then repeat the jailbreak process. Otherwise, if it states jailbroken, it is successfully installed. You'll see a Sileo application installed with it instead of Cydia. I have told you before in detail about Cydia and Sileo.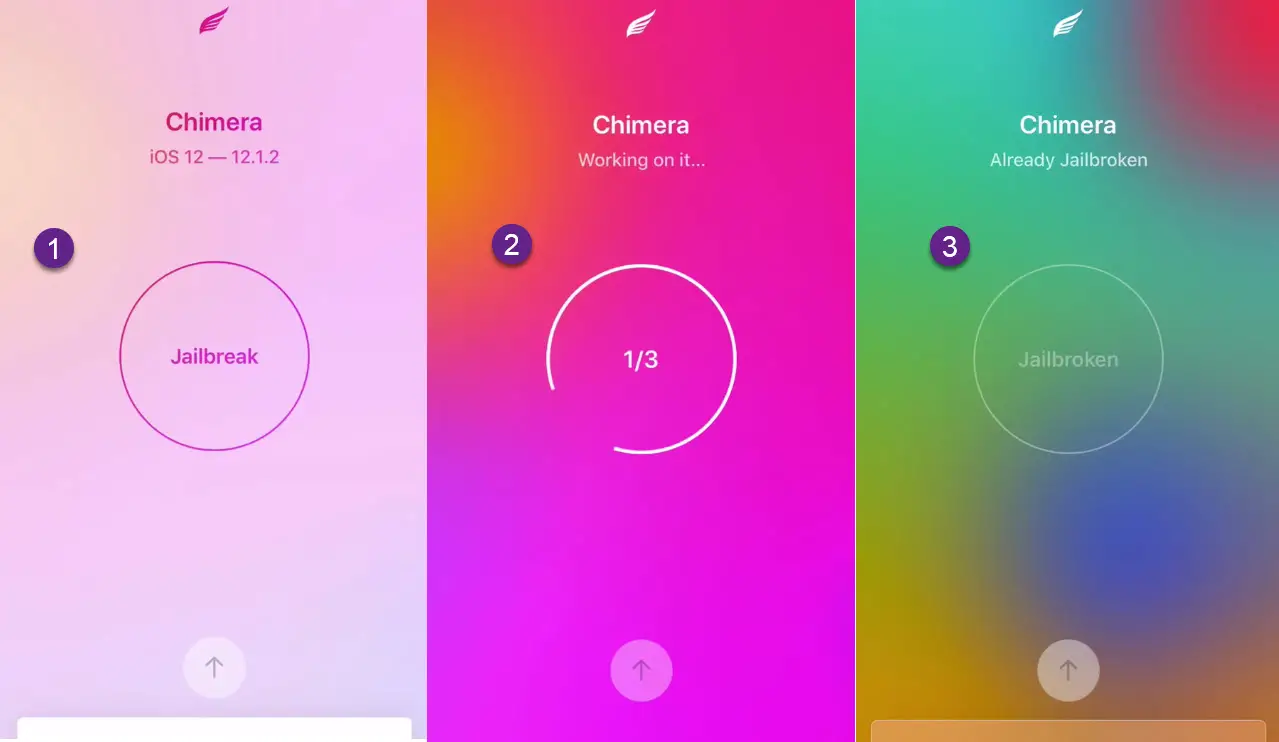 If you face this problem in Sileo, follow this in the tweet,
If you are getting an Error 404 installing the substitute update or any other updates, go to the Sources tab and make sure to pull down on the list to refresh it

— Sileo (@GetSileo) April 30, 2019
Sileo looks pretty nice and modern, most of the repos are compatible with Sileo, but some of the older ones do not meet Sileo's criteria. Those might not work with the Sileo, so be aware when you add repos into Sileo.
Check at the bottom; there is a step-by-step process to
Update Chimera
Jailbreak iOS 12.5.x
 with
SIRI.
Check here iOS A12 Chimera Jailbreak Sileo Tweaks
How To Download Chimera Jailbreak NO PC iOS 12.5 
This is the second method to install Chimera jailbreak no computer.
Step #1
Go to the App Valley website, and scroll down.
Step #2
This is a free website; it contains many ads on it, scroll down, and clicks on the Get button in front of Chimera jailbreak.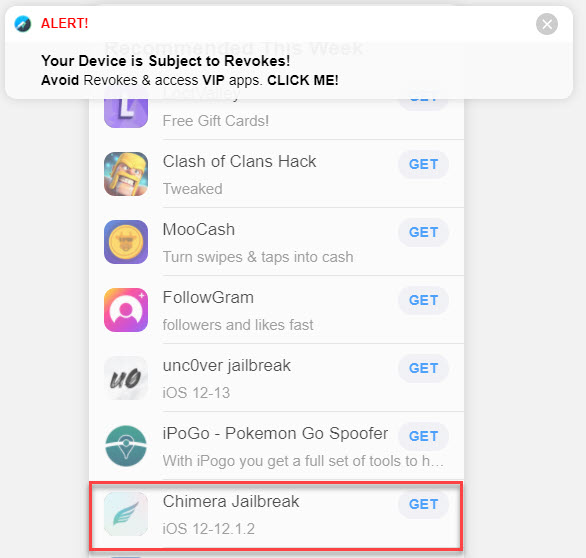 Step #3
Click on the Get button again in the popup and then on the popup's install button.
Chimera jailbreak will start installing on your device's home screen.
NO Altstore is needed for installing iOS 12.4 chimera jailbreak in this method as it's a chimera jailbreak no computer method.
 Step #4
When you try to open the installed Chimera jailbreak utility, it'll ask you to trust the application.
Then go to Settings → General → Profiles & Device Management and tap your Apple ID. Tap on trust and then again on trust in the popup window. After this, you can open Chimera without any restriction.
Step #5
Open Chimera Jailbreak and press on jailbreak.
All these steps are mentioned in the 1st computer method with the Alt store.
You can install unc0ver as well as many other apps through this app valley website.
Installing Tweaks in Sileo, iOS 12.5 Chimera Jailbreak
After you download chimera jailbreak, you need tweaks in your iPhone. Go into the search bar and search for any tweak you want to install. For example, I am installing Filza tweak, click on the searched tweak, and press on the GET button; after that, press on Queue (Get button will turn into queue button), and after that, press confirm.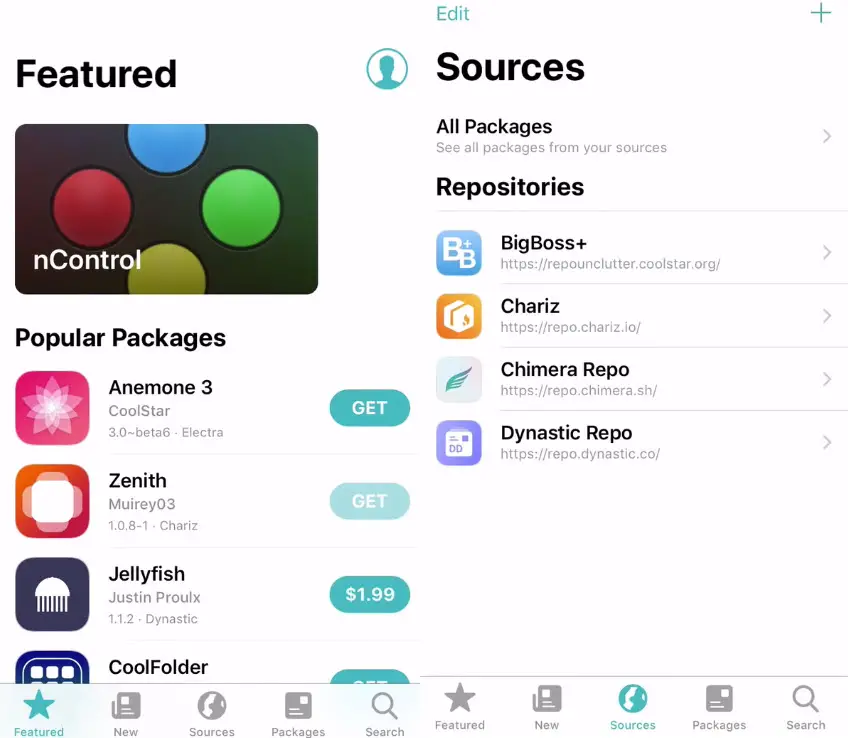 Sileo works fine and seems faster than the Cydia; I already have posted about the Sileo here; you can read about it more.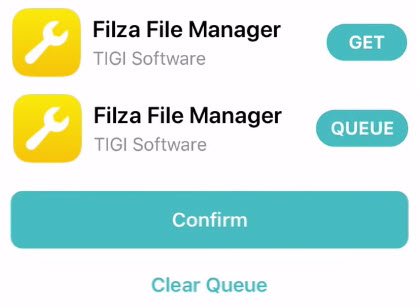 How To Update Chimera Jailbreak iOS 12 – iOS 12.5.x with SIRI
Do you know guys you can update your Chimera Jailbreak iOS 12.5 using the SIRI shortcut? If you don't, I am telling you how you can do it in a step-by-step manner using ReProvision in Sileo. So you don't have to do a manual process whenever you see an update after opening Chimera Jailbreak.
Step #1
Open Sileo application, go-to sources, and add this repo; after adding it refresh the sources list.
Step #2
Go inside of newly added repository, then go to all categories -> ReProvision -> press Get button -> press confirm to install it.
Step #3
Open ReProvision app and sign in using your Apple Id after clicking confirm at the top.
You can use this in your two Apple devices using your Apple Id. If you see to remove a certificate in there, remove one.
You can use this to resign any side-loaded applications on your devices.
Step #4
With this link, you can install a SIRI shortcut, open the link to get the shortcut on your device.
After that, it'll be added to your Siri shortcuts library.
Step #5
Tap on Three Dots on it, then tap on the Settings icon; you can rename it as well.
Then we'll "add it to Siri," give it a sentence to run this shortcut. You can speak "Update Chimera" for easiness; after that, press the done button. You can also put this on your home screen.
Step #6
Now, everything is done, except for the updating process.
Open up the Siri and speak the command sentence you gave to it. The process will be done in front of you; internally, it fetches the update from the official CoolStar website so you'll get the latest version every time. Don't worry if on screen it shows you the previous version that will be fixed later.
How To Fix Chimera Jailbreak Errors, Problems With Sileo And Other Issues
Here, I am telling you many fixes to the problem when you install chimera jailbreak. But this might not be a solution to every problem; keep that in mind. This will work for installing fresh iOS 12.5 jailbreak or updating your jailbreak as well.
For example, you can see an error that Sileo isn't starting or is not appearing after you have jailbroken your device. Or any other stuff like few tweaks that don't appear after you install.
Let me tell those who try to fix Chimera jailbreak by just reinstalling it. This will not work for anything you are trying to fix because when you installed it previously, your file system already contains those files for the jailbreak. When you uninstall the application, it doesn't remove the files from your file system.
To fix or remove those files, you need to restore your file system. Keep in mind you'll lose all your installed tweaks, not your personal photos and contacts.
How To Fix Chimera Jailbreak & Sileo Errors Issues
Step #1
Press the button at the bottom of the screen and then press Restore RootFS.
Step #2
Press OK on the popup stating Root Filesystem Restore; after that, Chimera will show you "Restore Filesystem" instead of Jailbreak.
This will remove everything related to chimera jailbreak and will fix not all, but many of the problems the corrupted files are creating to work it properly.

Because this creates binary files in the file system as well so the only reinstallation of the application will definitely not work for you. Restore RootFS is necessary, this will not affect your personal files or data.
Step #3
Now press Restore Filesystem; after the process is done, try to re-jailbreak using chimera jailbreak.
The problem I had was related to Sileo; it was not opening after I jailbreak, so I went through the above-mentioned steps and re-jailbreak; it was opened after that. So many other issues or problems can be fixed by following this method as well.
Not only iPhone but this Chimera Jailbreak iOS 12.5 also came for iPad, TvOS. This was the complete process to install Chimera Jailbreak. Suppose you face any problem in downloading chimera jailbreak, for now, when this article is published. Also, I have explained how you can update Chimera jailbreak iOS 12.5 with Siri.
What does Chimera jailbreak do?
Chimera was the first jailbreak to support A12 devices as well as features a CoreTrust bypass where the binaries don't need to be resigned. The Chimera jailbreak does not impact the user's personal data. It makes the Chimera a faster jailbreak.
How do I jailbreak chimera?
Here in this article, we have described step by step procedures to jailbreak your devices with Chimera jailbreak till iOS 12 - iOS 12.5.x. So follow this article to jailbreak your device.
Is Chimera jailbreak good?
Chimera jailbreak is a good jailbreak, its safe and faster than alternatives. You might face errors, and you might have to retry several times, but it'd finally work.
Where can I download Chimera jailbreak?
You can download the chimera jailbreak from the official website mentioned in our article, go to our guide to install chimera jailbreak and download it on your device.