In this step-by-step guide, I'll show you how to download GBA4iOS iOS 16 with no jailbreak (Delta iOS 16) or GBA4iOS iOS 16 with no revoke (Delta iOS 16) running devices.
You can play games on the Emulator, like pokemon go, Super Mario, and more. Check the image below.
This is the Game Boy Advance emulator for your Apple iOS devices running iOS 16, iOS 11.4.1 – iOS 13 – iOS 14 – iOS 15, iOS 16, and so on. I've also shown you how to get gba4ios games and gba4ios ROMs after the Gba4iOS download.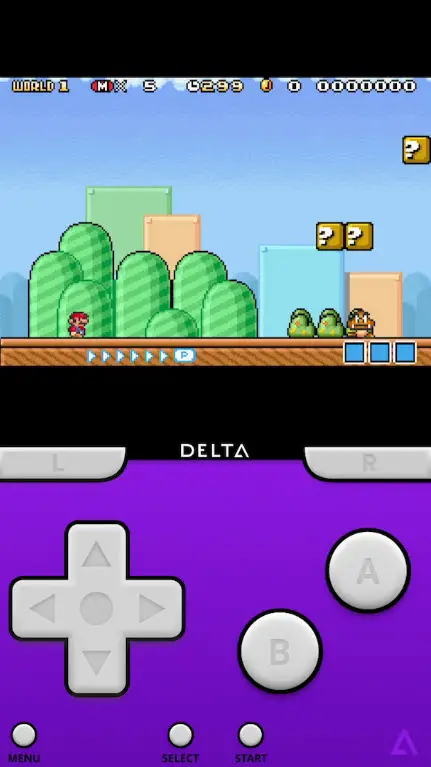 What is GBA4iOS?
GBA4iOS is a Game Boy Emulator for iOS devices developed by Riley Testut for iOS 7, which takes advantage of multiple tools provided in iOS SDK to take the emulation to the next level.
Here is how to install Trollstore No PC on your iPhone or iPad.
It's the most accessible platform to play retro games on your Apple devices which the company doesn't allow you to do. That's why people opt for the jailbreak to play games, but now you don't even need to jailbreak your device to play retro games on your iPhone or iPad with the GBA4iOS iOS 16 Emulator.
Download the GBA4iOS Emulator below and play your favorite games.
GBA4iOS iOS 16 & Delta iOS 16 the same?
GBA4iOS and Delta GBA emulator iOS 16 are the same; the Delta emulator is just the latest version of the GBA4iOS Emulator for iPhone. Even the Delta emulator got the same logo as the GBA4iOS 2021.
This GBA iOS emulator will let you play any game on your device if you get the ROMs for them. If you download gba4ios ROMs and they get revoked. This means they are no longer being signed.
Here is how to install Scarlet Store on your iPhone or iPad for free to install apps.
How To Download GBA4iOS iOS 16 with Altstore NO Revoke (2023)
Step 1. Install Altstore on iPhone
First, you must install and configure the AltStore with AltServer on your computer.
Installing AltStore is a separate long topic; we already have a detailed, step-by-step tutorial.
First, install the Altstore from our complete tutorials to install AltStore on Windows and Altstore on Mac. Go and Install it and come back so we can continue to install GBA emulator iOS 16.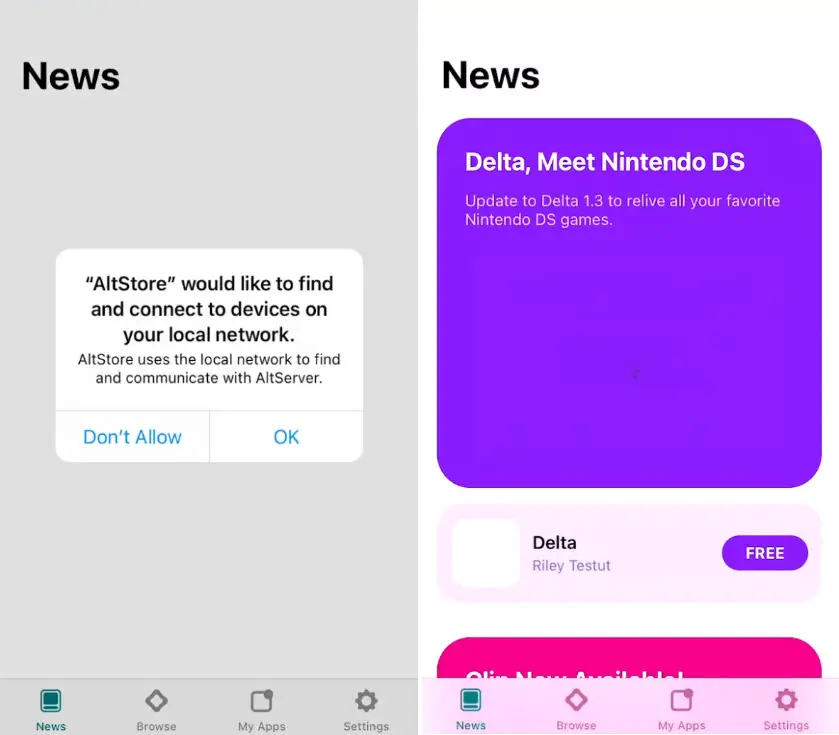 Step 2. Keep Device Connected
After the AltStore is installed, make sure you do not disconnect your device from your computer and that you're on the same network on both device and computer.
You can also install tweaked apps on iPhone using altstore, but here we're installing the Emulator only.
Also, see how to install filza with no jailbreak on your device; it's a great way to have Filza file manager to see and edit system files on iOS devices.
Step 3. Installing GBA4iOS Emulator iOS 16
Open Altstore from your device's home screen; on it, there you'll find the Delta GBA Emulator iOS 16.
Tap on the FREE button to download Emulator iOS 16 on your home screen.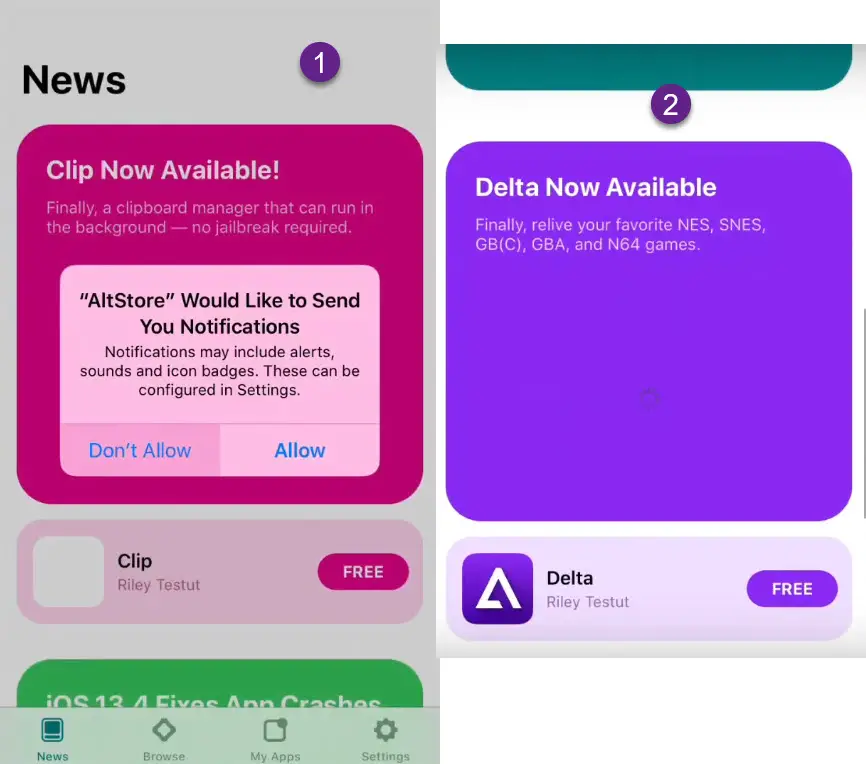 It'll ask you to put in your apple id if this Emulator is the first app you install from AltStore. Set in the same apple id you used on your computer for installing Altstore on your device.
After that, it will start downloading the app, and after a little while, you will see the Delta application on your device's home screen.
Here is how to jailbreak iOS 16 on checkm8-supported devices using palera1n jailbreak.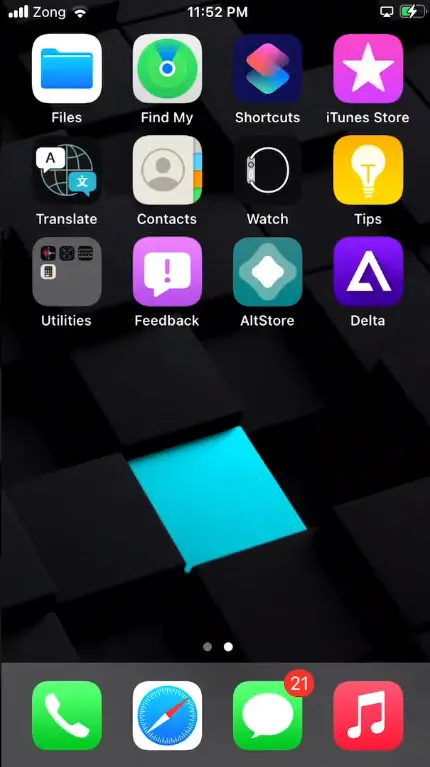 Step 4. Trust the GBA Emulator
Trust the Gba4iOS iOS 16; then, you can open it. For that, go to settings -> general -> VPN&device management -> tap on your Apple Id -> Trust the app.
Now you can open it.
But keep in mind you need to have the GBA4iOS iOS 16 games on your device to use this newly installed Game Boy Advance emulator. Below I have shared a method from which you can download GBA4iOS Games and Roms.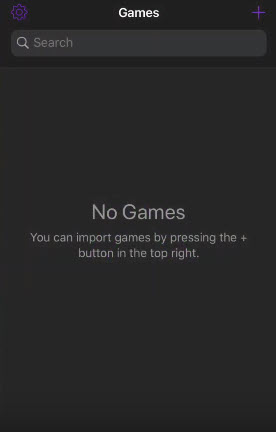 This is how to install GBA4iOS iOS 16 GBA Emulator, no revoke on your iPhone or any other Apple device with AltStore. If you are interested in one INDS Emulator iOS 16, you can download it from our guide.
Below is the second process to download GBA4iOS iOS 16 with no computer method. We'll use a third-party app store to download gba4ios, no pc.
Check how to jailbreak iOS 15-16 with palera1n windows jailbreak for free on checkm8 supported devices.
[

Video

] How to GBA4iOS iOS 16 downloads 2023 GBA Emulator iOS 16 on iPhone
Unable To Install GBA4iOS iOS 16?
Make sure your device is connected to your computer. Moreover, your device and computer must be connected to the same WiFi network if you cannot install GBA4iOS iOS 16 without jailbreak on your iPhone.
Check here the iOS 15 jailbreak for the newer A12 – A13 devices, Xina520 jailbreak which comes with Sileo.
How To Install GBA4iOS iOS 16 NO Computer 2023 (Delta Emulator) – With AppValley
It's the second method how to get gba4ios NO PC; the 1st method is recommended because Apple often revokes these no-computer services. When these are revoked, you'll find the application's greyed-out icon on your device's home screen.
The AltStore method doesn't revoke; you only need to refresh the apps after seven days; all this is mentioned in our AltStore tutorial on refreshing the expiry of apps installed through AltStore.
Step 1. Go To Appvalley Website
Go to the Appvalley website, navigate to the Apps section, or scroll down to find the GBA4iOS Emulator.
Appvalley app website contains many ads, skip them and scroll down to the Delta Game Boy Advance Emulator app. Tap on the Get button, and tap on the Install button on the popup.
After that, the Gameboy emulator GBA4iOS iOS 16 NO PC will start installing on your device's home screen.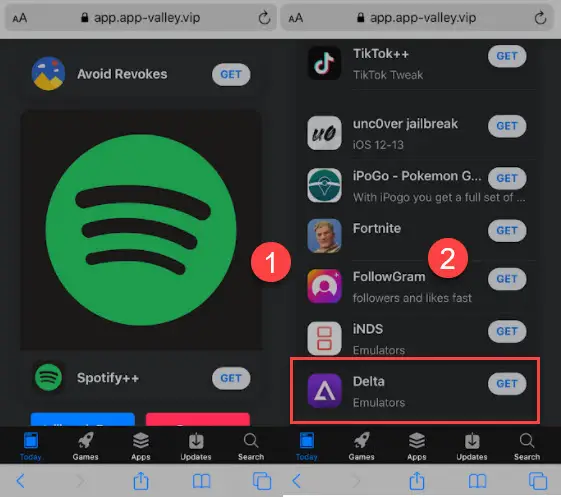 Check here how to get Tutuapp VIP.
Step 2. Trust the GBA4iOS App
Open the GBA emulator iOS 16, and you'll see a notification saying it's untrusted. Then go to Settings → General → Profiles & Device Management. 
Trust the application you just installed. After that, your iOS emulator will open fine.
Here guys, hold on, here I want you to install DROPBOX application, If you don't have that kindly install it 1st so that we can sync this with our dropbox application to store gba4ios games. So that later it this application becomes revoked and you have to reinstall it again. All your saved data will be there already. It's such a pain to re-download all your precious data again with your gba4ios roms.
Step 3. Customize GBA Emulator
Open the Safari browser by tapping the magnifier button at the top right corner of the application. Here you might see a 404 error.
If yes, then we need to go back to settings and customize it. So GBA4iOS iOS 16 (Delta iOS 16) shows up as a default search engine for us, e.g., Google and Yahoo.
If you got a passcode disabled iPhone, here is a brand new method to unlock forgot iPhone passcode on a disabled device for free, thanks to checkra1n jailbreak.
Step 4. Fix 404 Error GBA Emulator
To fix that 404 error in gba4ios iPhone, go to Settings -> click on Custom in front of the Homepage.
Please select the one you like and come back, and hit the magnifier tab once again, and you'll see it's working there. Take a look below.

How To Use GBA4iOS iOS 16 Games on GBA Emulator iOS (2023)
Step 1. Download GBA4iOS ROMs
After the Gba4iOS download, you need to search for gba4ios ROMs, and you'll get the popular links.
The one I like and want to suggest to you, as well as RomsMania for GBA4iOS iOS 16 games. The RomsMania is a trusted source to get Gba4iOS ROMs for games. Go there and tap on the popular gba4ios games there. On the next page, I select pokemon and tap on the green download button to download it. See the picture below.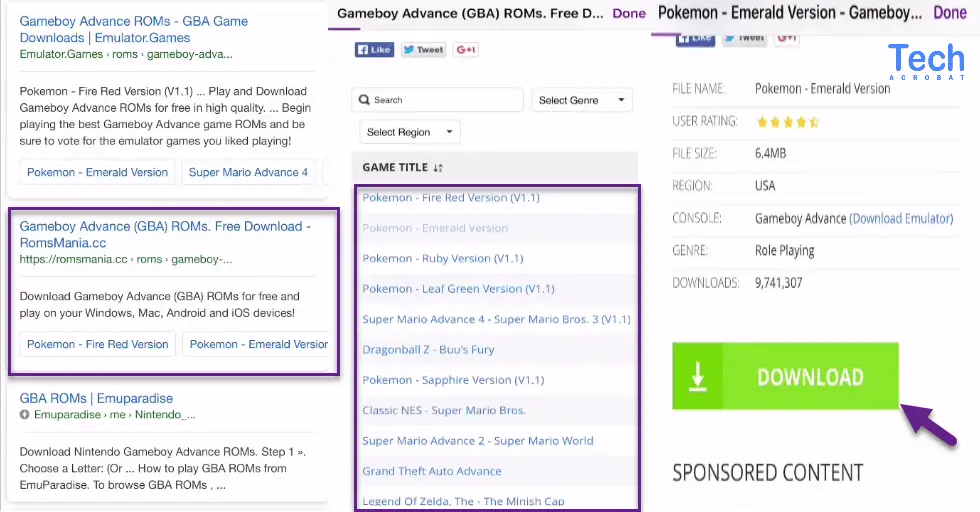 NOTE: If the download doesn't start then you need to clear your browser's history and try again.
Step 2. Install GBA4iOS ROMs and Play Games
After downloading, a popup will open saying to rename the application.
Do it if you want to, and tap on the SAVE button. After completion, it'll automatically unzip the file for you. Tap on the downloaded gba4ios ROMs, and it should load normally. Take a look below.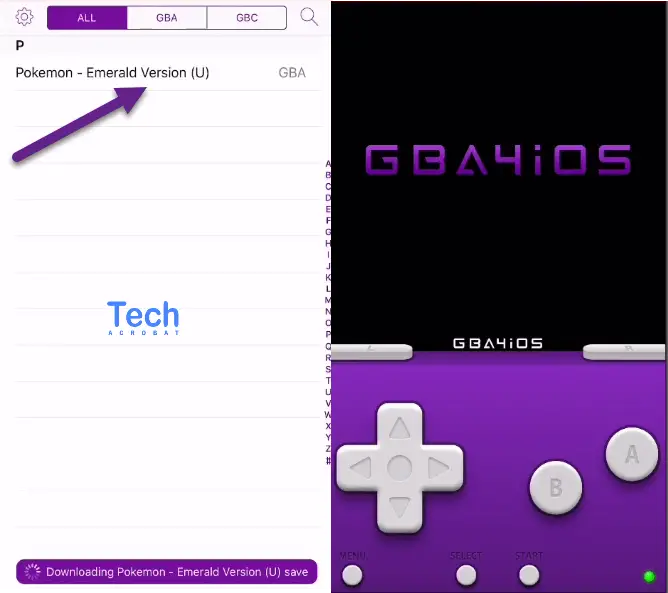 Now you successfully downloaded gba4ios no pc or the Delta emulator running device and can enjoy the gba4ios iPhone games. You can also get it from third-party app stores on the internet, but it's the finest way.
This is how to get a GBA emulator on iPhone with two different methods; keep in mind that it's safe to use the Emulator Gameboy. If you face any problems installing this Game Boy Advance emulator iOS, please leave a comment below so I can guide you on how to Gba4iOS iOS 16 download successfully.
Frequently Asked Questions GBA4iOS Emulator iOS 16 (FAQs)
What is Gba4iOS Emulator iOS?
An iOS developer Riley Testut created this amazing Gba4iOS Gameboy Emulator with the support of all the iOS versions. It takes advantage of many tools provided in iOS SDK for taking the emulator iOS to the next level. Well, its development has ended now, but there are ways to update it because it is open source and developers want to keep it alive.
How do I download GBA4iOS?
There are multiple ways to download GBA4iOS, follow our step by step article to download this GBA iOS emulator and also the GBA ROMs.
How do I get GBA4iOS on iOS 16?
To get the GBA4iOS on iOS 16 you need to follow the steps mentioned in our article in your iOS device.
Can you play Gameboy games on the iPhone?
Yes, you can, Now when you've installed GBA4iOS you need GBA ROMs to play games. Just open the installed GBA4iOS and tap on the search icon; moreover, go onto google's search and search for GBA ROMs on your device.
Are Gameboy Emulators Legal?
The Gameboy Emulators are legal to download and use, however, sharing the copyrighted games ROMs online is illegal, there is no legal precedent for downloading ROMs for games you own.
What is the best iOS emulator?
The Gameboy iOS Emulator GBA4iOS iOS 16 is the best iOS emulator for you that you can use to play games on your iPhone or iPad.
Is It Safe To Use Gameboy Emulator iOS?
It is totally harmless, you need to trust the certificates from other companies. The only drawback using the iOS emulator is that it drains the battery because the games, of course, need more processing power.
Is there a Gameboy emulator for iPhone?
Yes, the GBA4iOS is the jailbreak free Gameboy emulator for iOS devices, the GBA4iOS exploits a loophole to avoid the Apple App Store. Old Nintendo emulators have gone a long time ago for iPhone and iPad users. This Gameboy Emulator is a full-fledged app that you can install this app easily outside of the App Store without jailbreaking your device.
How To Install GBA4iOS iOS 16 GBA Emulator on iPhone (2023)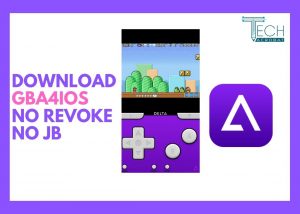 How to download gba4ios iOS 16 2023, NO Revoke, NO jailbreak on iphone. How to install gba4ios iOS 16 no pc its the best GBA emulator iOS 16 (2023)
Price: FREE
Operating System: iOS, iPadOS
Application Category: Game Emulator