Whether you're on a mac or a Windows PC and trying to install AltStore, you may face errors as AltStore installation failed.
This can happen for various reasons on your side; you need to try different solutions how to fix the AltStore installation failed error. Unfortunately, most people trying to install AltStore on mac are facing such issues.
If you're one, below, I have mentioned a few solutions for the AltStore installation failed error.
This short article isn't about installing AltStore step by step. For that, comprehensive guides are already available. Here is how to install AltStore on Mac, and here is how to install AltStore on Windows.
Below are solutions on how to fix AltStore errors on Windows and Mac. It's about installation failed only, multiple fixes, but if you're facing an issue that altstore couldn't find altserver, follow this guide.
How To Fix AltStore Installation Failed on MAC and Windows – General Settings
1. Hit trust on device and PC
Ensure you hit the trust button on your iPhone once you install AltStore.
Also, please ensure the cable and the ports you're installing on your device are suitable. Most of the time, it's the reason you're not able to install it. However, if this isn't your case, follow the below solution.
2. Update Altserver
Suppose you already had installed the alt server on your computer a while ago, and you are getting an AltStore installation failed error.
In that case, you need to update the installed alt server on your computer and install AltStore.
Check how to fix the developer mode required on iOS 16 for Altstore apps.
3. Reinstall Altstore
Try re-downloading the latest version of the alt server on your computer and installing AltStore on your device again.
Ensure you follow the correct steps to install it; if you suspect you might skip any step, read the detailed tutorials I mentioned above on installing AltStore.
4. Running iTunes and iCloud
If you install AltStore from windows, make sure iTunes and iCloud are installed on your PC and iTunes is opened. Also, check that your Apple Id is logged in in iTunes; make sure you hit the trust button in iTunes and on your device.
Apart from it, ensure you are following all the steps needed to install altstore on windows; sometimes, you're missing an important step that causes the altstore installation failed error.
Solution AltStore installation failed: could not connect to device – Mac OS
New macOS does not interact with the iPhone through Music/iTunes. So I went to Finder, clicked on the phone, and hit trust. Confirm it on the phone; it's ready to roll.
Fix AltStore Installation Failed Error: Your session has expired – Windows
Step #1
Make sure you are signed into iTunes.
Step #2
Be sure to authorize iTunes → Accounts → Authorizations → Authorize This Computer.

Step #3
Enable iTunes Wi-Fi sync for your phone.
Step #4
Minimize iTunes when done. Make sure it is still open in the background.
Step #5
Run the Altserver as admin.
Fix AltStore Installation failed to verify code signature
Please make sure that your iOS Time + Date and Windows Time + Date are correct and in sync. This should fix your issue. You might have to go to the BIOS settings to fix that in windows.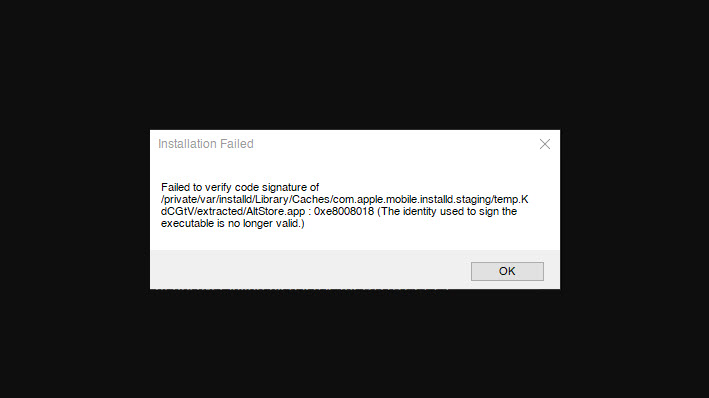 AltStore installation failed error: incorrect password
If you're getting an incorrect password error on altstore even after writing the correct one, Type your email lower case and your password exactly how you have it. Check the case sensitivity of what you're typing, and you will be succeeded.
After that, if you get an error or are already typing it as described above, try changing your Apple Id password and then try again. Some users got success by changing their Apple Id Password as well.
The solution to fix the Altstore installation failed – the operation couldn't be completed
I was having a problem, and I updated the AltServer; after this, I could reinstall it on my phone. Download the latest AltServer from the official website, and try reinstalling it.
This is how to fix altstore installation errors on windows and mac, and many other errors can occur. Those are covered separately on our website; those are mentioned below.
Other Altstore errors fixes
How To Fix Windows Defender Blocked Installation Altstore Error