According to several reports, a lot of users are facing a similar problem of not being able to create a FaceTime Link on iOS. They further are unable to open the invited FaceTime link in Browser for Windows PC and Android devices.
In this article, we will show you multiple solutions on how to fix Facetime link not working on android from iOS 15.4 or Facetime link not working on Android or Web.
You will further learn how to begin FaceTime video while accessing the FaceTime Android link. 
Reportedly, many users are getting a message on the screen "Waiting to be let in…" and Facetime is unable to see other persons. However, if you don't find a solution for the problems regarding the Facetime link not working on android from iOS 15.4, and more, you can leave a comment under this post so we can post a solution to it.
Below are the fixes for the facetime link not working on Android or Web from iOS 15.4. But if you want to learn how to use facetime on Android, follow the mentioned step-by-step guide to this.
Fix for FaceTime Link Not Working on Android from iOS 15.4
Fix 1. Error "Waiting to be let in…" Stuck on the Spinning wheel
If you get an error at the time of opening the FaceTime link on your Windows Web Browsers or Mobile. And if you are thinking about what are the solutions for a quick start and get in FaceTime calls between android and iOS by utilizing the FaceTime link.
First of all, do keep in mind that it is not an error. In case users are receiving a message stating "Waiting to be let in…" after joining the FaceTime call, it indicates that the creator of the FaceTime Android link still has not approved you in joining the FaceTime.
Otherwise, there is a possibility that the creator still has not started the FaceTime Call.
Following are the steps to begin the Video Call and Stop displaying the message "Waiting to be let in…"
Firstly, you will have to open the FaceTime App on iPhone and click on the FaceTime call screen See the FaceTime Options. Then you will need to watch to find the option "Person Waiting" and click on it and allow to join FaceTime call using the FaceTime Android link.

Images credit: howtoisolve

And nothing more than that.
Fix 2. Browser Compatibility
As per the security & privacy concerns of Apple, users who have Android devices will be able to join FaceTime with Android utilizing the most recent version of the Microsoft Edge or Google Chrome.
Consequently, there is an option to copy the link from the FaceTime link page and then open it in the recent Supported Browser.
Check here the list of facetime games for kids.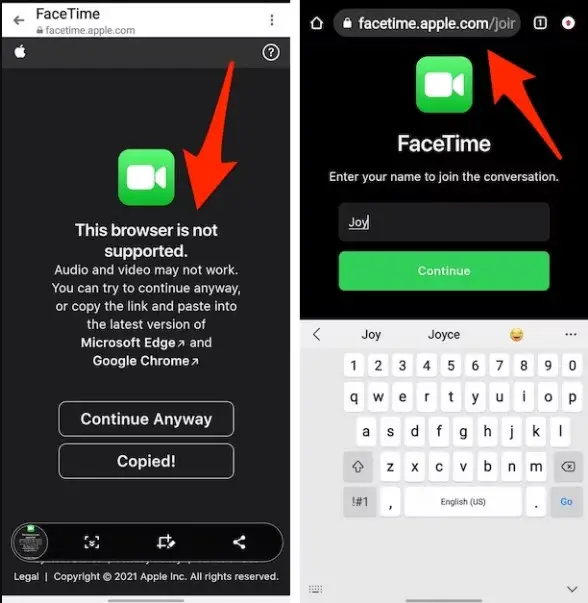 However, if a user wants to send a video, there will be a requirement of H.264 video encoding support. Moreover, there will also be a requirement of a subscription to view some shared content.
Fix 4. Check Apple Server Status 
Here is the 3rd solution of facetime link not working on Android, usually, whenever a new feature rolls out, a lot of people try to utilize it, which causes problems for the server. That's why there will be a couple of issues that are expected to face by the end-users, including Service interruption. Following is the link that one can use to check Apple Server online https://www.apple.com/support/systemstatus/.
Fix 5. Check Internet Connection 
If your Facetime cannot connect to a server, the important thing is to make sure you have a stable internet connection. In order to check the speed of your internet connection, Facetime Android users will need to perform a speed test, and to do so, go to fast.com and examine the internet connectivity of your device.
Occasionally, the wifi connection drops due to router problems. In that case, you will need to Restart your Router. Connect your internet service provider and also Restart your device. Afterward, check the speed of your internet by opening fast.com.
Fix 6. Turn off VPN & Try 
When you have an active VPN in your device owing to security vulnerabilities and privacy problems, the Facetime link will not work on Android or the web from iOS 15.4. However, if you don't know how to turn off VPN on iPhone or how to Manage VPN on Mac, here's how you can do the same.
On the other hand, you can further utilize Apple Private Relay in order to conceal your location tracking, private data, and Email service that associates with iCloud+ Plan, which is accessible in Beta and Wait for a While for Public & macOS users.
Go to the settings of your iPhone, then tap on VPN and turn off the toggle in case it is installed on your device.
Check here the solution if facetime is not working on Android phones.
Fix 7. Supported macOS
If you are one of them who wonder, why they can't access it currently on the FaceTime app. The only reason behind that is it has been added as a characteristic for the betas Only.
iPadOS 15 or Later macOS
macOS Monterey or Later
iOS 15 or Later macOS
You can simply invite anyone to join you in a FaceTime call if you have one of the above-mentioned needs. You can further invite those with non-Apple devices and can have FaceTime with Android.
Moreover, for FaceTime on Android, non-Apple users further don't need to log in to join one-on-one as well as Group FaceTime calls. They can directly join you for a FaceTime web from their browsers.
If the link you have got is removed, you will not be able to open FaceTime. For that, you will need to send a request to get the Updated the recent link to Join FaceTime call. If the FaceTime video call has been started, anyone from the members who join Group calls or One to one calls can send you the updated link.
This is how to fix facetime link not working on Android or Web from iOS 15.4, if you got any other solution not mentioned in this tutorial, kindly leave that in the comments below and I'll add that into the post.