The Odyssey jailbreak iOS 13 – iOS 13.7 new version is released, it supports A10 and above all devices. This Odyssey jailbreak currently supports iOS 13 – iOS 13.7 iOS firmware versions.
Instead of Cydia, it comes with a Sileo package manager, but you can install Cydia on your device for tweaks in your jailbreak iPhone.
I'll show you how to Install Odyssey jailbreak no computer method and download Odyssey jailbreak with Altstore which is a computer method. But first I will show you how you can switch to Odyssey jailbreak iOS 13 if you're on unc0ver jailbreak.
Odyssey jailbreak iOS 13 is the next version of the chimera jailbreak which is for iOS 12 – iOS 12.5.5 jailbreak.
Odyssey 1.2.1 is now available!

– Improves exploit reliability on 13.0 – 13.7 for all A10 and up devices.
– A8(X)/A9(X) devices now default to the tardy0n exploit (13.0 – 13.5 only)
– Issues were fixed with exploit reliability on A10 iPads.https://t.co/DSynDePhJb

— Odyssey Team (@OdysseyTeam_) November 24, 2020
What is Odyssey Jailbreak
Odyssey Jailbreak is the brand new jailbreak just released officially by Cool Star for iOS 13 – iOS 13.7 jailbreak. The comes with Libhooker and Sileo instead of Cydia to download tweaks after jailbreaking through it.
If you want to jailbreak iOS 14 – 14.8 then you need to follow the checkra1n jailbreak tutorial.
Below is the step-by-step method to download Odyssey jailbreak no computer on your device. All the devices and firmware-supported details are mentioned below so you can check if it fits in your condition.
Unc0ver vs Checkra1n vs Odyssey jailbreak, which one is better for your device?
Odyssey Jailbreak iOS 13.7 Supported iPhone Devices
iPhone 12 Pro Max
iPhone 12 Pro
iPhone 12
iPhone 11 Pro Max
iPhone 11 Pro
iPhone 11
iPhone XS Max
iPhone XS
iPhone XR
iPhone X
iPhone 8 / 8 Plus
iPhone 7 / 7 Plus
iPhone 6 / 6S / 6S Plus
iPhone SE
iPad Mini (5th Gen)
iPad Air (2019, 3rd Gen)
iPad Pro (9.7″ / 10.5″ / 12.9″ 2nd Gen)
iPad Mini (2/3/4)
iPad Pro (1st Gen)
iPad Air (2nd Gen)
iPad (5th Gen)
Here is the checkra1n checkn1x jailbreak tutorial for windows users.
Switch From Unc0ver Jailbreak To Odyssey Jailbreak iOS 13 / iOS 13.7 [Without Losing Tweaks]
If you are on unc0ver jailbreak and you want to go to Odyssey jailbreak without losing all the tweaks, then this is the section you need to follow to switch from unc0ver jailbreak to odyssey jailbreak iOS 13.7 without losing tweaks.
For anyone looking to migrate to Odyssey, please ensure you update all Elucubratus packages before attempting migration, as outdated packages can lead to issues after migration.

— Odyssey Team (@OdysseyTeam_) August 30, 2020
Step 1. Install Batchomatic tweak
Open Cydia and install the Batchomatic tweak on your device.
You'll find this under the bigboss repo, we'll use this to first backup all the jailbreak tweaks and resources.
Step 2. Create a backup of tweaks
Once the Batchomatic backup tweak is installed, tap on the search icon in Cydia.
Then tap on the Batchomatic icon at the top left corner of the screen. On the next page, create the backup of all jailbreak tweaks and resources, offline or online. Tap on create offline .deb to create a backup, the process will take a little while.
Here is how to jailbreak Apple Tv with blackb0x jailbreak and install Kodi on Apple Tv.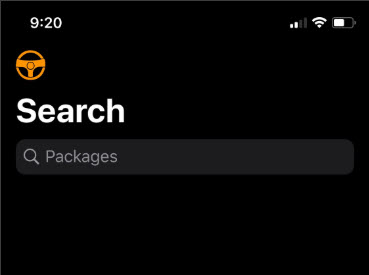 Step 3. Remove Unc0ver Jailbreak
Open the unc0ver jailbreak, go to settings, enable Restore RootFS toggle.
Press the done button and Restore RootFS to clean your device from unc0ver jailbreak, do a reboot at the end.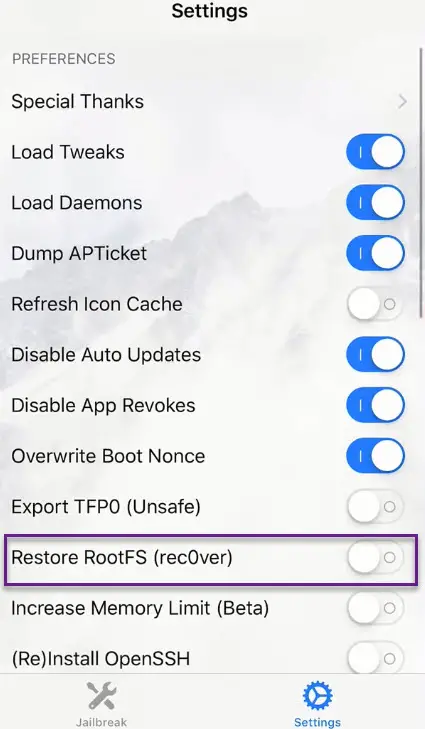 Important Note: From now on, your device is cleaned from previous unc0ver jailbreak. Now you need to follow the below section to install the Odyssey jailbreak in your device, once you have that with Sileo in your device, come back to this section and follow Step#4 to restore the backup.
Step 4. Restore back all tweaks backup
Now when the odyssey jailbreak is installed with Sileo, we need to restore tweaks backup.
Make sure you have the Filza tweak on your device, if not, install it from Sileo. Open Filza when installed and navigate to var -> mobile -> Batchomatic.debs here you'll have the tweaks and resources backup file.
Step 5. Install backup to restore
Tap on the backup file, and tap on install to install the backup, when the process is finished.
You'll it says at the end, to end the .deb process you need to install Batchomatic tweak. Open Sileo and search for Batchomatic install it and respring your device, tap on the Batchomatic icon at the top left corner of the Sileo, tap on the Install.deb, and press on Proceed to proceed with the installation.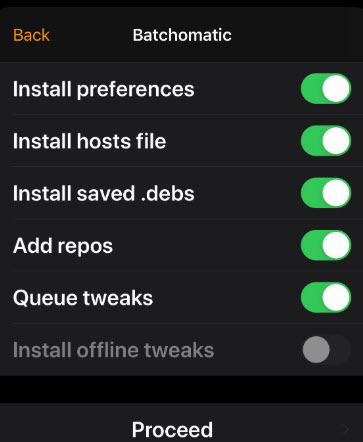 As this process is over, you'll have all the tweaks and resource data on the device you had before with unc0ver.
Here is how you can speed up iPhone jailbreak device.
How To Install Odyssey Jailbreak iOS 13.7 With AltStore [Computer Method]
Now it's the step-by-step process to download the odyssey jailbreak with the Altstore method [1]. The second method to download odyssey jailbreak no pc is below this method.
Step 1. Install Altstore on iPhone
First of all, you need to download and install AltStore on your device, for that you need to first download the AltServer on your computer, then need to install AltStore on your device.
The process to install AltStore on Windows and on Mac are different. Therefore, here is my separate but complete, step-by-step guide to install AltStore on iPhone or iPad tutorial for both Altstore Windows and Altstore Mac users. Go there, install AltStore on your device, and come back here and continue from Step 2. A video is mentioned below as well.
Step 2. Download Odyssey jailbreak IPA file
Now when you have successfully installed AltStore on your device, now we'll install Odyssey jailbreak iOS 13.
Download Odyssey Jailbreak IPA from this link, visit the website, tap on the download button in the popup.
Odyssey beta 2#totallyNotLeaked @tihmstar mirror: https://t.co/NoKqeEp9Xu@CStar_OW mirror: https://t.co/bbw2i4h4GS

SHA256: f65eb860e3bd5e5612b81f83843bf688436cd0d65a51816dc3f729da38405e30

— tihmstar (@tihmstar) July 26, 2020
Step 3. Copy Odyssey IPA to Altstore
After that Odyssey jailbreak IPA is downloaded, go into the downloaded section where this IPA is located.
Tap on the IPA and tap on the share icon being shown at the top right corner of the screen.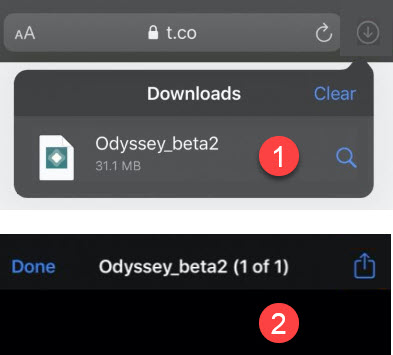 It'll show you the share screen at the bottom, you need to select the Copy to AltStore from there.
If you don't see Copy To Altstore, tap on the More option and select from there.
Step 4. Sideload Odyssey Jailbreak IPA
After you do that, AltStore will install Odyssey jailbreak on your device by sideloading it.
You'll see a progress bar at the top of AltStore in the My Apps section, once that is completed you'll see it is installed. You'll find it at your device's home screen, tap on it and if it asks you that it's untrusted, trust the Odyssey jailbreak from the settings.
Also, check here how to bypass jailbreak detection.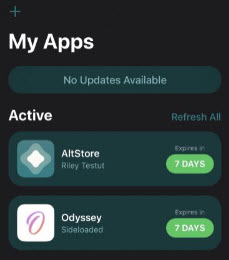 Step 5. Jailbreak iPhone with Odyssey
Open the installed Odyssey jailbreak app, tap on the jailbreak button.
After a while, it'll ask you to reboot your device, tap on ok when it shows the reboot required popup. After the reboot, open the odyssey jailbreak app again and tap on the jailbreak again.
Step 6. Reboot device
If after tapping the jailbreak, after a while, you see your device is respringing, that means jailbreak is installed.
However, if it asks you to reboot again, do it and re-jailbreak the device again. You'll find the Sileo on your device's screen after the Odyssey jailbreak is done. After that you can install the tweaks on your device, here are the best jailbreak tweaks. But it's recommended that you first install these essential jailbreak tweaks, then other ones.
Follow these Cydia tweaks to improve performance on iOS jailbroken devices.
Open the Sileo and first of all upgrade all the available packages in that and then install the tweaks. Do not forget to check the tweaks compatibility (watch the video below for tweaks compatibility) to install in your device first.
This is how to download Odyssey jailbreak with AltStore, a computer method. Below is the method to download Odyssey jailbreak no PC method.
Check here the iOS 15 widgets list.
How To Download Odyssey Jailbreak iOS 13 – iOS 13.7 NO PC [No Computer]
For this no computer method we'll use 3rd-party app stores for iOS available to iPhone and iPad users, these are frequently revoked by Apple. If this no PC method doesn't work, use the above Altstore method to get it.
Step 1. Go to jailbreaks.app website
The Odyssey jailbreak no computer version is released, so let's install it. First, go to jailbreaks.app website, there you'll find the Odyssey jailbreak iOS 13.7 file.
The updated unc0ver jailbreak is also available on this website you can get that as well if you want to jailbreak your device till iOS 13.7.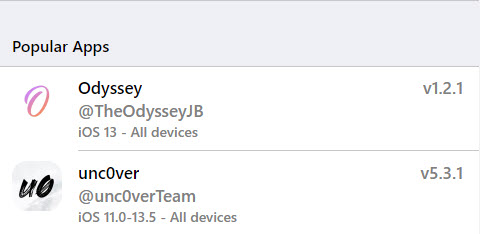 Step 2. Install odyssey jailbreak no PC
On the website, you will find the Odyssey jailbreak latest version at the top, tap on that and get it on your computer, and jailbreak iPhone or iPad with Odyssey jailbreak.
After its success, you'll have Sileo on your device and you're jailbroken with Odyssey jailbreak. Now you have successfully downloaded odyssey jailbreak and jailbroken your device. It doesn't come with Cydia by default, however, you can have Cydia with odyssey jailbreak as well.
How To Use Odyssey Jailbreak iOS 13 – 13.7
Now when we have downloaded the odyssey jailbreak without a computer let's here in this section I'll show you how to use odyssey jailbreak to jailbreak iPhone or iPad.
Step 1. Open Odyssey jailbreak app
Open the app from your device's home screen, tap on the big jailbreak button in the center.
Your device will start the jailbreak process.
Step 2. Device restart
During the process, your device will restart once or twice.
After the first restart, if you don't find the Sileo on your device's home screen, open the app again and press the jailbreak button again.
Step 3. Upgrade all packages
After the jailbreak is done, you will be able to open the Sileo from your device's home screen.
You need to first upgrade all the packages in the Sileo. Open the Sileo, navigate to the Packages section from the bottom menus, and tap on upgrade all.
Should you switch to Odyssey Jailbreak iOS 13 – iOS 13.7?
I do not recommend switching from a known good jailbreak for the moment, many people say well I'm going to switch from unc0ver to the odyssey, I'm going to switch from checkra1n to odyssey. If something already works fine for you, don't try to fix it.
Those people who have tried this new odyssey jailbreak say that it's perfect to use, even some said it's far better than the unc0ver jailbreak. Well, that depends on person to person and device to device.
Custom theming on @TheOdysseyJB pic.twitter.com/t6WtVAoQUg

— Amy (@elihwyma) September 8, 2020
I would not leave a working jailbreak that works for me that has a setup that works for me just to switch to a new jailbreak because I've heard it is a little bit better.
Here is how to fix Cydia's issues.
It is as simple to install as unc0ver and of course, it's not going to be based on the checkm8 exploits so it is not going to be like checkra1n. You will be able to install it like unc0ver it will be similar and better like unc0ver.
This is how to download odyssey jailbreak no computer and how to install Odyssey Jailbreak iOS 13.7 with AltStore on your device, we'll update this article to download odyssey jailbreak from the computer as well.
Odyssey Jailbreak (FAQs)
What does Odyssey jailbreak do?
The Odyssey jailbreak installs Sileo package manager on your device once you jailbreak it instead of Cydia, it uses libhooker for tweaks injection as well as it installs procurcus bootstrap on the device.
Does Odyssey work on iOS 14?
No, Odyssey jailbreak only works from iOS 13 - iOS 13.7, and update to support for iOS 14 hadn't released for Odyssey jailbreak.
Is Odyssey a tethered jailbreak?
No, same like many other jailbreaks, the Odyssey is a semi-tethered jailbreak which means after the device reboot you have to jailbreak your device again.
Does Odyssey use Cydia?
By default Odyssey jailbreak comes with Sileo package manager, but other package managers can be installed later like Cydia or Zebra.
How To Download Odyssey Jailbreak iOS 13 - 13.7 [NO PC/ PC]
How to download odyssey jailbreak no computer / no pc iOS 13 - iOS 13.7 (2022), and how to install odyssey jailbreak IPA with altstore (2022)
Price: FREE
Operating System: Windows, Mac, iOS, iPadOS
Application Category: Jailbreak