I have some excellent news for those of you out there jailbreaking your devices in today's article. A brand new package manager referred to as the Saily package manager that can compete with Cydia and Sileo in terms of features and design has been released in beta.
I will further tell you how you can install Saily. The brand new package manager called Saily that is basically going to be a direct competitor to Cydia or Sileo and even to Zebra. Alright, so it looks pretty interesting. We're going to check it out in-depth a little bit further. But to check precisely where this all started, LAKR, a developer, has now posted a tweet quote,
I didn't mention this release in a public channel because there are still things to do, but I was hoping you could wait for less for it. Now, somebody put it on Reddit, and my original intent for small-scale tests now got out of my control. Just have fun.
I didn't mention this release in public channel is because there is still things to do but I want you to wait less for it.
Now, somebody put it on reddit, and my original intent for a small-scale tests now got out of my control.

Just have fun. pic.twitter.com/FT9iLbLPfO

— ᏞᎪᏦᏒ. (@Lakr233) August 30, 2021
So yeah, apparently somebody posted on Reddit the fact that the Saily package manager has been released in Alpha. It's Alpha, not beta in there, so this is basically Saily. They joined back in 2019, so this has been in development for quite some time.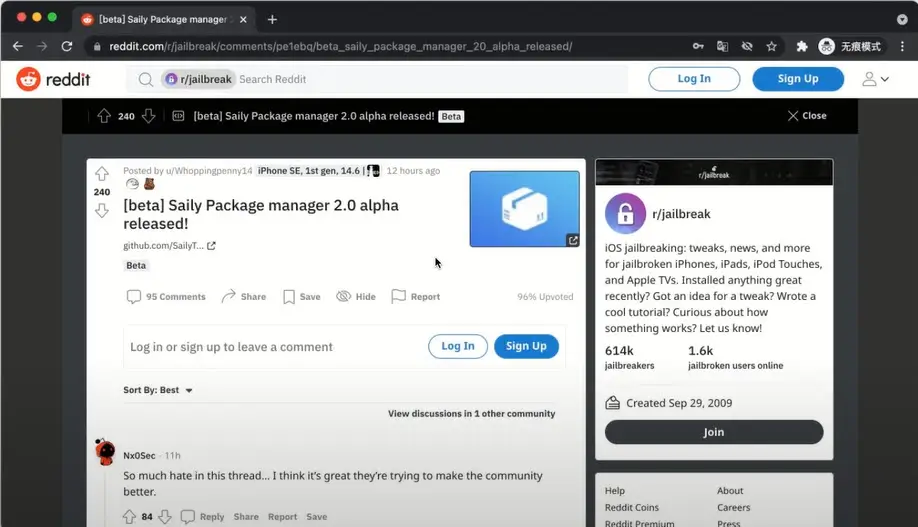 It's basically like Cydia or Sileo or Zebra, a package manager where you can add your repos and install tweaks and so on. Still, Saily package manager looks modern, much better than Cydia, which is no longer maintained, and it looks old and slow, and so on.
They even have support Twitter @SailySupprot if you need help with their product which is excellent. By the way, the Saily package manager is completely free. So now they have open-sourced a lot of things are on their page. It is basically Saily. It says 2.0 beta notice.
But at the same time, if you go there on the releases, it calls it an Alpha, so yeah, I don't know, but yeah, you can get the deb for the Alpha 2.1.1630256801, and then we press Assets and get chromatic.rel.ci.1630256801.deb, I did install this using Filza to test the Saily package manager. You can install Saily even if you have Cydia and so on.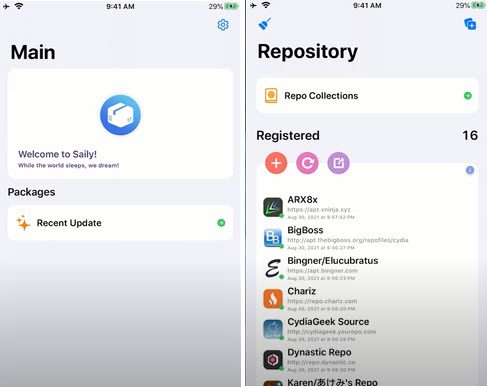 Saily Package Manager Features
Unique UI for Both iPhone and iPad
Import all your repos from Cydia, Sileo, Zebra, and Installer
Add and manage repositories without limitation
Built to work alongside all of your other package managers
Support for Native Depictions with Dark Mode
Support for all jailbreaks (excluding rootlessJB)
Clean and stable packaging using CI Machine
Random Device Info for Free Packages
Fully open-sourced under MIT Licence
Quick Actions via Settings
Paid Packages Support
It does not really conflict in any way. You can test it on your device if you want to, and if you don't like it, you can remove it. You don't have to remove Cydia. You can just have them both the same thing for Sileo, but the entire source code is available.
After installing it, you will see the package manager looks excellent. You will see how the Saily package manager will look at the end, but yeah, it will have a wishlist, it will have recently been installed, and so on. It supports the native depictions or tweaks, which have basically like Sileo, so it is indeed very modern.
There you will see a couple of the features Saily package manager has. It does support iPad, and it does support iPhone, it can import all your repos from Cydia, Sileo, Zebra installer, and so on. It supports native Depictions even with dark mode.
It supports all jailbreaks, excluding rootless. Because Well, it's rootless, and it also supports paid packages, so it's actually quite far advanced.
This project has been around for years now, and they've been working on it for years, but yeah, we finally have a new version.
So let's test it out and check exactly what's going on, but yeah, you should definitely know that this is indeed available now. Below I have shown how you can install Saily with Filza in your jailbroken iPhone.
How To Install Saily on Jailbroken iPhone with Filza
I am assuming you're currently jailbroken, and you have already install Filza tweak in your device. If not, first jailbreak your device, and install filza, then proceed from below. You can jailbreak with checkra1n, unc0ver, odyssey, taurine as well all the step-by-step tutorials are mentioned.
Step #1
First, go to this link and download Saily .deb file on your device.
Step #2
Tap on the downloaded Saily .deb file, and click on the icon at the top right side of your device screen.
Step #3
Tap on more from below, and tap on Filza. After that, the Saily .deb file will open in Filza.
Step #4
Tap on the deb file you just imported in filza. Then tap on the install button, it will install on your device. After that, you'll see the Action button at the place of the install button at the top right corner. Tap on that, and select respring.

After the respring, you'll see the Saily package manager on your device's screen, you can have both Saily and Cydia at the same time.
So quite a lot of important things there, and you will even see an Enter Safe Mode option there, Rebuild Icons, and reload the entire device or respring it if you want to so you have them which other package managers don't have it, it is surprising.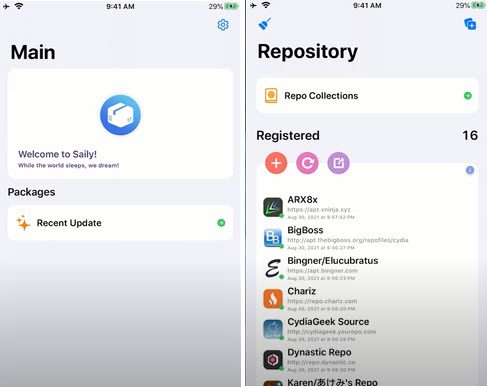 But some package managers do not give you the option just to reload the Icon Cache or just respring; notably, Cydia, you have to install something. So yeah, even for a beta Saily package manager looks nice. It does look okay, and it feels snappy even as a beta.
So I'm pretty sure they will be able to make this be quite great. The update for the repo is pretty fast. If you go in a repo, it shows all the categories precisely, and you will see exactly what you expect. You can press install and install or version control which gives the option for the available versions.