The new version of Electra has been released by Electra Team with the support of iOS Jailbreak 11.4 upto jailbreak iOS 11.4.1 Electra. Team Electra posted this tweet where they told about it's support.
Electra 1.2.0 is available for all devices on iOS 11.0 – 11.4.1!

Dev account not required.https://t.co/Hs3NL6mo6H

1. 11.0-11.1.2 uses async_wake
2. A9+ 11.2-11.4.1 uses voucher_swap
3. A7-A8 11.2-11.4.1 uses threadm1ll
4. Fixes overnight reboots

Delete OTA before install.

— Electra Team (@electra_team) January 30, 2019
Follow this article in a step by step manner to jailbreak your device, I have added some precautions too for a stable jailbreak by which you won't get errors. This supports all the devices with the A9 chip and above that the devices below.
Devices Supported For iOS Jailbreak 11.4.1 Electra
iPhone SE
iPhone 6s
iPhone 6s Plus
iPhone 7
iPhone 7 Plus
iPhone 8
iPhone 8 Plus
iPhone X
iPad 2015 and above
if you are not sure which chip your device has, you can type in your model name with "specs" in Google, it will show you the chip your iPhone is using. I tried iOS jailbreak 11.4.1 using Electra on an A8 chip device and this did not work.
Steps – Jailbreak iOS 11.4.1 Using Electra
Go to this Tweakbox website, tap on APPS menu and scroll down. Here you'll see Electra iOS 11.4.1 Jailbreak, tap on that and it will direct you to the next page. Here tap on install and again tap on install in a popup window.
After that, an icon will appear at your home screen which might show "waiting", tap on that icon for force installation, "waiting" will turn in "Loading". Wait a couple of minutes even if it doesn't show you the progress, just wait a couple of minutes and it will be installed.
Follow Jailbreak iOS Updates for Latest news about whats happening in jailbreak world.
While Electra is being installed just read this warning message below.
Warning
(If you face any errors or Electra jailbreak doesn't work properly. It must be because of already downloaded iOS update (only downloaded update staying) in your device's settings. This is a common problem with jailbreak utilities if you have pending downloaded iOS updates and are not installed. Just delete that downloaded file and try again this will work fine.).
You can also disable automatic updates using tvOS 12 Beta Profile. You can get this using this link. Open it and tap on download and then tap on Allow button in the popup, then tap on install in next popup. Then restart the device and that profile will install and stop any auto updates.
Before opening the Electra iOS 11.4.1 Jailbreak utility, you need to trust this app, go to Settings → General → Profiles & Device Management and tap your Apple ID. Tap on trust and then again on trust in the popup window.
Also Check How To Jailbreak iOS 11.4.1 Using Unc0ver [Mobile/PC]
Open Electra iOS 11.4.1 Jailbreak utility and Tap on Jailbreak, then tap on "Continue Anyways" in next popup window. The process will start and your device will restart in between. After restart check, if Cydia is available on your screen, if not, open Electra and tap on Jailbreak again and hope you will see "Installing Cydia" at second try if not in first. After the restart hopefully Cydia is installed at your home screen.
After Cydia is successfully installed, open Cydia and if you see any error related to a repo just delete that repo.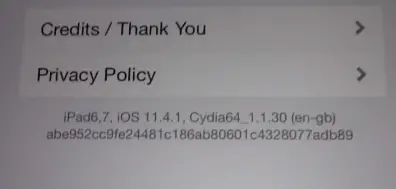 when you restart your device yourself and try opening Cydia it will crash, in that case, open Electra iOS 11.4.1 Jailbreak utility again and run jailbreak.
This is how you can Jailbreak iOS 11.4.1 Using Electra on your iOS device. Currently, it supports A9 and A9+ chip devices when the support for A7 or A8 devices will be supported I'll update the article. This Electra jailbreak also works iOS jailbreak 11.4 to iOS Jailbreak 11.4.1 Electra. If you face any difficulty please leave a comment below and if it worked perfectly for you please leave a comment below.