According to reports, Intel has recently secured the majority of TSMC's 3nm production capability for 2022. Intel also noted that it is going to utilize the technology to build the three latest CPUs and a GPU. Whether that is the case, this type of proceed would put pressure on competitors Apple and AMD, who both depend on the semiconductor giant for their chips.
According to a report issued by Chinese publication UDN, it is anticipated that the production utilizing the 3nm node will begin in the second quarter of 2022, with bulk production due to start in the middle of next year. Moreover, the capability of production is anticipated to reach 4,000 wafers by May the next year, ultimately reaching 10,000 wafers monthly.
The report further noted that Intel is going to tap TSMC's 18b Fab on the 3nm process node for four of its impending devices which includes one GPU and three CPUs. Moreover, these are non-consumer processors, in the case of the previous, probably next-gen Xeon, developed for the server along with data center markets.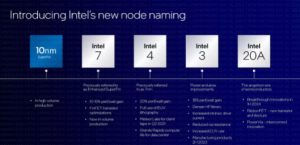 The company already has its in-house fabs and is permitting other organizations such as Amazon and Qualcomm, to utilize its present and scheduled manufacturing capacity in addition to its IDM 2.0 initiative.
Pat Gelsinger, the CEO of the company reported a short while ago that the company would be manufacturing a $120 billion mega-fab equivalent to a "little city" in a not yet defined US location.
However, possibly it is for the multi-tile-based pattern in Intel's impending chips, the organization is going to use both its in-house fabs and TSMC's for the production of several tiled dies.
Further benefit from Intel's perspective is that seizing TSMC's 3nm production capability could hamstring AMD's and Apple's intentions for their in-house 3nm chips.
Furthermore, AMD has already been making efforts to ensure adequate 7nm chips from TSMC for its graphics cards and Ryzen CPUs, much of the production capability on that node has been aimed at the PS5/XBSX consoles, and it won't wish a replicate of the condition with 3nm.