As you know the WWDC 2022 is done, and many new things are revealed by Apple in this latest event. The iOS 16 announcement is one of them where the iOS 16 beta is released.
So in this article, I have shown you step by step how to download iOS 16 developer beta on your devices. You can download it on iPhone, iPad, tvOS, and watchOS, we'll use iOS 16 beta profile for it.
Below I have mentioned the iOS 16 supported devices, if your device is supported you can install iOS 16 beta on that, otherwise, you won't see iOS 16 beta download option after the iOS 16 beta profile is installed.
iOS 16 beta supported devices
iPhone 13 Pro Max / 13 Pro /13 Mini / iPhone 13
iPhone 12 Pro Max / 12 Pro /12 Mini / iPhone 12
iPhone 11 Pro Max / 13 Pro / / iPhone 11
iPhone XS / XS Max
iPhone XR
iPhone X
iPhone 8 / 8 Plus
iPhone SE (2nd & 3rd Generation)
Yes, the iPhone 7 and iPhone SE are no longer supported by the latest iOS 16 firmware.
You can get your hands on the ios 16 and its latest features before the rest of the world, it's just a simple installation process.
The first ios 16 beta is for testing purposes you can report any bugs directly to apple.
Also, check here how to turn on developer mode on iOS 16 for Altstore Apps.
Now before I start the process, if you previously had installed ios 15 beta on your device you will see an installed profile in the settings general under this profile and device management section. Moreover, also delete any other configuration profiles as well which can conflict, and the iOS 16 update may not show.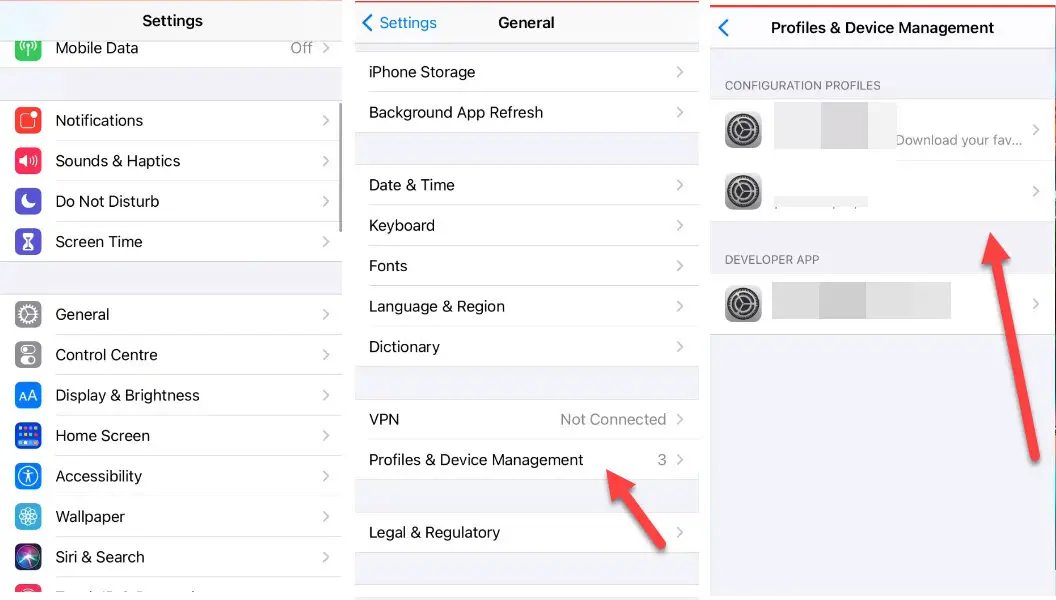 If you see the profile here tap on it and delete it, your device will ask to restart it but you can select not now.
Let's start the process to download iOS 16 beta.
After you install the iOS 16 beta if you face any issues, here is the complete guide on how to fix iOS 16 problems.
How To Download & Install iOS 16 Beta 
Step 1. Go to Beta Profiles Website
Now go to the safari browser and go to the betaprofiles.com website, here tap on install profile under iOS 16 download.
Step 2. Download iOS 16 Beta Profile
Now tap on install anyway on the next popup, it will show you a little pop-up to download.
Tap on the allow button, after this, iOS 16 beta profile will be downloaded in the settings of your device.
Step 3. Install iOS 16 Beta Profile
Go to the settings, at the top under your name you will see a section named profile downloaded.
Tap on that, it's ios 16 beta profile, tap on the install button at the top, and put in the password if it asks. Then again tap on the install button on the consent message page at the top then again on the install button to install the profile.
It will be installed on your device tap on the Done button.
Also, check here how to recover deleted messages on iOS 16.
Step 4. Restart is a Must
Once you press the Done button after the profile is installed, you'll be asked to restart the device.
Tap on the restart button to restart as it's a must to download iOS 16 beta! Otherwise, the iOS 16 beta update will not show on your device.
Step 5. Download iOS 16 Beta
Go into software update in the settings after checking for updates you will see the latest iOS 16 developer beta will download and install.
As mentioned earlier, if your device is not supported you will not get the beta, it won't even show there. The iOS 16 supported devices are mentioned above.
Apple has released this ios 16 developer beta to the developers only but you can install it as well.
After it finishes you'll have iOS 16 on your device, remember that it's the first beta to iOS 16, and it's for the developers, not for public use yet. The public beta will arrive soon and we'll let you know below in this article. Therefore, although you can install it It's pretty obvious that it'll have a lot of bugs that you can report to Apple.
Also, check here how to install the iOS 16 public beta.
Conclusion
This is how you can download iOS 16 developer beta on your iPhone or iPad this is the developer beta the public beta will come probably in July I will make a separate tutorial to download iOS 16 public beta.
[Video] iOS 16 beta Download