MediaTek has launched it's a brand new product which is MediaTek Helio P90 Processor. In this detailed post, I am going to explain each and every detail this processor came with. And which are the improvements it has as compared to previous MediaTek Helio P70 Processor.
Both Helio P60 and P70 performed well in 2018 and we were expecting the next version to be Helio P80. But this name skipped by MediaTek and they launched a direct Helio P90 Processor. We can imagine that this is because of a lot of improvements made as compared to previous versions in this.
The main focus in this processor is on four things below
AI
Camera
Performance
Efficiency
MediaTek Helio P90 Design
This has been built on 12nm technology and based on octa-core design. There are two high powered cores based on ARM Cortex A75 design and work on 2.2GHz. The rest of 6 low powered cores work on 2.0GHz which are based on ARM Cortex A55 design.
GPU in Helio P90 
GPU comes with 970MHz clock speed named as PowerVR GM 9446 GPU. MediaTek told that its performance is 50% than the previous version. Moreover, This supports dual channel LPDDR4x memory where the manufacturers of smartphones can use up to 8GB of Ram.
Networks in Helio P90 Processor
This supports dual 4G VoLTE where download and upload speeds are of categories 12 and 13.
The Cameras 
Camera in a smartphone is one of the most important things in a smartphone. This MediaTek Helio P90 supports up to 48MP of a single camera and dual camera combination of 24MP and 16MP. This support is same like in Qualcomm Snapdragon 855 Processor. Moreover, When it comes to burst shots, this supports 480 fps on 16MP camera or 30fps on a 48MP camera.
AI in P90
This helio p90 comes with brand new APU 2.0 whose performance is 4.6 times faster in terms of AI as compared to helio p70 processor. Its performance is 1127 GM/s which is an incredible performance. Moreover, all other common frameworks like tensorflow, tflite are supportive in it.
Pose Tracking in MediaTek Helio P90
This processor supports pose detection where it can easily detect the pose of the subject which can later be used in AR.
Imaging with Triple ISP Design
This supports triple isp design which is really a powerful and power efficient design. We can enjoy real-time beautification and bokeh mode. Moreover, here is AI-based noise reduction support which will improve photo quality being taken in low light.
Display Support
This P90 comes with display support of 21:9 aspect ratio where mobile manufacturers can use up to FHD display panel.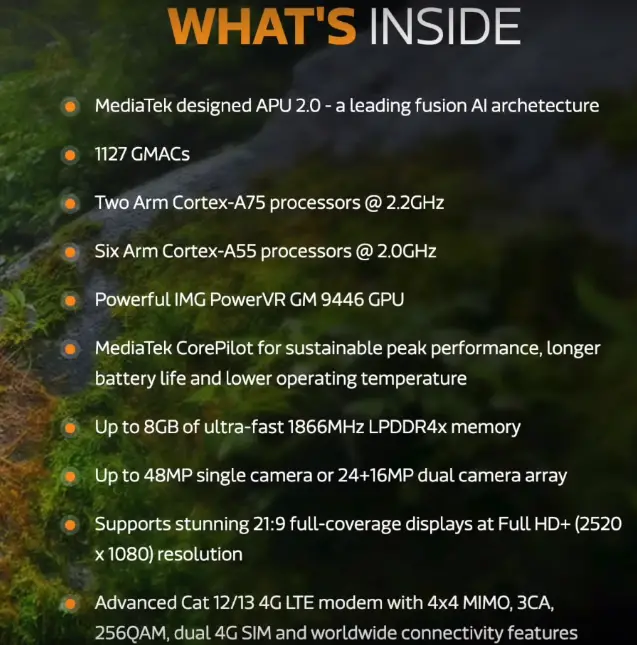 We can definitely witness phones powered by MediaTek Helio P90 processor in the 1st quarter of 2019 where main focus of course will be on camera and AI.