Researchers have long been struggling with new battery tech but could release nothing to store more energy, charge faster, or last longer before its capacity deteriorates. However, we cannot deny the fact that lithium-ion batteries have become very cheaper to produce if we compare them with the process a decade ago. 
Consumers usually moan that battery technology couldn't improve the way as others such as computing power that has improved amazingly over the last few decades. Batteries, on other hand, improved just insignificantly. The actual issue we found these days is with the triggered growth of mobile devices, grid storage solutions, and electric cars and we are unable to meet the current demand for all these devices.
One contributing factor is price. It is directly related to the materials required to make these batteries. The most costly of these materials is the cathode – lithium, nickel, manganese, and cobalt. But it also largely depends on the required chemistry of the battery. It also depends on the longevity, which might range from a few hundred charge cycles to a few thousand. Thus, there is no clear solution to improve it but to compromise on charging speed and energy density. 
A recent analysis by MIT researchers shows that the overall cost of rechargeable lithium-ion batteries has dropped abruptly over the last three decades. It has reduced by 97 percent as the commercial introduction of the lithium-ion battery design, which is a comparable reduction to that of the cost of photovoltaic cells being used in solar panels. 
The important thing is that this price drop was quicker as compared to the estimated before. This is, maybe the reason why various automakers have begun producing electric cars. Even Volkswagen and many others are trying to establish battery factories and experiment with new battery formats. 
Much of the published data on the subject of cost reduction in lithium battery cells had usually resulted in conflicting outcomes, and many didn't take into consideration it as weight and volume improvements. Well, overall these parameters could be concluded that lithium-ion battery technology was adopted not essentially because it was less costly, but because it allowed making portable devices, electric vehicles with optimized driving range, and grid storage solutions for surplus solar and wind energy.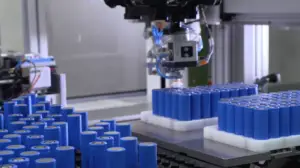 The researchers highlighted the findings are not merely to "retracing the history of battery development," but could also elaborate a more clear picture of its trajectory and how much potential is still existing to improve and reduce the cost of lithium-ion technologies. It gives a little credibility to Elon Musk's claim 2170 lithium-ion cells made by Panasonic for Tesla 3 and Model Y cars could see energy density improvements of 50% or higher in the next five years. 
When it comes to pricing, lithium-ion battery packs cost $1,183 per kilowatt-hour in 2010. It has fallen to $137 per kilowatt-hour in 2020. Different analysts believe that the adoption of electric vehicles will be affected by the speed the cost of these batteries drops below the $100 threshold.
Being optimistic, we can expect this to come real by 2025, when lithium-ion battery production capacity will increase by threefold and price per kilowatt-hour will have fallen to $93.