New privacy features in iOS 16, which by the way, destroyed Android's privacy features, so let's talk about the new privacy features on iPhone and compare them to Android.
So iOS has always been the more privacy-friendly OS. We all know that, and iOS 16 privacy features are pretty unique. There are other iOS 16 features that he came up with; you can check those on our website.
iOS 16 has completely changed; they have completely renovated all of the permissions we use daily. Below is the list of privacy features iOS 16 it came up with; it just destroyed Android's privacy!
Here is how to download the XinaA12 jailbreak for iOS 15 – 15.1.1 for newer A12 – A15 devices.
List Of iOS 16 Privacy Features
1. Local network permissions
The first in our list of best privacy features on iPhone iOS 16 is local network permissions,  it has local network permission that we were not even aware of. When setting up the iPhone for use after installing Facebook and opening it up, a prompt popped up.
Facebook would like to connect to other devices on my network. It means Facebook communicates, and it's spying on the other devices on my network.
Now it's not just Facebook; when installing PUBG mobile on iPhone, I got the same local network permission prompt from PUBG mobile as well. They want these permissions on devices, which makes us wonder if they are taking this permission by default on Android also, as you can see even YouTube wants this permission.
2. User permissions
User permissions that we use every single day on iOS 16, you know, every time an app is using the camera or the microphone. When you allow an app like Instagram to use the camera, you get a green dot on the top of your device just around the right of the notch. This lets you know that your camera is in use.
The same goes with the microphone, when the mic is active, you get the orange dot, so you know how we all have this conspiracy theory that apps are listing to us by Facebook, YouTube, or Instagram.
Here is how to install altstore on iPhone on iOS 16 and above on all devices.
They show us these ads based on what we talk about, these green and orange dots on the top; we at least know when an app is using the camera or the microphone. It is good to know that even the control centre now shows you the app that recently took the camera or mic permission, which is convenient.
3. Photos Permissions
Photo permissions are next in our list of best privacy features in iOS 16. It is not just the camera or the mic permission iOS 16 ensures that no app has access to all the photos or media on your phone. Generally, when you install a photo rating app to, say, edit one photo or two, I have to give permission to access all of the media stored on the phone.
Shouldn't the app be getting access to only one or two photos that I want to edit? No one thinks of this ever, but iOS 16 brings the same feature to save our data.
Want to download trollstore on iPhone? Here is the step-by-step tutorial attached.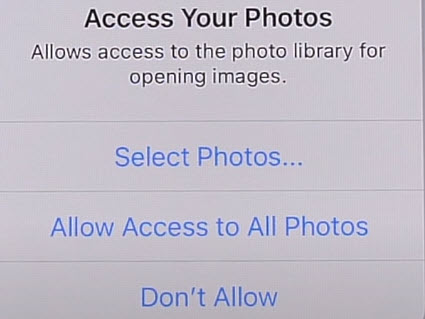 When you try editing a photo on one of the photo editing apps on the iPhone, there are three options, select photos to allow access to all photos and don't allow.
Now when you choose photos, you want to edit. The photo editing app only gets access to that one photo or the photos you have selected; it works in every single app. You don't have to give complete access to your photo library or even the videos to any of the apps out there; how awesome is this?
Here is how to download unc0ver jailbreak.
4. Location Permissions
Next up, location permission has more control in iOS 16. See, on the iPhone, you don't have to give every app your exact location, where you live or where you're going.
That is super useful; for example, you want to check into Facebook from time to time, but you do not want it to know exactly where you're, and that's where iOS 16's new approximate location comes in. This is one of the best privacy features in iOS 16.
So when Facebook asks you for location permission, like on Android and iOS, you will get these three options to allow once, allow while using the app, and don't allow.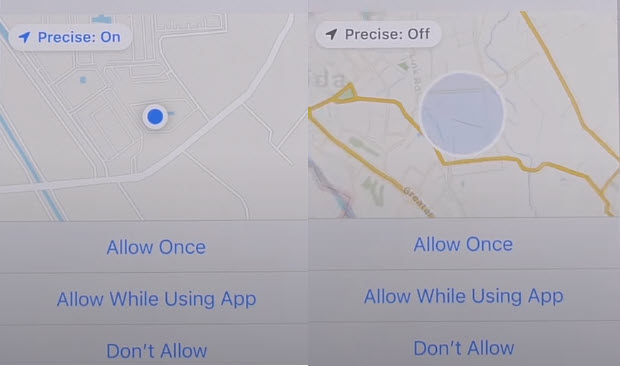 This is fine but what's interesting is a precise button there, so you can turn this off and then that blue dot will turn into a big circle which means the app is not getting your pinpoint location; it is getting an approx location which is fine because it is still listing you all the famous places nearby to check-in.
Now I know some apps like Uber will require my precise location, so you can give them that permission from the settings. Either way, this is a super cool privacy feature. This way app does not know where you live, the places you go to, or any other personal detail.
5. Tracking Permissions
Now with more control and more functionality in the camera and mic permission, the location permission iOS 16 also makes it challenging for companies and apps to track users. This is one of the best privacy features in iOS 16. We know those specific app trackers, right, but can we do anything about it? Yes, we can, on iOS 16, see the apps that track you. They will have to ask you specifically if you want to be tracked.

In the privacy settings, a new tracking option allows apps to request you to track. Even in the WiFi settings, there is a new option to use a private address that prevents network operators from tracking your iPhone by using a random MAC address. Now, this is the feature that's present in Android but yes super helpful.
6. Clipboard access notification
Another exciting thing is that iOS 16 now notifies you when an app of the widget accesses the clipboard without asking permission. So you can copy something from notes.
Now when you open the browser, it says on the top Chrome pasted from notes, which means it accesses the clipboard. Another thing we did not know is that this is useful because sometimes you have a copy of bank account details.
Want to jailbreak iOS 15 – 16 devices? Here is how to download palera1n GUI jailbreak on mac OS and jailbreak iOS 15 – 16 on checkm8-supported devices.
7. Safari Tracking report
Safari also has new privacy features in iOS 16; it has become more secure and private. How do you think it has a tracking report feature which lists down all the cross-side trackers that are being locked by the tracking prevention feature in Safari? Safari even blocks Google Analytics trackers, blocking Google from getting info.
8. Universal Sign-in with Apple
With iOS 16, you can sign in to more apps using sign-in with Apple. You will be able to upgrade your usual Google or Facebook accounts to sign in with Apple accounts; you will be able to easily sign in with apple and different apps because it does not require remembering passwords; it only gives away your name and knows the details. Hence, it is a lot more private and very easy.
Here is how to install and download filza without jailbreak on your device; it's a great way to have Filza file manager to see and edit system files on iOS devices.
Apart from that, with the future iOS 16 updates, app store listings will have a separate privacy information section where you will see all the permissions and app is taking, and this is a feature that Android has added for quite some years.
Here is how to install Gba4iOS on iOS 16.
Now when it comes to privacy features in iOS 16, the iPhone is just way more impressive. People have this perception of iPhones being more private and secure; it is not a perception; it is true.