Nvidia is pleased to allow Intel to manufacture its future GPUs. Could an Intel foundry manufacture your next Nvidia GPU? Team green boss Jensen Huang said his organization is contemplating it, as implausible as it may seem. Intel CEO Pat Gelsinger reacted to the revelation by stating he was "thrilled" by Nvidia's interest and confirmed that the two companies were in talks.
Huang was asked about Intel's Foundry Services (IFS) program during a press Q&A session yesterday (via Tom's Hardware). "We're extremely open to examining Intel," he said, "and I'm happy by their efforts."
Because Intel and Nvidia compete in the CPU and GPU sectors, the news may come as a surprise, but Haung stated, "We aim to diversify and redundancy our supply base at every level. Every single layer, from the chip to the substrate to the system layer. We've increased the number of nodes and foundries, and Intel is an excellent partner […] They want us to use them, and we're interested in learning more about it."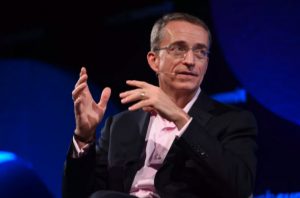 "We are happy about their [Nvidia] enthusiasm in utilizing our foundry capabilities," Intel CEO Pat Gelsinger told Reuters. He verified that conversations were ongoing but gave no specific timeframes—Huang noted that foundry negotiations often take a long time.
Huang stated, "It's not only about want." "We must align technology, business models, capacity, operations processes, and the two organisations' natures. We're not purchasing milk here, so it takes some time and a lot of deep, deep conversation. It's all about supply chain integration in this case. Our relationships with TSMC and Samsung over the previous few years have taken years to develop. As a result, we're quite open to evaluating Intel, and I'm impressed with their efforts."
Most companies would be wary of cooperating so closely with competitors for fear of exposing trade secrets. Still, Huang is unconcerned: he claims that both Intel and AMD have known Nvidia's secrets for years and that there are many legal safeguards in place, such as nondisclosure agreements (NDAs). "Of course, we provide roadmaps under strict confidentially and through a very narrow channel of communication. That is a new way of working for the industry."
Huang noted various examples of his company's collaboration with AMD and Intel, including the latter's CPUs appearing in DGX systems, when discussing tech competitors partnering in mutually beneficial ways. "We wouldn't be able to ship HGX without Intel CPUs and all of the hyperscalers connected to our HGX," Huang said, noting that Intel processors are also used in Nvidia's Omniverse platform.
Nvidia is now working on the RTX 4000 series, also known as Lovelace. It has reportedly paid TSMC $10 billion to secure a substantial portion of the Taiwanese company's 5nm manufacturing capacity. The consumer Ampere GPU line is currently built on Samsung's 8nm manufacturing node.