Are you a Sileo lover? Do you want to install Sileo on checkra1n jailbreak? So in this article, I am showing you step by step how to install odysseyra1n on the checkra1n jailbroken device to get Sileo.
It's really simple to install odysseyra1n with checkra1n to get the Sileo package manager. By default, we are only able to install Cydia after we're jailbroken with checkra1n jailbreak.
I am sharing two ways to install odysseyra1n, one is to install it by odysseyn1x iso, and another one is to install it with Betelguese odysseyra1n. You need to be jailbroken first with the checkra1n, and it's better you only install checkra1n and not install the Cydia if you want Sileo.
Here I am not explaining how you can install checkra1n jailbreak on your device. For that, I have already posted comprehensive tutorials on installing checkra1n on windows and on a mac computer. The checkra1n Linux jailbreak method tutorial is also available you can choose any one depending on your operating system.
Let's first see what is odysseyra1n?
What is Odysseyra1n?
Odysseyra1n is a solution by the Coolstar that comes with open source and new Procursus bootstrap from Diatrus. With Odysseyra1n you can use the full Libhooker for the first time which is a substrate alternative developed by the Coolstar with speed and stability.
Why Install Sileo With Checkra1n Instead of Cydia?
Sileo is the new, modern, fast, more responsive, and easy-to-use package manager as compared to Cydia to install on your jailbroken device. If you already interacted with Sileo you know it, if you haven't it's really worthy to try.
Check here the blackb0x jailbreak for Apple TV / TvOS, completely untethered jailbreak, and install Kodi on Apple Tv.
How To Install Odysseyra1n On Checkra1n Jailbreak iOS 14.8 With Odysseyn1x ISO
This is the first method to install odysseyra1n and get Sileo on checkra1n jailbreak. Another method is below to this using Betelguese odysseyra1n.
Step 1. First unjailbreak checkra1n
First of all, if you have the checkra1n jailbreak installed on your device, you need to remove it.
To remove checkra1n jailbreak, open the app, and tap on Restore System in the checkra1n app, your device will reboot and it will be removed.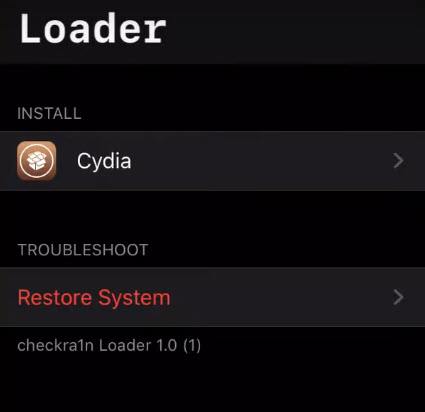 However, while rebooting if you get any error, you need to install checkra1n jailbreak again and then remove it again through Restore System.
Step 2. Download Odysseyn1x ISO
Here is the link to download odysseyn1x ISO from GitHub, remember to download a file according to your system's specifications e.g. 64 bit or 32 bit.
Here is how to download unc0ver untethered jailbreak.
Step 3. Make Odysseyn1x ISO bootable USB
Download the BalenaEtcher software from here, do not use Rufus for it so that you can make odysseyn1x ISO bootable.
Grab a USB drive, and make it bootable with odysseyn1x ISO. After it's downloaded, install it on your computer so we can make odysseyn1x bootable USB.
Step 4. Run BalenaEtcher as Administrator
Make sure your computer is connected to the internet, attach your USB with your computer and run the BalenaEtcher as an administrator.
Select your USB at the device section, then select the Odysseyra1n ISO file and click on the Start button to run the process.
Check here how to downgrade iOS with shsh2 blobs using futurerestore.
Step 5. Go into BIOS settings
After your USB is bootable, restart your device and enter into BIOS settings, and then into the bootable menu section.
For our computer, we can enter thereby pressing an F2 function key, to enter into BIOS settings your keys could be different like F10, F12, ESC keys.
Check here how to fix checkra1n jailbreak issues.
Step 6. Select Odysseyra1n
From boot options, just select the connected USB and hit enter, your computer will then boot through the attached USB.
After some time, a few options will pop up on your screen, first select the checkra1n and hit enter to install the checkra1n jailbreak first on your device.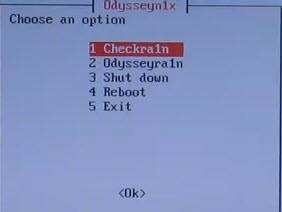 Follow these Cydia tweaks to improve performance on iOS jailbroken devices.
I assume you know how to install the checkra1n jailbreak if you don't know, here we have a detailed step-by-step article to install checkra1n jailbreak. Now you can also set a passcode on A11 checkra1n jailbreak iPhone 8 / 8 Plus / iPhone X easily.
You need to follow the steps there once the checkra1n is popped up, as you know in the first step we removed it from the device.
Here is how to backup all tweaks and restore them later.
If you get an error like this, see the picture below, no matter which unsupported version you are. Simply go into options in checkra1n and select the 1st option (Allow untrusted versions) and go back to the main screen and press the start button, and press ok in case a red error pops up. Remember that you don't need to install Cydia after checkra1n is installed as we'll install Sileo with odysseyra1n.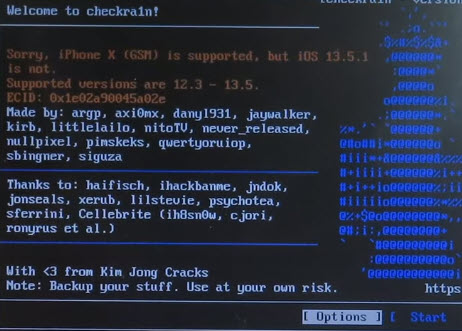 Step 7. Reboot System
Once checkra1n installation is done, hit enter on the done button and you'll be on the main checkra1n jailbreak screen
Go to the quit option on the checkra1n screen and hit enter, you'll a terminal below to type commands. Just type reboot and hit enter, your computer will start. After the reboot when odysseyra1n loads, now select the 2nd option, the odysseyra1n option, and hit enter. Make sure your device is connected to the computer.
Here is how to bypass jailbreak detection on your device.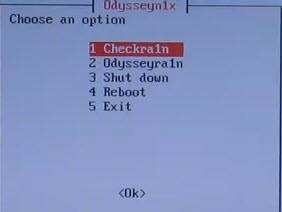 Follow the instructions on the screen, 1st press enter to continue, then again press the enter key, when it asks for the password, put in the password that is alpine and hit enter.
It will do a little processing, do not disconnect your device until you see the Sileo on your device's home screen. If it asks for the password again, put that in again and hit enter. It will start installing Sileo on your device.
Now below I'll show you how to install betelguese odysseyra1n.
How To Install Betelguese Odysseyra1n on Checkra1n jailbreak to get Sileo iOS 14.8
Step 1. Download Betelguese Odysseyra1n
First, you need to download Betelguese odysseyra1n, you can get that from the mentioned link. It's currently available for the macOS only.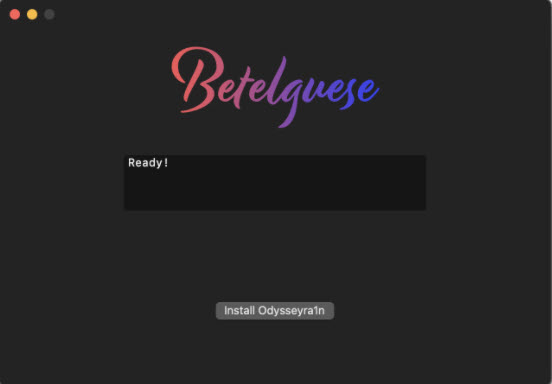 Step 2. Install Betelguese Odysseyra1n
Open it on your computer after you have jailbroken your device with checkra1n. Click on the Install Odysseyra1n button.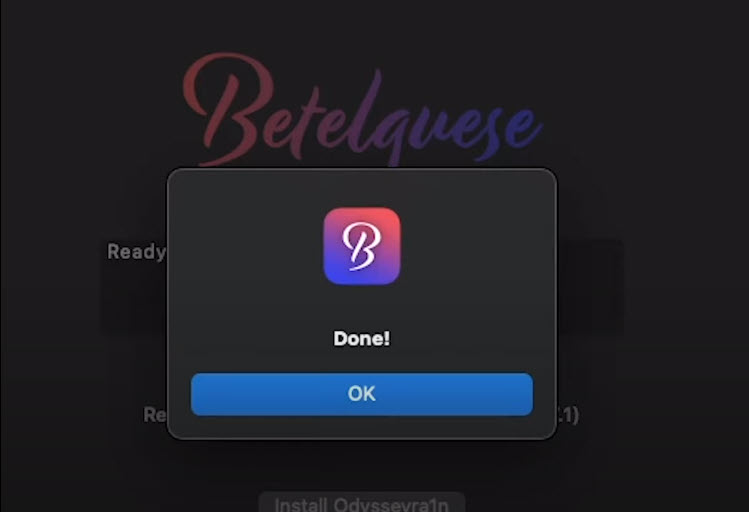 Step 3. Installing Sileo
Betelguese odysseyra1n will take a little time to install odysseyra1n, once it's completed you can open the Sileo and use it. It's recommended you first upgrade all the sources in it.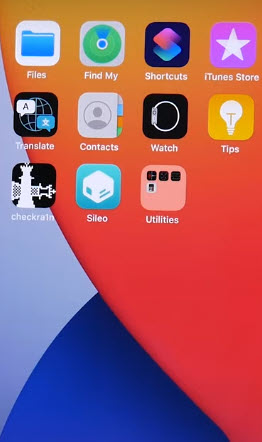 Step 4. Install tweaks in Sileo
Once Sileo is ready, you need to install two essential tweaks first on your device. One is PreferenceLoader, and another one is RocketBootstrap. After that you can install as many tweaks as you want, here are the best jailbreak tweaks you can install on your device.
Check here the top 3rd-party app stores for iOS devices.
This is how to install odysseyra1n on checkra1n jailbreak and get Sileo using the Odysseyn1x ISO and Betelguese Odysseyra1n. if you have any questions you can leave them below in the comments.
Odysseyra1n Jailbreak (FAQs)
What is Odysseyra1n?
Odysseyra1n lets you install Sileo on checkra1ned device, based on libhooker, its built from scratch by CoolStar with stability and speed in mind.
What is Odysseyra1n jailbreak?
The odysseyra1n jailbreak installs the full bootstrap on your checkra1ned device which lets you odyssey like experience on checkra1ned device.
How To Install Odysseyra1n with Odysseyn1x | Betelguese (2022)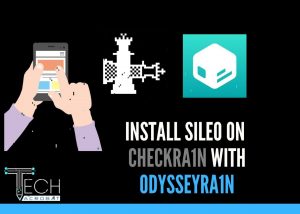 Here's how to install odysseyra1n with odysseyn1x ISO to get sileo on checkra1n jailbreak (), get sileo on checkra1n jailbreak with Betelguese Odysseyra1n.
Price: FREE
Operating System: Windows
Application Category: Jailbreak