In this step-by-step article, I will let you know how you can save SHSH2 BLOBS iOS 15.5 and above for downgrading iOS versions for future jailbreaks or more using TSS Saver.
Why Save SHSH Blobs?
Once you update to the latest iOS firmware, later because of performance issues with the new iOS version, you can downgrade to old versions for which the SHSH blobs are saved.
If you jailbreak your device frequently, this is important for you then. Because in case you lose to jailbreak or boot loop your device, these SHSH2 blobs will let you downgrade iOS to unsigned iPSW or restore them in the future.
Not only are we sharing saving shsh blobs iOS 15 and up with TSS saver but also sharing a nonce setter method with a new tool that is based on checkm8 bootrom exploit works without running nightmare command process to set nonce and stuff like that.
SHSH/SHSH2 Blobs (ECID Hashing Formulas)
Saving SHSH2 Blobs, which are the hashing formulas that are a small piece of data that is a part of Apple's digital signature. These refer to the device's ECID, a unique identification number embedded in the device's hardware. Apple developed these to control the iOS versions that Apple users can install on their devices.
All the SHSH blobs process is controlled by TATSU (TSS). These are necessary to downgrade or upgrade to the newest iOS firmware versions in the future if certain conditions are met. The updates can only be completed using iTunes; Apple has developed these digital signatures to use to personalize IPSW or iOS firmware files for each device Apple has created.
You can go to previous iOS versions which are not being signed by Apple without any restrictions on your iPhones, iPads, iPod touches, and Apple TVs after you save signed hash or SHSH blobs for these devices. iOS developers have made tools for this process, and in this article, we are using TSS Saver (TATSU) tool to save SHSH blobs; these blobs are also called ECID SHSH or signed hash.
The jailbreak usually is for those iOS firmware versions which are not currently signed. To get some protection for your device, you need to save shsh2 blobs. This will allow you to downgrade iOS or upgrade iOS in certain conditions in the future to a better and stable iOS version, which is jailbroken.
Check how to jailbreak with Checkra1n Jailbreak in a step-by-step tutorial.
For saving signed hash SHSH2 blobs iOS 15 and up or ECID SHSH for an iOS version, that version must be signed by Apple when you're saving blobs that version. This means that we can not save SHSH blobs for the versions which are already unsigned by Apple.
Save SHSH / SHSH2 Blobs iOS 15.5 with TSS Saver
I am sharing two methods to save blobs; one is an online method using TSS Saver (TATSU). It saves the blobs online, also I am sharing a tool that saves shsh2 blobs on your local computer, and unfortunately, this tool is working for MAC and Linux only.
Those who are using Windows computers can choose the online TSS Saver method to save ECID SHSH blobs.
Important Note:
Sometimes, it is said that you have to update to that particular iOS version that you want to save
shsh2 blobs
or
hashing formulas
for. Fortunately, that's not true if you are running the iOS 14.3 jailbroken version. Still, you can
save blobs
hashing formulas
for iOS 15 without updating to iOS 15 and up versions. You don't have to lose the jailbreak to save the signed hash SHSH2 blobs iOS 15 and up.
How To Save SHSH / SHSH2 Blobs iOS 15.2 With TSS Saver Online (TATSU)
Step 1. Go to TSS Saver Website
Step 2. Get ECID Number
Step 3. Select Device and Save Blobs
The detailed steps are below.
This method is to save SHSH blobs iOS 15.5 and up for iPhone X and lower devices.
To save these hashing formulas' blobs, you need to use a tool called TSS Saver (TATSU Signing Server) Saver; here is the link to it.
Step 1. Go to TSS Saver Website
Open the TSS Saver website on your mobile phone or computer, I'll be using this to save blobs iOS 15 and up.
Moreover, this tool lets you check or validate the already saved shsh2 blobs whether are valid. Also, this tool enables you to retrieve the shsh2 blobs that you already have saved.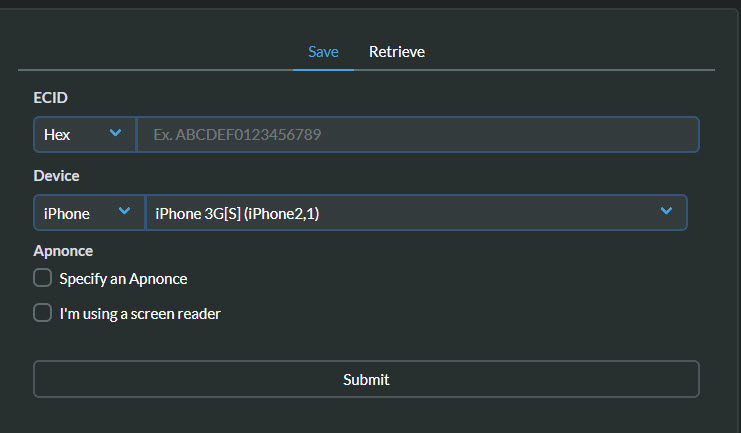 Step 2. Get ECID Number
Connect your device to iTunes for which you want to save signed hash blobs.
There you see the Serial Number, click twice on that, and the ECID SHSH number will be shown there. See the pic below; then, you need to copy that. It's necessary to save blobs.
Bypass iCloud Passcode Disabled is possible now, check out our FREE guide on it.
Step 3. Select Device and Save Blobs
Paste that ECID hashing formula number in the TSS Saver TATSU tool and also select the device type and the device generation which you are using carefully.
After that, hit the submit button.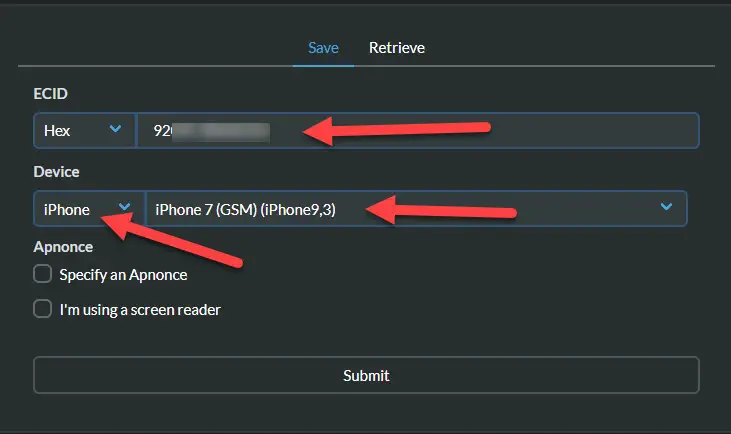 Check out the list of 3rd-party app stores iOS.
Now you have saved your shsh2 blobs or digital signatures for your device. Click on the button on the popup and it'll take you to the link where all the shsh2 blobs are saved, you can also save shsh2 blobs without a computer, check it on my web.
check altstore related all tutorials here.
Save SHSH Blobs iOS 15.5 By TSS Checker [Offline ECID SHSH Blobs Saving]
Step 1. Download TSS Checker File
Step 2. Drag and Drop File on Terminal
Step 3. Put Commands
The detailed steps are listed below.
Step 1. Download TSS Checker File
First, you need to download the TSS checker zip file from Github or download it from the direct link. Now we use this to save blobs.
Step 2. Drag and Drop File on Terminal
You need a terminal for this to save ECID SHSH2 blobs iOS 15 and up.
Open the terminal, and drag and drop the file (Mac Binary or Linux Binary) onto the terminal.
Step 3. Put Commands
The terminal will show you the parameters you need to use, and it accepts.
You need to write this info below onto the terminal.
-d is for the device model
-i is for the iOS version you want to save SHSH blobs for
-e for

ECID number

-s for save
Hit the enter button after it; it'll download the necessary stuff and save your blobs in the user's folder on your computer. It might show you a few errors, but do not worry about them; it will show you the Saved ECID SHSH Blobs.
Important Note: Saving blobs or digital signatures are essential for downgrades and restoration if you boot loop your device on jailbroken firmware.
See here how to fix iPhone ghost touch problem.
How To Downgrade iOS 15 Firmware with Saved SHSH / SHSH2 Blobs
To downgrade iOS firmware with saved SHSH blobs, you need the saved blobs online, and future restore tool, and the iPSW file of the version you want to downgrade to on your iPhone or iPad.
We have a detailed, step-by-step guide to downgrade iPhone or iPad with saved shsh2 blobs using the Futurerestore tool. Here
Download Saved SHSH/SHSH2 Blobs online iOS 15.5 for Downgrade
In case you want to retrieve SHSH blobs, you need to enter the ECID number into the Retrieve section in the TSS Saver tool.
First, go to the TSS Saver website, then you need to go into the Retrieve section, put the ECID number there and click on the submit button.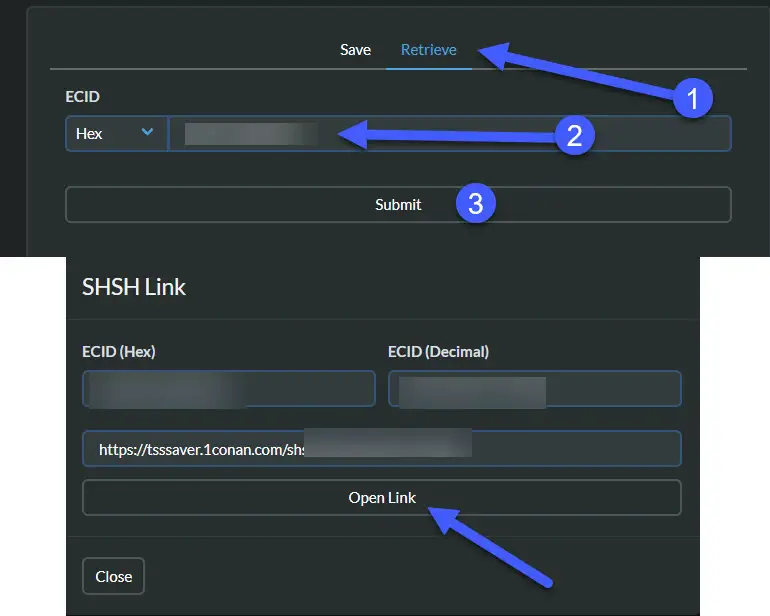 A popup will appear here, you need to click on the Open Link button to go to your saved shsh blobs
After that, a page will appear which will be showing all the blobs for you device you have saved already. Click on the one you want to download, and click on the Download ZIP button to download the blobs' zip file which you can use to downgrade or upgrade iOS versions.
Here is a detailed explanation of what is TFW means on the iPhone.
Save SHSH Blobs (FAQs)
Can you save blobs for unsigned firmware?
No, you can not save the shsh2 blobs for the version that is already unsigned, you do that when an iOS firmware version is signed by Apple. If you haven't yet, go and save the blobs for the currently signed version. The process is described in this guide.
What is blob saver?
A Blob Saver is a GUI based tool on top of TSSChecker script to save blobs for the signed iOS version.
Can you downgrade to unsigned iOS?
Yes. You can downgrade to unsigned iOS version if you have the specific iOS firmware's saved SHSH2 blobs and your device is supported by the jailbreak. Then you can downgrade to unsigned iOS.
Can you use SHSH blobs from another Iphone?
No. The shsh blobs are the hashing formulas or digital signature which are unique for every device, you cannot use one same device model's blobs for another device to downgrade. You need to save your device's blobs for the signed version. The process is explained above.
[Video] How to Save SHSH2 Blobs iOS 15.5 using TSS Saver