In this article, I will show you how you can save SHSH2 blobs without computer for iOS 15. This is the no computer method to save SHSH2 blobs for the signed ios versions.
At this time, I am writing this article; the latest ios version, which Apple signs, is iOS 15.0.2. But this method will also work to save SHSH2 blobs iOS 15 for the beta versions and all the upcoming iOS versions like iOS 16 and so on if the jailbreak supports your device. You need to be jailbroken to use no computer method to save shsh2 blobs.
Why Save SHSH2 Blobs iOS 15 Online?
Why do you need to save SHSH2 blobs for the signed versions? Let me explain that to you. For example, later in the near future, when ios 15 releases and I update my device to that version and I feel that the device is lagging, and battery timing is also very low. At that moment me, or you will think if there is any way to go back to the previous iOS version?
These are the SHSH2 blobs that will help you go back to the previous iOS versions; you can go back to any ios version for which you have saved the SHSH2 blobs.
NOTE:
This method is the no computer method to save SHSH2 blobs, but this no computer method requires you to be jailbroken. Without jailbreak, you cannot proceed with this method; you aren't jailbroken yet. If you do not want to jailbreak, then there is a computer method to
save shsh2 blobs with TSS Saver
; you can follow that here.
If you want to jailbreak your device, if your device is iPhone X and lower, or you got an A11 chip and lower chip device, you can go with the checkra1n jailbreak. We have multiple tutorials on checkra1n jailbreak listed below.
If you got the latest device, then iPhone X and your iOS version currently at the writing of this article is iOS 14.3 and lower. You got two choices to jailbreak your device, Taurine jailbreak, and Unc0ver jailbreak, as the checkra1n doesn't support these mentioned devices.
As stated earlier, if you do not want to jailbreak your device or your device isn't supported by any jailbreak application, you can use our computer guide to save shsh2 blobs.
Let's just save shsh2 blobs no pc below.
How to Save SHSH2 Blobs Without Computer / NO PC for iOS 15
Step #1
Open Cydia or Sileo depending on which package manager you have after the jailbreak; go to the sources and tap on edit, then tap on the add button.
You'll see a pop-up where you need to put in the repo. The repo is https://apt.arx8x.net/; once you write it there, tap on add source, and it will add in your package manager.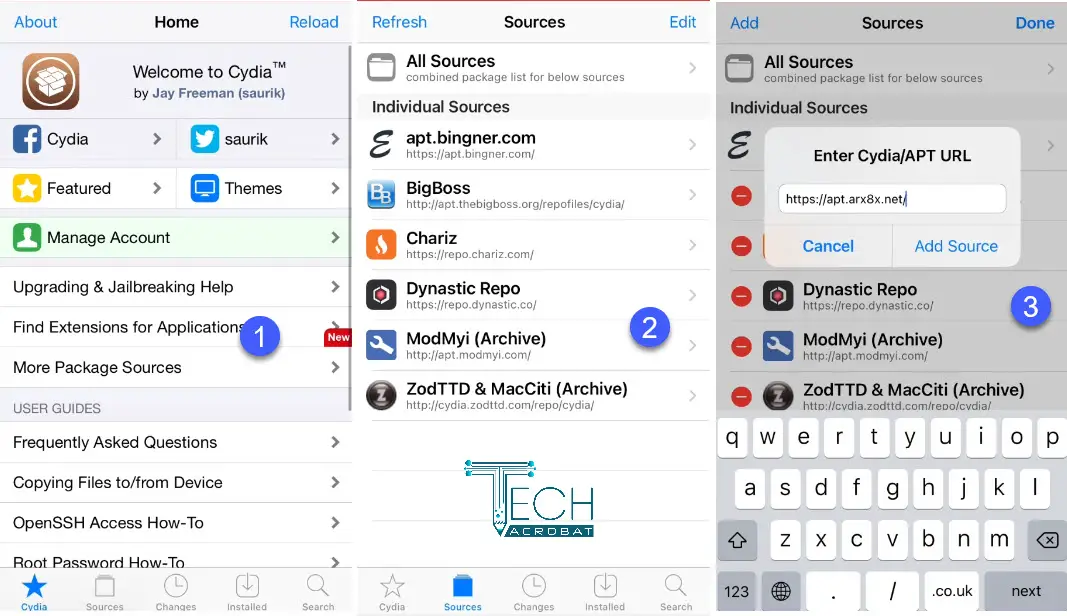 Step #2
Once the installation is completed, tap on return to Cydia. Now tap on the added source/repo and go into all packages.
Scroll down and find the system info tweak, tap on it, then tap on modify, and then on the install button and then on the confirm. It will install this tweak in your device; we will use this to save shsh2 blobs no computer. You don't even need to attach your device to the computer to get the ECID number which is the main requirement of saving shsh2 blobs for your device.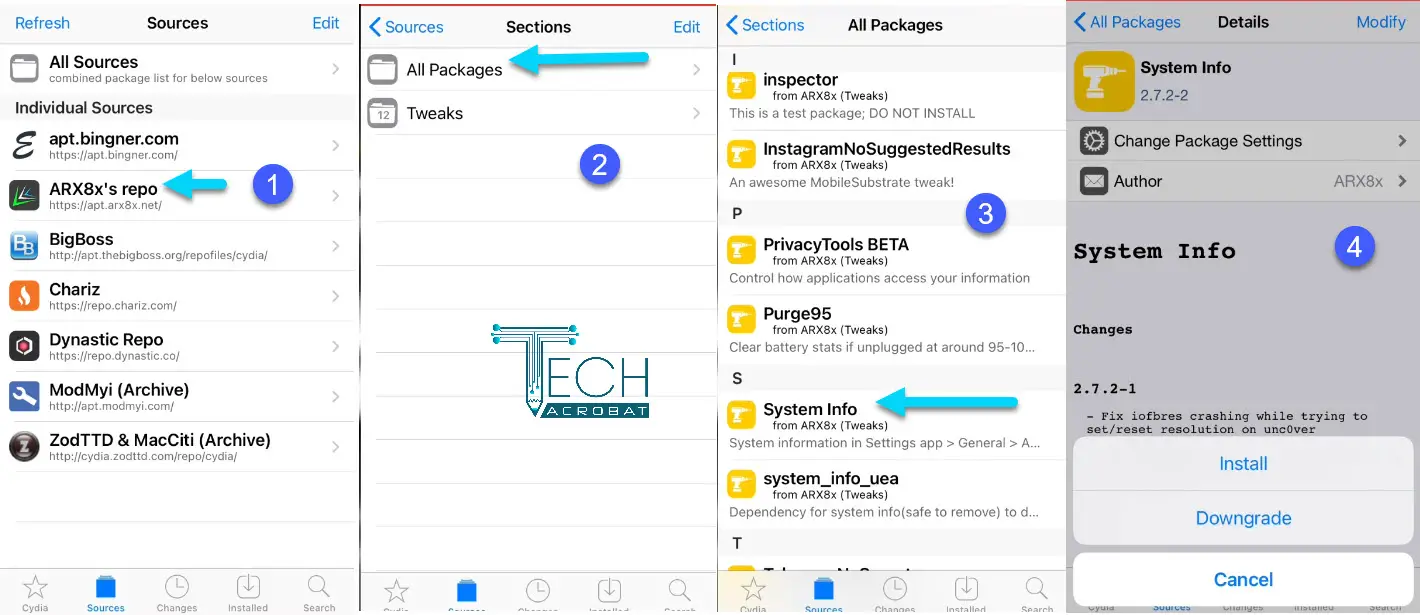 Step #3
Once it's installed, tap on the restart springboard. After that, go to the settings, then in general, then in the about section.
Scroll down here, and you will find a new section with a lot of further information in your about section. You'll see the ECID number there; you do not need to copy that. Just tap and hold on it, swipe to the left side, and tap on the save shsh2.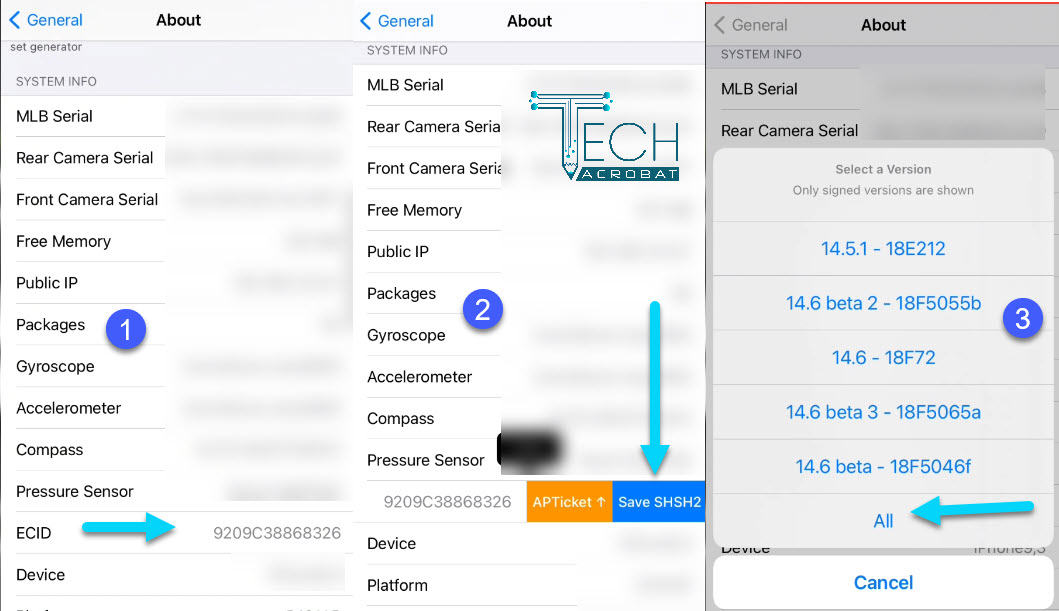 Step #4
It will show you a pop-up stating all the versions you can save SHSH2 blobs no pc for.
At the time of writing this article, there are a total of 5 versions I can save SHSH2 blobs for. Just tap on the all button if you want to save SHSH2 blobs for all the versions. If you're going to save it for a specific version, then tap on that one only; I did tap on the all.
As you tap on the button to save blobs, you'll see a pop-up. On this pop-up, tap on open shsh.host as this is powered by shsh.host, so we will save SHSH2 blobs no computer on this website. Tap on open shsh.host button, it'll take you to the website where you'll see the saved SHSH2 blobs.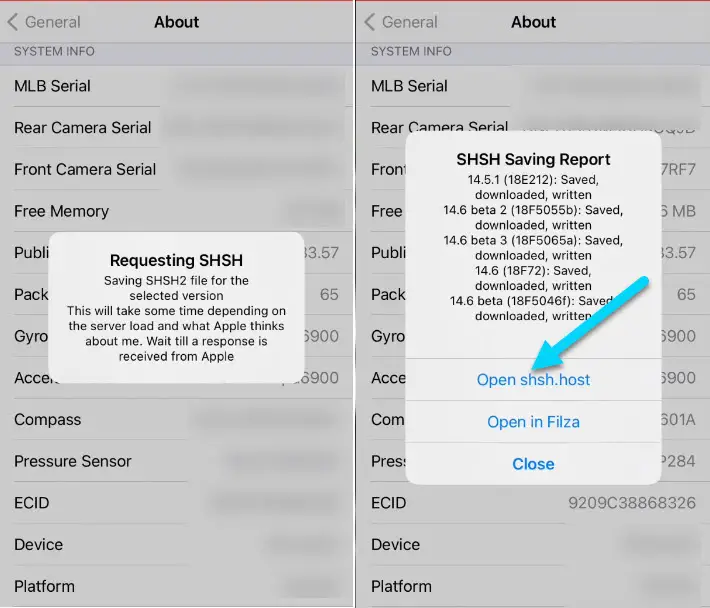 Step #5
If you want to download any of the SHSH2 blobs, you saved no computer, just tap on the specific version, suppose it's iOS 15.0.2, then tap on the number below the file on the next page.
It will show you a pop-up to download the SHSH2 blobs. Tap on the download it will start downloading. You can use this SHSH2 blobs file to downgrade to the ios 14.6 or any versions for which you have the blobs. I already have written a comprehensive tutorial to downgrade iOS using shsh2 blobs with futurerestore. You can follow it to downgrade.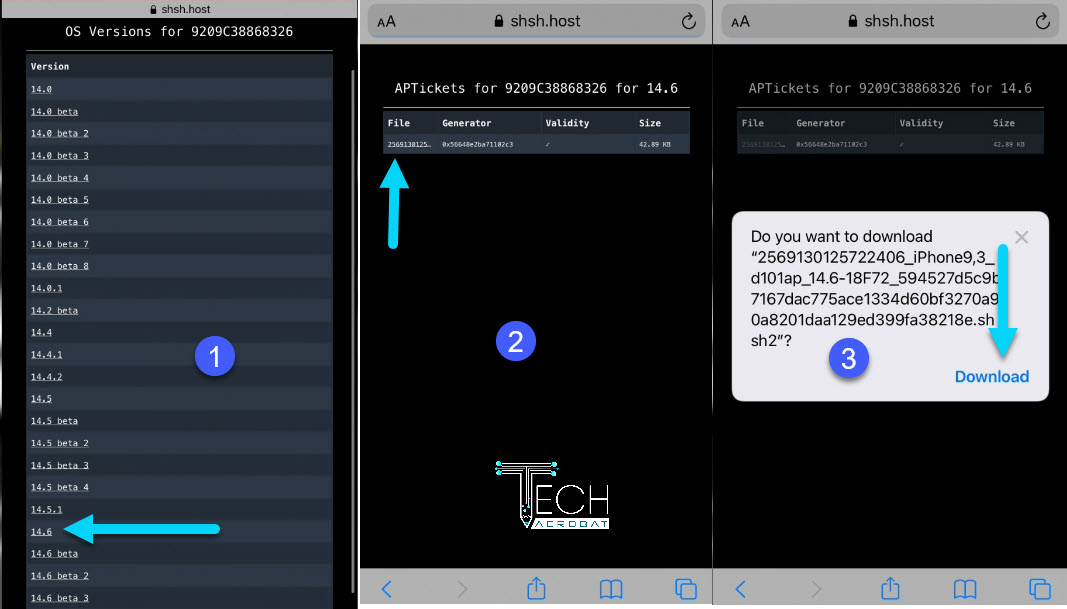 This is how you can save SHSH2 blobs without computer method. If you have any questions, leave a comment below so I can guide you accordingly.
Check here how to remove iOS 15 beta without losing data.
[

Video

] How To Save .SHSH2 Blobs iOS 15 No PC/Without Computer