Sileo – The Cydia Alternative, the public beta has been released. I posted 2 days ago that Sileo Public Beta is coming soon and it is released now after being into the development since July, for testing purpose. In this article, I am going to test Sileo out for you and give my feedback about Sileo public beta release.
Sileo posted that
Happy Holidays from the Sileo team! 🎄

We're excited to be releasing the first preview of Sileo today and can't wait for you to use it. You can grab the Sileo preview from the default Electra Repo starting now!

— Sileo (@GetSileo) December 25, 2018
Moreover, they posted below some important information about beta preview
Some important information:

* This is a beta preview. Some functionality is not finalised and bugs are to be expected.
* For now, the preview only supports the latest version of Electra.
* The source code will be published at a later date.

— Sileo (@GetSileo) December 25, 2018
If you want to try this yourself you'd have to get back to the Electra if you switched to Unc0ver, for that you can check out switch between unc0ver jailbreak and Electra jailbreak. But I am sure this will be compatible with Unc0ver as well. Lets test and find it out how this is as compared to Cydia. My device is currently jailbroken with the Electra.
Check How To iOS 12 Chimera Jailbreak With Sileo Support
Getting Sileo Public Beta Release
In order to get the Sileo public beta release, if you're jailbroken with the Electra, You need to go to the sources in Electra iOS utilities. There when you go into All Packages where you'll find the package for Sileo (The Beta Preview – Not The Final Release). This is available for the public to try out and find bugs and stuff like that. You install it like any other package and can install it through Cydia application. After the installation, this will be available at your home screen.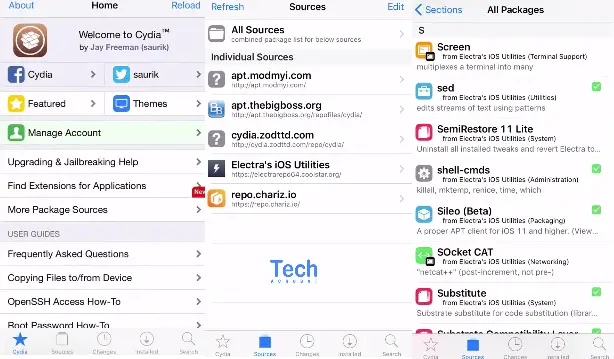 After you open Sileo public beta, you'll see it's interface almost similar to Apple App Store on iOS 12. You have both paid and free packages here but the paid ones are only available through dynastic repo in the beta preview. Here you can actually sign in with your account with any of the payments providers which are currently dynastic repo.
Public Beta Overview
If you take a look at it there are some popular packages available with the pictures and the news section is currently stating coming soon where probably the news related to jailbreak and stuff like that will be shown.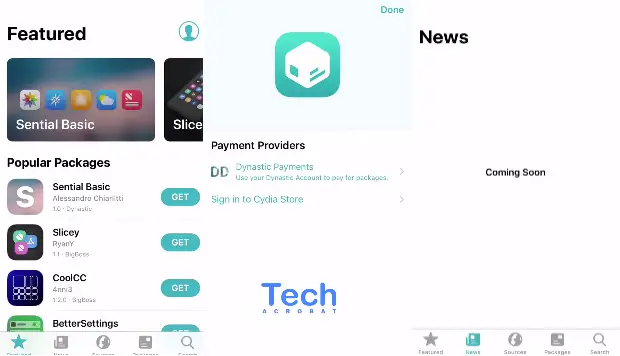 If you head over to the sources section where you have the repos where you can see older packages from all the repos combined. You have Chariz and Dynastic repo as default repos, Another thing BigBoss+ which I am not sure what that really is. If you go to the Packages section, it shows all the packages that are already installed.
Moreover there you see three buttons USER, POWER USER, Developer which seem not working as it's a Sileo public beta release for testing purpose. And the search section is the last looks similar to Cydia. Here you can search for something which loads much faster than Cydia.
Install-Package In Public Beta
I searched and opened Mojito here which loaded very fast. The pictures don't get larger at the moment and other details are shown. The GET button looks like the App Store. The changelog shows about the changes has been made in-app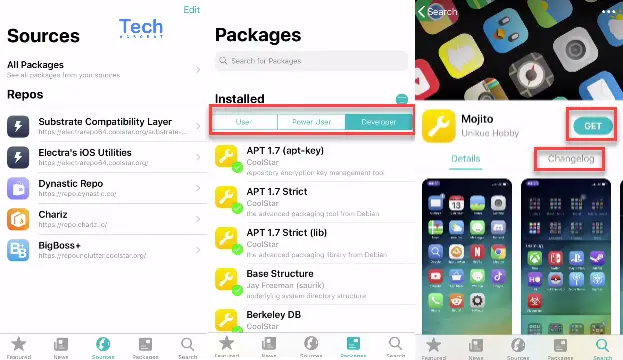 For installation purpose, you need to tap on GET button. Let me install this the opened one Mojito which is a theme. After tapping on the GET button, this has been queued for installation. It's currently showing 5 packages in the queue because this theme requires other packages to get installed in the background. Press the Confirm button to install the things.
Applying for Theme In Beta Release
You can minimize all this in Sileo public beta while it's installing in the background and browse other stuff. In Cydia, you have to wait on the black screen to get the installation completed.
After the installation is complete, go to settings there you'll find SnowBoard which is enabled, select the theme to activate it. After activation comeback to the home screen and the theme is applied to the system. To add the source you can press the edit and add the source same like the Cydia. It does look OKAY at the moment and it is definitely a quick and strong competitor to Cydia.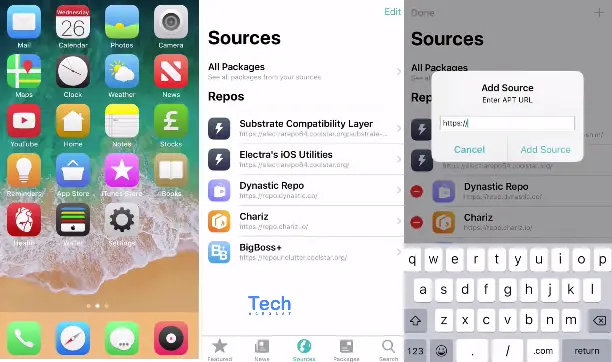 Sileo public beta release does stand up very well for a beta preview for now on a jailbroken device. Hope the final version will get released soon with minimal of the bugs.
Let me know in the comments section below what do you think about this Sileo Public Beta Release?