In this article, I will show you how to speed up jailbroken iPhones or iPad and clean jailbroken iPhones from junk files. You'll be able to speed up jailbroken iPhone or iPad. To do that, we will use a couple of tools. No matter what jailbreak you use, iOS 14.8 checkra1n jailbreak, or unc0ver jailbreak, all jailbreaks are affected by files created on a system. We'll be using Cydia tweaks to improve performance.
Now the best way to see files in jailbroken iPhone is with Filza tweak. If you actually download it and install it on your jailbreak device, you can see all the created files.
But going ahead and deleting files manually, temporary files, or databases is actually a pretty bad idea. We'll use Cydia tweaks to speed up iPhone or iPad.
Some of the things that you delete may be important for the system. Hence, the best way to actually clean and speed up jailbreaken iPhone is to use actual special Cydia tweaks to improve performance on iOS devices.
Why you MUST clean your jailbreak iPhone
Now, why would you even need to speed up jailbroken iPhone?
Well, as I wrote, no matter if you use the checkra1n, unc0ver, or Odyssey jailbreak. By using your jailbreak and installing tweaks from Cydia once in a while, you actually create a lot of temporary files on your device.
The much-awaited Apple Tv blackb0x jailbreak is released with Kodi support! Check here.
And at that point, they accumulate, your device may start working slow, or it may start being now. Of course, these files can also cost you in terms of storage, and oftentimes you have problems with your jailbreak when you navigate to the iPhone or iPad storage and the storage is actually full.
But you have no idea with what because it is not the application. In your system's settings, you will see a section called system or other section. Other section is occupying 3.32 gigs, but good luck finding out who is other from the section, and at the same time, the system is occupying 6 gigs 23. But we have no idea what part of the system is that big.
Check here a huge list of best Cydia tweaks for checkra1n for iOS 14.8 jailbreak.

The waste created by the jailbreak or by the tweaks is usually represented either on the system or other section. Hence, the best way to clean and make a fast iPhone in a jailbroken state at first is not to use Filza, but other Cydia tweaks to speed up iPhone.
Please do not use Filza to clean your jailbreak. Don't delete files that you think are not useful because you may break something. There is actually an application, to speed up iPhone jailbreak. Many of you who have been jailbreaking for a while probably know it.
Check here essential Cydia tweaks you should install right after you jailbreak your device.
Speed up jailbroken iPhone iOS 14.8 with iCleaner
If you are new to the jailbreak community, you probably don't know it, and it is called iCleaner. It's one of the best jailbreak tweaks to speed up iPhone.
Now, the iCleaner is totally free. There is also a paid version without ads, but really the free one would suffice, and this one is a utility that works on your jailbreak to make it fast. You can get it from Cydia.
You can search for it on the Cydia, type iCleaner, and get it. Basically, it is from the BigBoss repo. Now compared to the app store applications that you can sometimes find which claim to clean your system.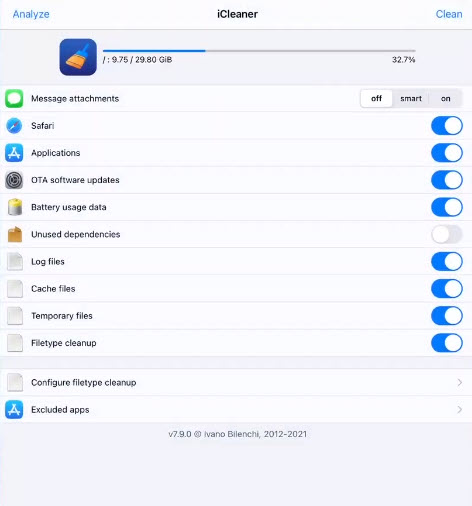 Check here a big list of unc0ver Cydia tweaks for unc0ver jailbreak.
Why shouldn't use Appstore cleaning applications to speed up jailbroken iPhone iOS 14.8?
Those in the Apple app store are fake because the app store applications you download with your user account will never delete files from your system. They don't have that access to the system files because they are limited, but iCleaner does because it runs under a jailbreak to access all the systems.
It can actually delete and find log files, caches temporary files, unused dependencies and statistics, and any other kind of file that should not be there and that is occupying your space without reason, so what I need to do is to press analyze, and this will start the scanning of all the system.
Here are the best third-party app stores for iOS. you can choose to install it on iPhone or iPad.
iCleaner will tell how much garbage there is on your system that can be freed which can speed up jailbroken iPhone.
It takes a while. It won't take too long, and you will get a full log out of a full list with everything that should be deleted from the system, and your iOS jailbreak speeds up.
There you will see that there are a lot of files that should be deleted, in fact, many files, so that should all be deleted, and deleting them does not bad at all else making your jailbroken iPhone fast and clean and making more space in your device.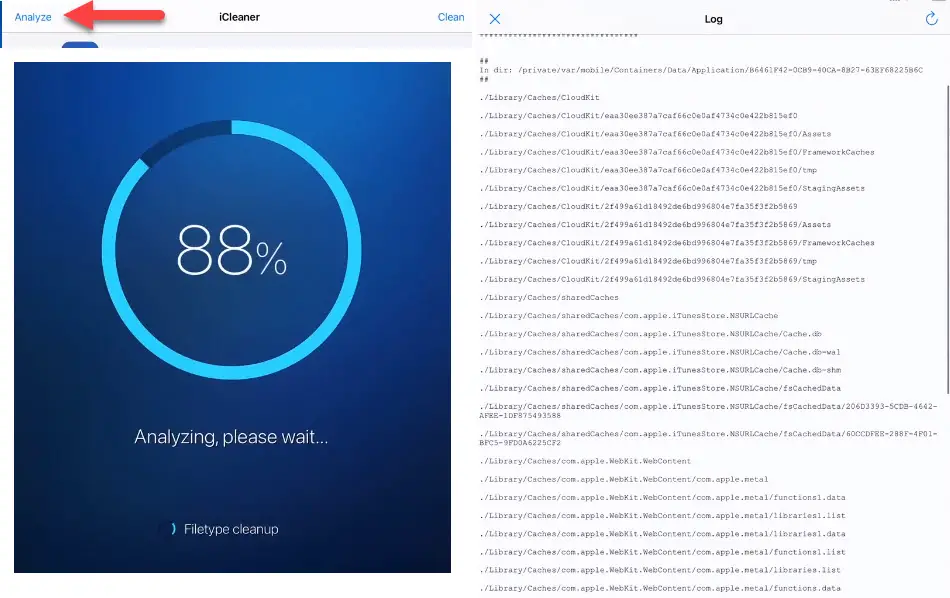 So you should definitely attempt to clean your device from time to time, so you will probably see a lot of garbage on your device, the cleaning will speed up jailbroken iPhone. You will have to press x to go back and press clean, and at this point, this will start cleaning everything.
This should definitely give you some more space, maybe not a lot of space. When it's done, all the junk files will be deleted and you will feel your jailbreak iPhone speed up.
Still, at least you don't have a ton of temporary files and a ton of garbage piling up on your device. Another good way to prevent damaging your device is to install tweaks that are confirmed working on your version. So if you are jailbroken with the checkra1n.
For example, you are jailbroken, you should make sure that the tweaks you install are indeed compatible, and you can do that very easily with a tweak called tweak compatible, which actually provides you information from other users who have installed that. These Cydia tweaks to speed up iPhone or iPad work great in jailbroken devices.
So you find it the same way you search for it on the Cydia. It is called tweak compatible, and once you get it, you could see statuses for various tweaks.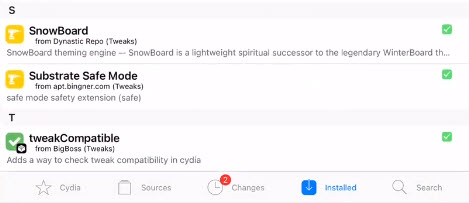 For example, snowboard, you will see various reviews for snowboard and various versions, so 1.2.25 beta 1 is indeed compatible with iOS 11 and other versions and stuff like that. Some of them may not be updated for the latest version.
But this is a pretty good tool to tell you what is compatible with your device. But iCleaner, the free version should definitely be kept on your arsenal if you want to keep your device in check. This does iOS jailbreak speed up and frees the storage space as well.
This is how you can speed up the jailbreak iPhone by using the Cydia tweaks to improve performance like iCleaner check tweaks compatibility that saves a lot of space in your device.