What is TeamViewer?
Whenever someone mentions anything about remote desktop software, the first name  that comes in mind is Teamviewer. It's one of the most popular desktop screen sharing applications worldwide. It's also the leading remote access software, and one of the most significant players in the market. Here I am telling about TeamViewer itself; the TeamViewer alternatives are mentioned below. Teamvieewer allows multiple PCs to connect remotely irrespective of home users or business users, and users can access and control those systems remotely.
Services provided by TeamViewer the remote control, desktop sharing, file transfer between connected PCs, web conferencing and online meetings. It's also used to assist others via real time support.
Why alternatives?
Everything also has its setbacks. Its limitation includes low-quality image resolution and recent security hacks.
It suffered numerous hacks in 2016 and 2017 making it unreliable for sharing information on this platform. This breach of security has put uncertainty in many user's minds.
Even if you Even if you still consider using Teamviewer after those problems, if you use it  for business purposes, you'll find that its' one of the most expensive solutions on the market.  Here's where you can check out the TeamViewer pricing.
If you are one of those users who is on the lookout for TeamViewer alternatives, we have compiled a list of the five best affordable alternatives. You can select one of these according to your needs.
Best TeamViewer Alternatives
1- AnyDesk
Platform: Windows, macOS, Android, iOS, Linux, FreeBSD, Raspberry Pi
Price: Free for personal use, Paid version starts at $6.59/month
Size: 2 MB
This lightweight software is the most preferred TeamViewer alternative which is used worldwide. It comes with lots of features just like TeamViewer but at a much smaller size allowing you to access PC from anywhere remotely. It is tiny in size but very powerful remote desktop software. It only takes 2 MB to download which is lighter than any other competitor.
It is the ideal choice of remote desktop software for areas with poor internet connectivity because it can perform tasks even with bandwidth as low as 100 kB/sec.
Its security system is one of the finest as it uses RSA 2048 asymmetric key exchange encryption to verify every connection and Banking – standard TLS 1.2 technology is used to protect the computer from any unauthorized access. It also whitelists trusted desks to control who can gain access to your computer.
AnyDesk ID can be swapped with a personalized username with the added feature of using logo so that it can also be used as your own brand identity. It also has a built-in address book which allows keeping track of any contacts and connections.
Its license covers all future versions so that you don't need to spend extra money for updates. All program versions are also compatible with one another so you can use any version you like. The mobile app can also be used at no extra charge.
AnyDesk is completely free for personal or non-commercial use and available for a wide range of platforms.
2- Supremo Remote Desktop
Platform: Windows, Android, iOS
Price: Free for personal use, Paid version starts at 98€*/year
Supremo remote desktop is a powerful solution for remote desktop control and support which allows you to access a remote PC or host a meeting in just a few seconds. It is lightweight and easy to use the software.
The main feature of this Teamviewer alternative is that no installation is needed; only a few clicks are needed to activate it which is fast. It consists of only one executable file that is very small in size and also comes with an integrated file transfer application.
It also offers a connection which is extremely secure due to its integrated encryption. It is safe and reliable to use as all data transferred through the internet is encrypted with an AES 256-bit algorithm. It also supports USilio, the IT Management Console. To add additional security, a random password is generated for every control session.
Multiple users are allowed to connect to the same computer, very useful for complex assistance sessions and internet presentation. You can live stream the screen while playing games and use your headphones also to share the audio as well. While hosting a meeting, you can share a screen with multiple users without giving control to other users (this feature is only available for paid subscribers). It also comes with an integrated chat application that allows you to chat with multiple users.
This software is free for personal use, and it can be used on Windows, Android, and iOS. It can be installed as a windows service, to make connection always available in the background.
3- MIKOGO
Platform: Windows, macOS, and browsers.
Price: Offers basic software features for free and Standard account starts from $14/month and goes up to $48/month.
Users can connect via a web browser without downloading and installing software resulting in instant connections.
Mikogo, which is next in our list of Teamviewer Alternatives, allows the user to set up meetings in advance with the unique feature of a Session Scheduler. Unique session IDs are created which is then sent via mail or calendar invitation. The remote session can be recorded which can be replayed with the Session Player or converted to video for later.
It also has the option of high-quality voice and video conferencing. It allows high-quality VoIP, video and teleconferencing numbers for over 28 countries.
It provides multi-user whiteboard where you can visualize your ideas in real-time with other users. The new Annotation Tool lets you highlight the presentation and keeps participants on point with the click of a button.
You can send files up to 200 MB to participants of your session, and you can also send and receive instant chat messages with individual participants or the entire group.
It provides basic software features for free, but you need to upgrade to get premium features. It can be used across various platforms like desktop, Android apps or iOS apps.
4- Lite manager
Platform – Windows, macOS, Linux, Android, iOS,
Price – Free for personal use, the Premium plan starts from $10
It is one of the best Teamviewer Alternatives for remote administration of Windows-based computers with a very user-friendly interface. It is easy-to-learn and straightforward, yet it offers robust functionality for remote administration. It can be used for distance learning, providing remote support to users and supervising activities of employees.
Lite Manager comes with a unique feature – Economy Mode which consumes 5-10 times less network traffic. You can also control a computer remotely in different sessions with the ability to switch between them, lock a computer, sync and much more.
It displays the list of remote computers in different styles depending on their states. Remote computer access which is switched off will be seen with <Offline> status, and a computer which is switched on can be seen with a <Online> status.
This software comes with the ability to text chat, audio and video chat to let the ideas flow in an uninterrupted way. It supports various platforms: PC to PC or mobile to PC, and support for Windows, macOS, Linux, iOS, Android, Windows Android platforms. You can download it for free from the official website of the software.
5- RemoteToPC
RemoteToPC is the next remote access application in our list of TeamViewer alternatives. It comes in different packages that you can choose according to your needs. For example, if you just need remote computer access then the basic plan is enough for you, the business plan offers you access from 10 to 20 computers from a single account. The service comes with a 14-day free trial so you can check it before you pay for it. Other pricing plans are displayed below as well and you can check it out on their website here: remote desktop file transfer.
If you provide IT support to others or if you need additional accounts as well as user management then the best option for you would be one of the Enterprise level plans.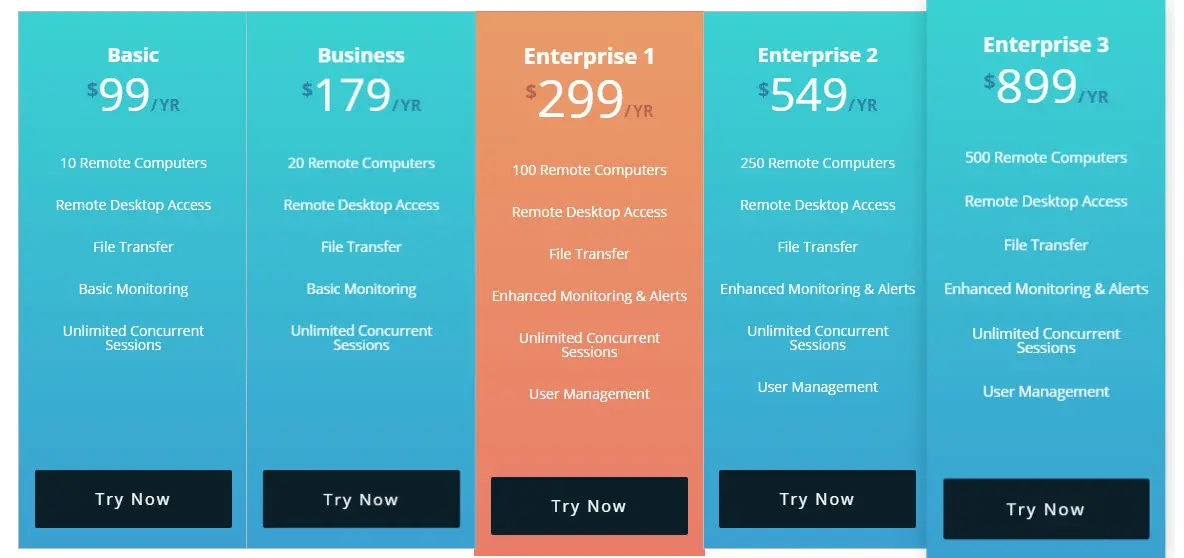 With RemoteToPC, Remote access is bundled with remote monitoring tools to monitor computer health and provide alerts if there is any problem on a computer. RemoteToPC is affordable, easy to install with remote access, monitoring, and alerts built into every installation. It works on Windows-based systems and there is a native Android client. There is also a browser-based client for accessing PCs from Linux, Mac, Android, and iPhone devices.
Conclusion
This ends our list of best TeamViewer alternatives with software for every need. It includes light and small software to software which need not be downloaded, as well as software that's perfect for providing remote support. You can choose one of the products mentioned above according to your personal or business use.
These are suggested by Mitchell who runs an essay writing service, let us know in the comment section below, which software you decided to choose for connecting remotely to other PCs. If you use any other software as an alternative to TeamViewer, write that down also in the comment section below with the feature you like most in that software.