Apple attached a new catalog to its support pages, which details how to use the iPhone 12's MagSafe charger. It's sound good. Simultaneously, the catalog has some warnings that could be distressing for some users who wish to use the feature.
However, the tech giant caution users regarding MagSafe that can produce too much heat.  If the phone gets overheated, iOS will reduce charging to 80% as a failsafe. The company said that this would "extend your battery's lifespan." However, it comes at the cost of longer charge times. If your phone gets excessive heat, you can move your phone to a cooler location, Apple said.
The support catalog warns that the MagSafe charger can be harmful to a magnetic strip or RFID chip in your credit cards in case they are caught between the charger and iPhone. This imperfection is concerning since Apple sells Magsafe wallets that hook up on iPhone 12's back.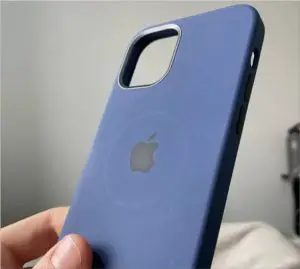 "If you keep your iPhone in a leather case while charging with your MagSafe Charger, the case might show circular imprints from the contact." —Apple Support.
The company recommends users that
"If you have a case that holds any of these sensitive items, remove them before charging or make sure that they aren't between the back of your device and the charger."
Moreover, if the users left while on charging, they'll note that the charger may leave a circular ring on cases. Apple particularly warns those users who have leather cases only. But MacRumors reported that one of its customers displayed pictures to the forum showing what the MagSafe did to his plastic case (revealed above).
Related: Apple MagSafe Charger Supports Galaxy Z Fold 2 And Google Pixel 5 in Addition To iPhone 12
These things aren't unsafe, but they might become annoying for an expensive phone. Taking off your case every time you have to juice up will get old quickly. The new MagSafe feature for iPhone 12 was not considered a great concept in the past. Perhaps Apple should keep going with the AirPower Qi charging anchor in the end.