If we look at 10 or 20 years back, The video calling quality was very poor and there were a lot of dropped frames. But nowadays video chat applications use efficient algorithms with high-speed internet which was not available at that time to provide much better quality video chat experience with our friends and family. And it just takes a fraction of seconds to establish a stable connection anywhere in the world. Today I am going to tell you about the top 12 best video chat apps 2019 which you can use for absolutely free. I am mentioning the video chat app for Android and iPhone
We are living in a growing technology world which our ancestors wouldn't have even dreamed of. Below is the list of applications, Remember, an application being upper in the list below doesn't mean the best app. You can choose anyone from the 12 you like.
Also, Check Out Best Android Cleaner Apps
List of Top 12 Best Video Chat Apps
1- Google Duo
This app is by the tech giant Google itself. This is a cross-platform video chat apps, meaning that you can enjoy it both in Android and iOS. It comes with a simple layout which makes it easy to use for a non-techie user. You need your phone number to register an account on it to make smooth and reliable calls to anyone who is using this application. This app has a special feature called 'knock knock' which shows you the live preview of the caller even before you attend that call.
You can download it for both Android and iOS using these links.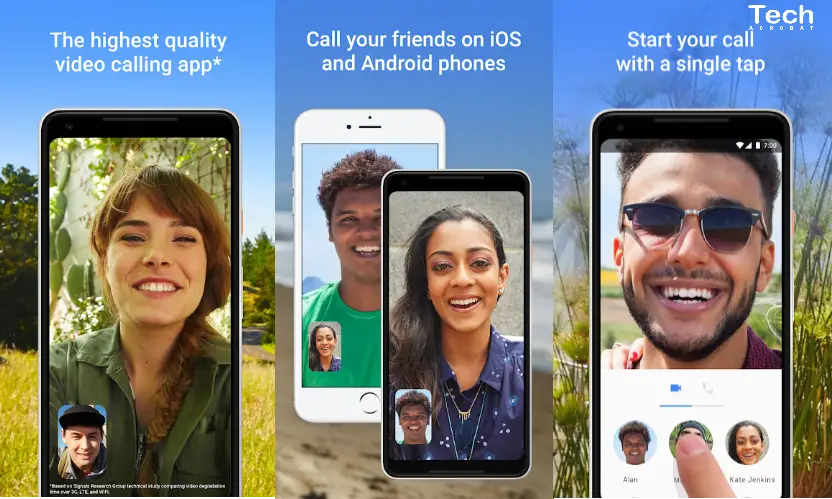 2- Skype Video App
Skype is also a free video chat apps on our list. This does not only let you make video calling but you can also use other features. This allows you to make a Videoconferencing of up to 25 people at a time. Moreover, you can use it to send text messages emojis, photos, stickers, voice messages and more. As compared to the mobile app, the desktop version is more stable. Skype also let's share your desktop screen with another person while having a call. Skype got 1 billion+ downloads for it's Android app. If you belong to an area where internet speed is not as good then you must look for another app in the list. As this consumes more data as compared to other video chat apps.
Download it for Android and iOS and PC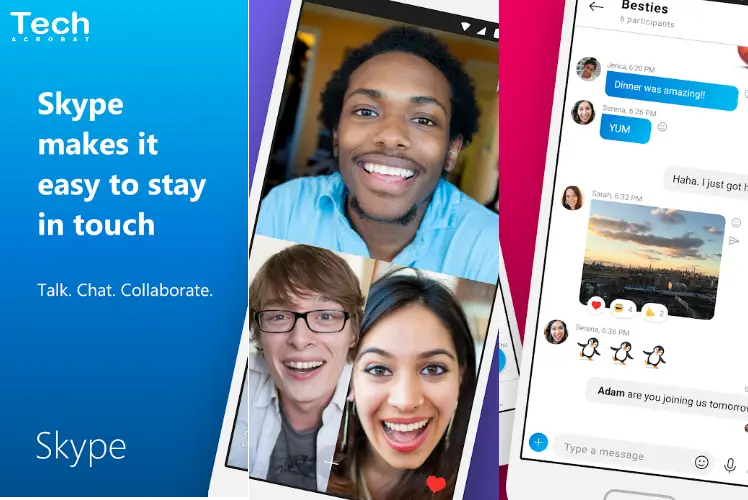 3- Viber Chat App
Viber in another free audio video calling app which is in play store for a long time and getting improved. It has included many new and interesting features which were not available before. It's available for many operating system platforms e.g. Android and iOS blackberry, windows platforms. The interface is easy to use as you just need to press the camera icon beside the user's name to make a video call to him or her. It also allows you to send photos, videos and making Videoconferencing as well. The interesting thing is that Viber encrypts the communication between the participants automatically e.g. messages calls photos etc gets encrypted automatic.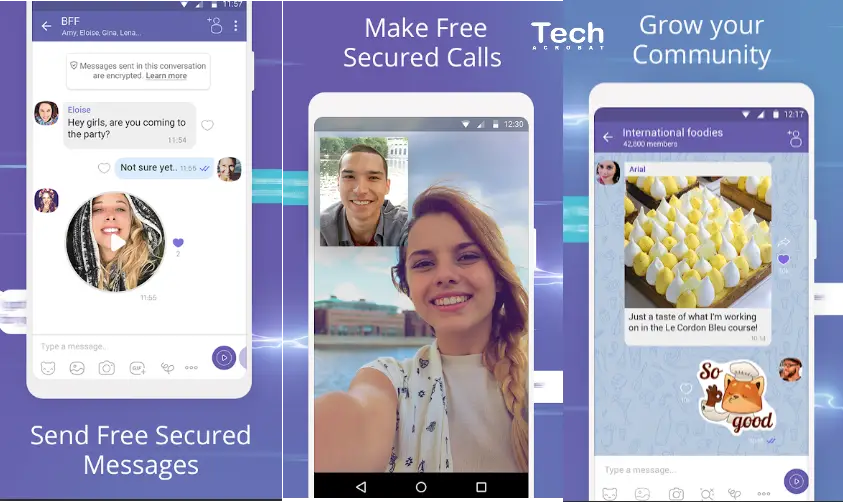 4- IMO Free Video Calling App
IMO video chat app also encrypts the communication data between users. This is also available for a long time and a cross-platform application. This doesn't come with a lot of interesting features but you can make video calling smoothly with it. IMO also lets you make Videoconference with multiple participants and also you can send stickers etc. It's a free application you must have to deal with the ads it shows frequently
5- Facebook Messenger Chat App
Facebook Messenger is one of the most popular video chat apps today. This comes itself by Facebook, This is a huge application and consumes a lot of battery too. This is trusted by billions of people across the world. It's also a cross-platform application, you can also use it on a browser while having your Facebook account logged in. Messenger lets you keep track of your previous conversations and media exchange with others.
Check out Amazing 16 Tips To Extend Battery Life When You're Outside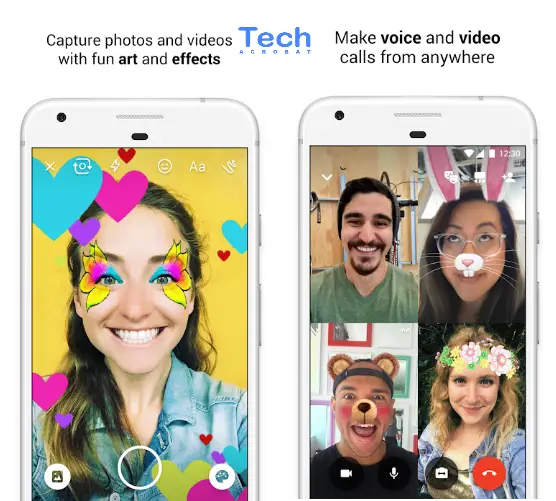 Moreover, you can also send pictures directly from the camera after applying a cool filter over your face. Not only that, this comes with built-in games which you can enjoy playing with your friends on Facebook.
Download it for Android and iOS
6- JusTalk Video Chat App
Next in our list of free video chat apps for Android and iOS id JustTalk. This video calling app's main focus is on video calling. This is not a popular application as others in the list but provides great quality calling experience. It allows you to do more stuff while having a call. E.g. you can record your video call for later memory, not only that, but you can also doodle being on video calling.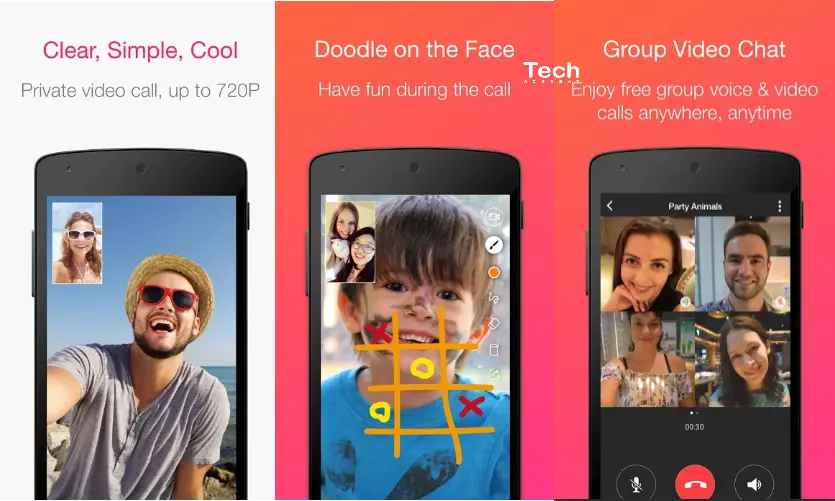 This Videotelephony app lets you have a Videoconference with an unlimited number of people at a time. you can customize its user experience by switching into different builtin theme and also you can send multimedia to others. This is a partially free application, meaning that for a few features you need to pay to them. it also contains ads for being free for many features.
Grab it into your phone for Android and iOS
7- WhatsApp Telephony Chat App
WhatsApp as everyone knows, One of the best mobile application across the world. Billion of people use it for personal and business purposes every day. This is also owned by Facebook and it's a multi-platform application available for Android and iOS operating systems. It has a quite easy interface to manage, just open any contact and tap on the camera button to make a call to anyone. This Videotelephony app support for group chat has also come in WhatsApp.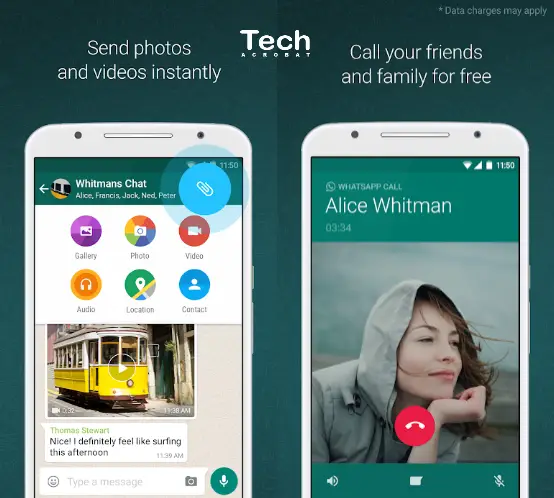 It got a lot of features including media and messages encryption, stories upload, also you can send stickers now to others using this. Not only that, it's a free application and doesn't have ads on it while using. But rumors are coming that ads are coming in between stories in WhatsApp chat app.
8- Hangouts Video Chat App
Hangout is next in our list of top best video chat apps available for free. This application also comes from Google itself with easy to use user experience and having cross-platform compatibility. As it belongs to Google, you can easily be in contact with your friends in your Gmail account. It doesn't have many features as other popular video chat applications but provides an amazing experience in video calling. Unlike Skype, Hangout doesn't compromise on video calling quality. You can enjoy many features like uploading status messages and sending videos, photos, and animated GIFs in this video chat app.
9- Line Messenger
Line Messenger, of course, one of the many popular video calling applications across the internet. This lets you make video calling with any of your friends over the internet. This video chat app supports Videoconferencing of up to 200 people at a time. You can also send messages, stickers, and most importantly you can use filters effects while on a video call. This Videotelephony app is a multi-platform app even you can use it on your computer. Most of the features of LINE are free but for some features, you have to pay. For being free a lot of features, it contains ads.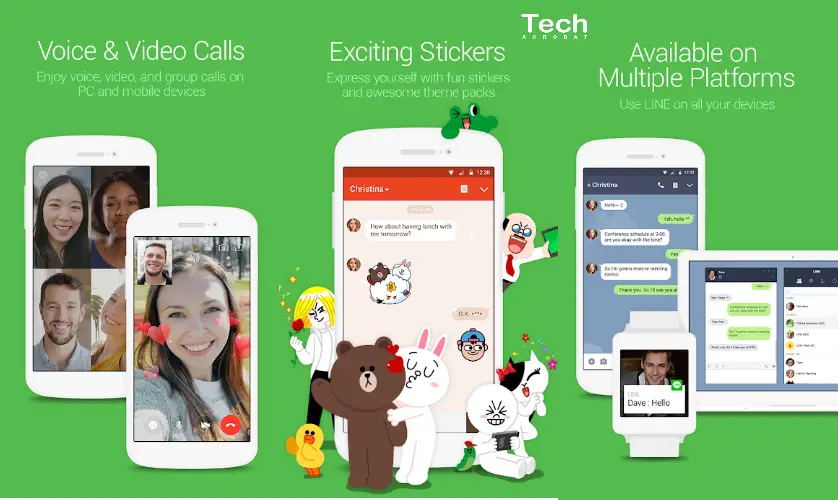 10- Tango Video App
Tango is another free video chat app on our list. Like other application this also allows you to make voice and video calls over the internet. Moreover, you can also send stickers, photos, videos. An interesting featuring it comes with is that you can go LIVE on tango and play games while having a chat with another person. It also has chat rooms for casual conversations with strangers there. Being on a video call on tango you lose less mobile data but quality remains the same. It around for a long time and getting improved time by time.
You can get it for Android and iOS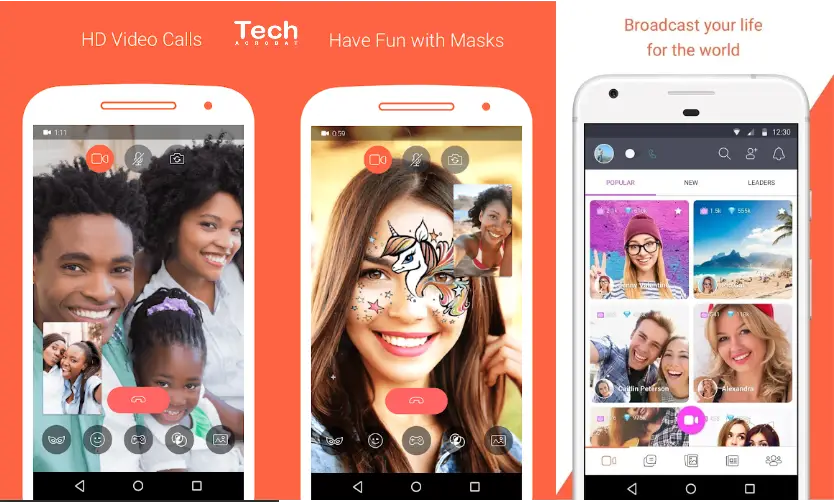 11- ooVoo For Android, iOS and PC
This one of the popular free video chat app for Android, iOS and PC first started off as a chat app only, later became popular especially within teens in no time. In ooVoo you can have a group call with up to 8 people at a time. Moreover, its in-app messaging services let you share video, texts, images and more with people. It also has a story uploading feature like WhatsApp where you can upload yours and watch other stories as well. Interestingly, ooVoo is a cross-platform application which you can install in Android, iOS and on a computer as well.
12- FaceTime Video Chat App For iOS
This is specially designed for iOS users and not for Android, it has been in controversy recently but now it's normal. It lets you connect with people for high-quality video calling (up to 720p) anywhere in the world within no time with people using iPhone, iPad, or iMac devices. Even if the app is not running you can get the incoming calls.
Download for iOS
Hey, guys, this is my top 12 best free video chat apps list for video calling across social networking platforms. Kindly share your views about these calling applications down below the comments box. Also, share interesting video calling applications you know which I missed in my list of free video calling applications for free to help others.