As the smart virtual assistant is getting popularity everywhere like Google Assistant and Siri, Whatsapp also finding it's little space by launching new WhatsApp mic feature for Android and iOS users. This new feature comes in WhatsApp update 2.19.11 on Android which adds a small black mic to the WhatsApp's keyboard which lets you dictate the message and send them to your contacts. Moreover, Whatsapp Private Reply feature also comes to iOS users within this update.
How To Use WhatsApp Mic Feature
Update your WhatsApp if you haven't received this new WhatsApp feature yet. After you have done that you'll see a black mic icon on WhatsApp keyboard. Do not get confused with the green mic icon next to the text box at the right side, that is for voice message and this new WhatsApp mic feature is to dictate your message.
To use it open your WhatsApp and go to the chat box of a person whom you want to send a message. Whatsapp keyboard will pop up there in window and you'll see black mic at the top right side of the keyboard. Click on that mic and start dictating your message, you need to hit send button manually to send the message.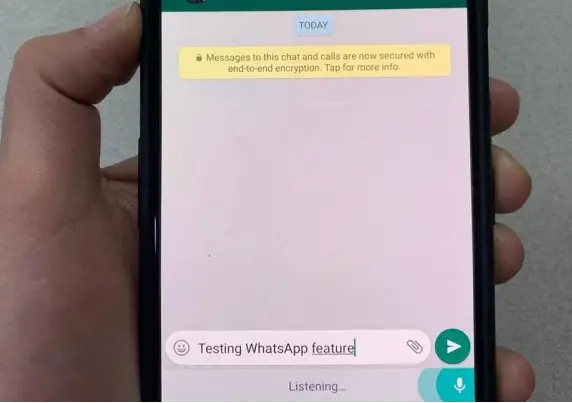 Limitations In WhatsApp Mic Feature
Although this WhatsApp mic feature understands punctuation marks e.g. comma, question mark, but, there are plenty of punctuation marks in English Grammar which it currently fails to catch correctly like hyphen (-), semicolon, colon, dash, apostrophe and most importantly a period. The wrong it does is instead of typing symbol it writes them in texts. For that reason, you have to manually edit your text for sending an error-free message to your contacts.
The new WhatsApp update 2.19.11 adds private reply feature for iOS users. This feature allows a user to send a private reply to another person in a group chat. It is not similar to tagging feature which is there for quite a long time. Tagging feature sends you an alert if someone tags you even if notifications are muted.
On the other hand, Private Reply feature lets you send a message to a group member without letting other members knowing about it. These two interesting features, whatsapp mic feature and private reply feature are the latest pushes by Whatsapp