The Facebook-owned-messaging app WhatsApp has finally started testing the capability to transfer chats from iPhone to Android. Apple intends to sort out the issue that users are experiencing since the service was first released in 2009.
Even though the company has provided a considerable amount of features on the messaging platform for its users, such as offline backups and cloud backups, users who desired to transfer chats from iPhone to Android and vice versa have never had a good solution as of today.
According to a report issued by the famous WhatsApp feature leak web, WABetaInfo, the latest "Move chats to Android" setting was presently accessible on the most recent iOS beta version.
WhatsApp has rolled out this "transfer chats from iPhone to Android" feature for the first time. Moreover, it could be an indication that the feature is practically set up for launch. We have previously disclosed a couple of months ago that WhatsApp was functioning on the capability to transfer chats between iOS and Android devices.
The rollout of the feature is at just the right moment for the arrival of the latest foldable smartphones of the Samsung that were newly rolled out. The Galaxy Z Fold 3, Galaxy Z Flip 3, which are anticipated to be the first devices that are going to have support for transferring your data from an iPhone to Android and will possibly utilize the same feature.
The feature is anticipated to release to different Android devices at the next step. Currently, the company has not provided any information about when transferring Android chats to iOS will be supported.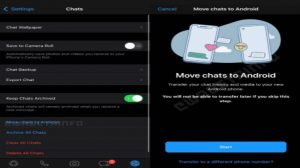 If you are an iPhone user, you can move your chats to an Android device if you are running the most recent beta version of WhatsApp for iOS. You can head over to WhatsApp settings if you have version 2.21.160.16 of the app, and check the Chats menu and choose the option named "Move chats to Android."
Moreover, you might have to wait unless it is enabled for your account in case you do not get the feature enabled. Nevertheless, transferring chats can be restricted to Samsung devices at the beginning. Therefore users might have to wait as far as it becomes available for all users.