The headache of using different jailbreaks for different devices and iOS versions on a Windows PC is over.
A brand new tool called Winra1n has been released; it's an all-in-one jailbreak tool that you can use to install Palera1n Windows and Checkra1n Windows without USB on supported devices.
In this step-by-step guide, I am showing you how to download Winra1n jailbreak for iOS 12 – 16 tool on a Windows PC and use it to jailbreak your device using palera1n windows no USB and checkra1n Windows no USB.
If that doesn't surprise you, it will surely be that you do not need any USB with this method. Yes, you can install Palera1n Windows no USB and checkra1n Windows no USB with the Winra1n Windows iOS 16.6 – 12 tool for checkm8 devices.
Winra1n 2.0 Windows Jailbreak Tool
The Winra1n 2.0 Jailbreak tool is now released. The previous Winra1n 1.1 was supported for iOS 15 – 16 firmware, but this new Winra1n 2.0 now adds support from iOS 12 – 16 for the checkm8 supported devices.
The compatible devices are mentioned below.
Supported/Compatible devices for Winra1n Windows Jailbreak iOS 16.6 – 12 (Palera1n Checkra1n No USB)
Winra1n supports iOS 12 – 16.6 for all the checkm8 exploit-supported devices without USB.
iPhone 5S to iPhone X
iPad Mini 2/3/4
iPad Air 1/2
iPad 5/6/7
iPad Pro 1/2 12.9 inch
iPad Pro 9.7 inch (2016)
iPad Pro 10.5 (2017)
iPod 6/7 Gen
Before proceeding with the Winra1n 2.0 download, we recommend using the dedicated method for palera1n Windows and checkra1n Windows jailbreak that we already have posted.
If, while updating to the latest iOS version, you face an error, then here is how to fix unable to check for update.
The reason for that is that Winra1n iOS 16 is a new tool, and it's in the beta stage; other methods are old and working perfectly. However, Let's see how to download the winra1n jailbreak tool below.
Also, see here how to bypass jailbreak detection; many bypass tweaks are shared.
Download Winra1n 2.0 Windows Jailbreak iOS 12 – 16 (Palera1n no USB, Checkra1n no USB)
Step 1. Download Winra1n Jailbreak tool
Go to this link and download Winra1n 2.0 for iOS 16 – 12 tool on your Windows PC; it's the first thing you need to do. Just click on the skip button at the top right corner, and it'll start downloading.

Step 2. iTunes and iCloud from Apple
Now, download and install iTunes and iCloud from the Apple website. If you have these from the Microsoft store, delete those first, download iTunes and iCloud from these links and install them. Just click on the skip button, and it'll start downloading.
After installation, restart your device first. It's compulsory for the Winra1n jailbreak iOS 16 tool to work for palera1n Windows no USB and checkra1n Windows no USB.
Now you're ready to use it.
Step 3. Connect the device to Windows PC
Now connect your device with the PC you want to jailbreak, and hit the trust button on the device if it shows the popup.
Now I'll show you how you can install checkra1n Windows without USB jailbreak and palera1n jailbreak Windows without USB jailbreak using Winra1n iOS 16.
Before you follow below, here is an important note for you; read that below.
Important!!!!
If you're on iOS 16 and attempting to install palera1n jailbreak, make sure you haven't attempted any jailbreak on your iOS 16 device. If you have done that, you need to restore your device first; then, you can attempt to install Palera1n. Also, if you're on A11 devices, make sure you disable the passcode, touch ID, faceid on your device, then attempt to install the
jailbreak
. Moreover, you won't be able to use these security options as well after the device is jailbroken. But no worries, you can use it through a tweak. Here is how to use the
passcode on checkm8 A11 devices after jailbreak
.
Step 4. Install iTunes Apple Mobile Device Support Driver for Winra1n
Extract the downloaded Winra1n 2.0 beta zip file, go inside, double-click on the AppleMobileDeviceSupport.msi file and install it on your PC. It's a compatible iTunes driver, which is needed to use the Winra1n jailbreak iOS 16 tool properly.
Now, once you meet the conditions, follow below how to jailbreak with Winra1n.
If you face any error with the Winra1n load driver failed, the solution to that is below, and you won't face the issue.
How to Fix Winra1n Load Driver Failed Issue
If you see any error about the Winra1n load driver failed issue, you need to disable driver signature enforcement on Windows. For that, follow the mentioned tutorial.

Step 5. Fix Drivers of Winra1n Jailbreak
Open Winra1n's latest version; you may see more than one version in the extracted ZIP file.
Once it's opened, you'll see a button to Fix Driver. Click on that, and it'll fix any issues related to drivers on your system.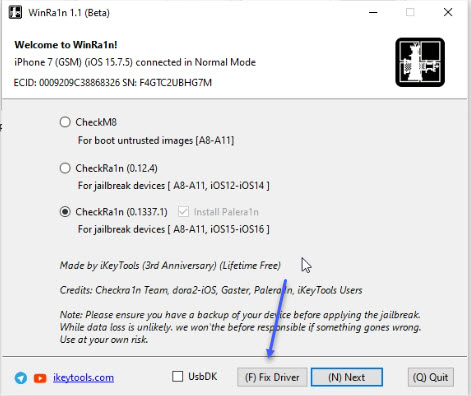 Step 6. For Palera1n Windows Jailbreak No USB using Winra1n Windows
On the Winra1n iOS 16 tool, after drivers are fixed, select the 3rd option. It's for Palera1n without USB, which also comes with the Palera1n loader. For checkra1n, follow the below step.
Click on the next button; now, from here, going further, all the steps are the same as they are to install Palera1n without USB.
Also, check here for tweaks to improve performance on jailbroken devices and increase the speed of your device.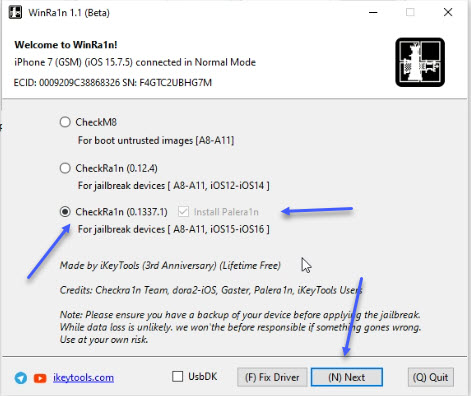 Once you click the next, the device will enter into recovery mode; then, you need to put it into the DFU mode.
See on your computer screen how you'll enter your device into the DFU mode.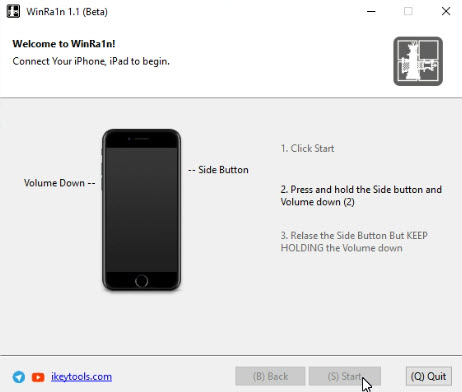 After that, the process will go on.
If you see a Windows Security error about any driver installation, click on the second option stating, "Install this driver software anyway".
If you see any error, just restart the whole process. A winra1n jailbreak tool is a new tool, and it's in the beta stage; a big one may trigger the error, so trying again will fix that.
But if you keep getting the error, you can try after restoring your device (I assume you have read the important note I left above).
Once the process completes, you can jailbreak with palera1n loader, open that and tap on the install button.  You can also install trollstore using IPA if you want.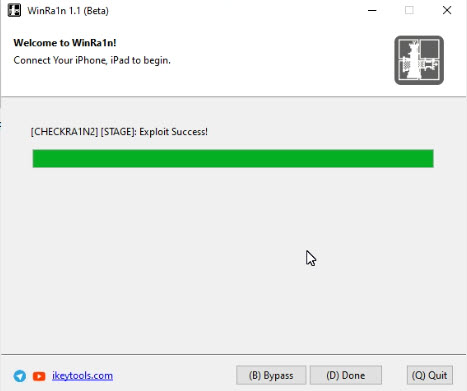 In this palera1n guide, I have explained everything step by step; you can follow that if you haven't attempted it ever before.
Step 7. For Checkra1n Windows NO USB jailbreak using Winra1n
If you're on iOS 12 – 14 firmware on the supported devices, you need to select the 2nd option, the checkra1n option, to proceed further.
Before you click on the next button, click on the Fix Driver button first, and let that complete.
Then click on the Next button, then the process will start, and it's the same as you used to do with other checkra1n installations.
Check here the modern third party app stores for iOS 17 and above.
The same goes with this checkra1n Windows no USB method as well. You can follow here if you haven't installed checkra1n before, which would be surprising.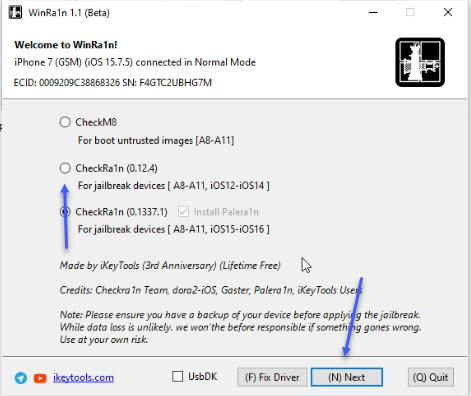 Do not set the passcode if you're on A11 devices; I have already published how you can set passcode using a tweak; you can check that on the website.
How to Install Sileo with Winra1n Windows Jailbreak 2.0 iOS 16.6 – 12 (Palera1n)
Now, once you have installed the palera1n loader using Winra1n Jailbreak Windows, let's see how you can install Sileo with the palera1n loader.
Open the installed loader and tap on the install button.
It'll take a little time, and sileo will get installed on your device, and you'll be jailbroken.
Make sure the device is connected to the internet while you're doing so.
Once sileo is installed, open it, upgrade all packages and then install any tweaks you want.
If you see any error while upgrading all of the packages, see the video below to fix that.
Moreover, here are the checkra1n tweaks and here are the palera1n tweaks list with all the resources.
Conclusion
This is how to download Winra1n jailbreak 2.0 tool, which is an all-in-one jailbreak tool, to jailbreak with palera1n Windows without USB and checkra1n Windows without USB on the supported checkm8 devices. Also, how to fix any driver issues by disabling driver signature enforcement on Windows PCs.
[Video] How to Download Winra1n 2.0 Jailbreak Windows Without USB